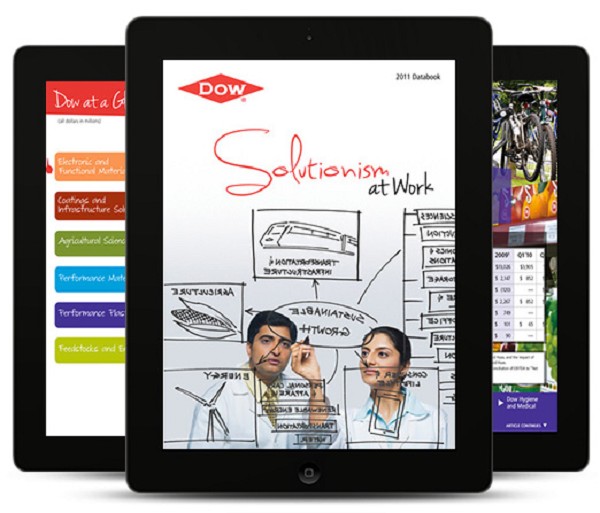 Dow Databook and Corporate Report apps deliver a rich and interactive way for investors and media to view comprehensive information on Dow's businesses and strategy.
---
DOW SHIFTS GEARS: Chemical Giant Coping With Slow Growth Economy
CEO Andrew Liveris Hits U.S. Report Urging More Exports of Natural Gas
December 12, 2012 Leave a Comment
By: Dave Rogers
The Dow Chemical Company, headquartered in Midland, has announced it is halting growth projects where significant market shifts and government policies have triggered fundamental changes, such as alternative energy.
Dow's leadership took issue with a recent U.S. government report on recommending higher exports of liquefied natural gas (LNG).
"The report issued by the DOE on liquefied natural gas (LNG) exports is flawed, misleading, and based on outdated, inaccurate and incomplete economic data," stated Andrew N. Liveris, Dow's chairman and chief executive officer.
Any market changes causing natural gas prices to rise would severely impact Dow's bottom line, experts said.
"The report fails to give due consideration to the importance of manufacturing to the U.S. economy," said Mr. Liveris. "Manufacturing is the largest user of natural gas in the U.S., and creates more jobs and more value to the U.S. economy from natural gas than any other sector."
Industry experts estimate that about 20 percent of Dow Chemical's production costs are made up of natural gas consumption.
Mr. Liveris said the value of every unit of energy used by the manufacturing sector is multiplied by as many as 20 times from the production of thousands of high value products though the value chain, stating: "Compare this to the 1-time value created by exporting energy as liquefied natural gas. Furthermore, for every manufacturing job created on the factory floor 5-8 more are created in the larger economy."
"The report also fails to consider the tremendous competitive advantage that affordable, abundant domestic natural gas offers to the nation," he added. "Instead, the report offers the baffling conclusion that the U.S. would be better off using its domestic natural gas advantage to fuel growth and jobs in other regions versus strengthening the U.S. economy through manufacturing and benefiting consumers with lower energy costs."
In addition, Liveris stated, "Industry has announced over 100 capital investments representing over $90 billion in spending and millions of new jobs predicated on abundant and affordable natural gas, none of which were captured in this report. Unfortunately, policy makers have been given a flawed report that overlooks vital dynamics, including a manufacturing renaissance that is already underway and much needed by this country."
Dow's U.S. Gulf Coast investments in ethylene and propylene integration, coupled with favorable shale gas dynamics, are expected to deliver $2 billion additional to the bottom line in 2017.
With nearly 40 project cancellation and plant shutdowns announced this year, The Dow Chemical Company, headquartered in Midland, is taking swift steps to improve asset utilization, drive down structural costs -- particularly in Europe -- and enhance return on capital.
At its recent 2012 Investor Forum, Dow reinforced the company's commitment to its long-term strategy, and shared with investors strategic interventions and key catalysts that will enable Dow to achieve near-term targets and drive sustainable earnings growth.
Dow Chairman and Chief Executive Officer, Andrew N. Liveris, in his keynote address to investors, outlined specific actions the Company is taking to drive down costs, improve cash flow and extract maximum value from its assets.
"We are taking swift and decisive actions to protect our growth path and drive near-term value," said Mr. Liveris. "And we have built a more simplified organization -- concentrating only on those things that increase cash flow, improve return on capital and drive earnings growth."
During the event, Mr. Liveris presented several key drivers that will fuel Dow's near-term earnings growth:
Accelerating interventions to generate cash and reduce costs. Dow has deployed $2.5 billion of aggressive measures in 2012. These actions are expected to deliver $1 billion in cost and cash interventions in 2013, of which $500 million will impact EBITDA (earnings before interest, taxes, depreciation, and amortization).
Further bolstering Dow's significant feedstock advantage and driving sustainable margin expansion for downstream, derivative businesses. The company remains on schedule to restart its St. Charles Operations (Louisiana) ethylene cracker, which is expected to deliver a $150 million increase in EBITDA in 2013.
The Company also reaffirmed that its Sadara joint venture remains firmly on track, with an anticipated construction workforce peak of about 60,000 people next year, and operations slated for start-up in 2015. Once operational, this joint venture is expected to deliver EBITDA margins of approximately 40 percent.
Prioritizing innovation to hone in on markets and technologies with clear, near-term earnings delivery and in high-return businesses, such as Dow AgroSciences, Electronic Materials and Performance Packaging.
Over the last several years, Dow has successfully rebalanced its innovation pipeline toward commercialization. Today, programs in the implementation stage of Dow's R&D pipeline represent a net present value of $7 billion -- an approximate $200 million increase versus 2011. Importantly, the Company has also reduced exploration programs, re-prioritizing resources to focus on near-term commercialization opportunities.
"Dow's key growth catalysts are embedded in our portfolio," said Mr. Liveris. "These catalysts, such as our innovation portfolio, the ethylene cycle and our investments on the U.S. Gulf Coast and Sadara, will drive sustainable growth and margin expansion," Liveris said. "And with our new, streamlined operating structure, we have the agility and flexibility to move quickly in executing ongoing, disciplined portfolio management. This is exactly what you are seeing and can expect from us."
As the Company looks ahead to 2013 and beyond, Liveris emphasized Dow's commitment to protecting the company's earnings foundation, enhancing its financial flexibility and consistently rewarding its shareholders.
"We are pro-actively and aggressively implementing the tough decisions required to deliver consistent value growth in this new, slow-growth world," Liveris said. "Dow's cash flow is strong and we remain committed to our priorities of paying down debt, rewarding shareholders and funding prioritized, organic growth. With a dividend yield in excess of four percent, Dow is among the top in its peer group for shareholder remuneration."
Dow's 2012 Investor Forum was attended in-person by more than 125 investors and media, and was broadcast live over the Internet. A replay of the webcast will be available under the Investor Relations section of Dow's website at www.dow.com. ###
---
---

Dave Rogers




Dave Rogers is a former editorial writer for the Bay City Times and a widely read,
respected journalist/writer in and around Bay City.
(Contact Dave Via Email at carraroe@aol.com)

More from Dave Rogers
---
Send This Story to a Friend!
Letter to the editor
Link to this Story
Printer-Friendly Story View
---
--- Advertisments ---