Kelly Martin, Motivated Entrepreneur, Stands Up for Those With Legal Needs
Issue Over Vending Machines Propels Former Waitress Into New Career
April 26, 2005 Leave a Comment
By: Dave Rogers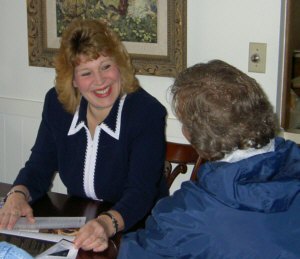 Kelly Martin interviews prospective clients for her new company, Pre-Paid Legal Services, Inc.
The road from 1981 Handy High graduate, waitress and bartender to mother of two, homeowner, and highly-motivated entrepreneur was an exciting 24 years for Kelly G. Martin.
Now an independent associate of Pre-Paid Legal Services, Inc., Kelly is aiming to help others with their legal and identity theft problems, even as she received help from the firm.
Almost a year ago the 42-year-old ambitious mom "had a legal issue" with a vending machine company that had a $3,000 deposit of hers and was threatening to keep the money.
Her auburn hair swishes from side to side and her lightning blue eyes flash as she emphatically makes a point about her situation, and how she persevered, and, by golly, won.
Luckily, she found help before having to mortgage her home to pay the remaining $27,000 on a deal to purchase five vending machines.
An attorney told her it would cost more than her deposit to hire him to seek return of the funds. By chance she found out about Pre-Paid Legal from her brother in California. A couple of phone calls and a letter from a Pre-Paid Legal provider law firm and she got an apology and a check for the $3,000. Kelly was sold on the firm and became an independent associate.
"I used that $3,000 to go to a national convention; that's how I saw the big picture," Kelly exclaims. "My misfortune became my fortune."She comments: "This company is changing the way the legal system works, so that it's not just for the rich who can afford it and the poor who get it provided to them free. There shouldn't be a price tag on justice."Starting in August, 2004, she has signed up two dozen clients and has a goal of success with the firm. Her enthusiasm is infectious and a listener knows she'll make it, just because of her determination and motivation. "My whole life has prepared me for this," she says.
"It's one of the fastest growing companies in the country," she enthuses. "I'm going to the national convention in October to learn more."
"This works, and people need to know about it; it helped me and I've found my destiny, my calling," she says.
An enthusiastic salesperson with a long resume of serving the public in restaurants, bars and casinos, Kelly has come to learn of human nature and what it takes to succeed in the tough world of business.
She also knows about how fate can take strange turns. She was once a flight attendant for Northwest Orient Airlink. The plane on which she was scheduled to fly crashed in Detroit 24 hours before her shift. "I gave that career another thought," she says.
Kelly and her husband, Greg Martin, who is from California by way of Nevada, have seen the whole Las Vegas, Laughlin scene -- from the Golden Nugget, Hilton, Harrahs, etc. The days of waiting table, uncapping bottles and fishing back chips across the blackjack table are long gone.
Fed up with the casino scene, the pair joined forces and came to Bay City 15 years ago where Kelly's mother, Hazel Broadworth Brissette, lived. Kelly said: "Mom is my inspiration; she raised all of us by herself." She has a sister and three brothers.
On their return, Kelly and Greg worked at Levi's in the Bay City Mall, and she also worked at the Fireside and other restaurants and bars in the area. Two kids, Nicole, 5, and Ashley, 3, were the difference. "They were the best thing that ever happened to us," she says. But the kids created a need for career changes by the parents.
"I worked at Denny's (in Saginaw) for 10 years and I just knew I had to find something else," she exclaims. "I need to be able to send those kids to college and I couldn't do it with what I was doing."
Now it's the over-the-road long haul trucking for Greg and sales calls, the Chamber, Optimist Club and Toastmasters for Kelly as she develops her Pre-Paid Legal business, and, yes, manages her own vending machines on the side. She was able to buy machines for a fraction of the cost of her original deal.
---
--- Advertisements ---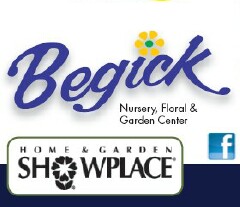 ---
The vending machines are strictly a sideline. She is focusing on developing salesmanship and her business contacts for the Pre-Paid Legal career.
"I needed to improve my skills speaking before crowds, you know, to sell employee benefits to groups," said Kelly. "My only previous speaking experience was as a waitress, saying, 'hi, you ready to order?'"
Kelly is ready to sign up anyone who wants to become an independent associate, like she is. "You can make a difference while making a living," she says.
She points to helping control identity theft as a big way the firm makes a difference. Pre-Paid Legal has teamed up with Kroll, leading risk control firm, in that area. The firm also offers legal plans for commercial truck drivers.
For more information, contact: Kelly G. Martin, Independent Associate, Pre-Paid Legal Services, Inc., 40 Westside Saginaw Road, Bay City, MI 48706, phone 989-684-9514; toll free, 888-302-8422; or on the web at
Kelly Martin's Web Site
.
---
---

Dave Rogers




Dave Rogers is a former editorial writer for the Bay City Times and a widely read,
respected journalist/writer in and around Bay City.
(Contact Dave Via Email at carraroe@aol.com)

More from Dave Rogers
---
Send This Story to a Friend!
Letter to the editor
Link to this Story
Printer-Friendly Story View
---
--- Advertisments ---