NEXTEER GETS NEW LIFE: Steering Giant Infused $70 Million + 325 Jobs
Tax Credits Help Saginaw Win Expansion Here Over Mexico Move
December 17, 2012 Leave a Comment
By: Dave Rogers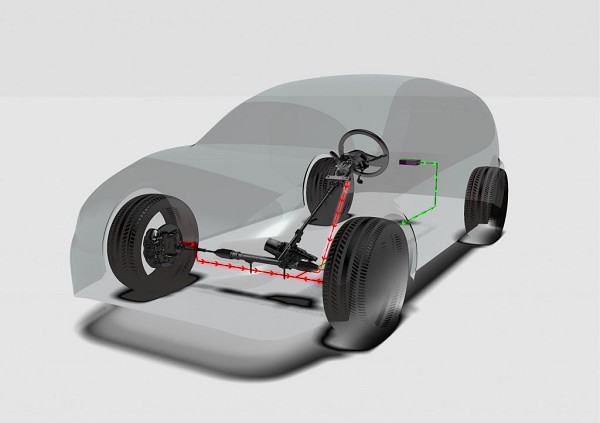 Nexteer vehicle electronic power steering and electronic architecture.
Electric power steering systems made here has given another hyper-powerful boost to the mid-Michigan area industrial investment and job picture was given Friday.
Despite recent state legislation to limit union power, the firm cited a strong relationship with the United Auto Workers and high jobs skills of local workers as reasons for the progress.
Nexteer Automotive, the Chinese-owned Saginaw world leader in high tech steering systems, is finding firmer footing here after years of uncertainty since a spinoff by General Motors a decade ago.
Nexteer, formerly Saginaw Steering Gear and Delphi division of GM, is a tier one automotive supplier producing wheel-to-wheel advanced steering and driveline systems, today announced a nearly $70 million investment and the addition of 325 new jobs at its world headquarters in Saginaw.
The new contracts reportedly will provide stability to the firm for the next 10 years, through 2022.
Last October the firm announced a $150 million expansion, virtually wiping out fears the firm would cut and run to China with 1,000 patents when a UAW contract runs out in 2015.
Hefty Michigan and Buena Vista Township tax credits made the difference between continued expansion at Saginaw instead of a proposed move to Mexico.
A mysterious new customer contract with a major North American automaker is the driving force behind this new investment and expansion, said officials who declined to identify the customer, citing confidentiality in the deal.
The contract is for Nexteer's advanced 12-volt rack electric power steering system.
"With our continued focus on innovation and customer focused steering solutions, Nexteer continues to diversify its customer base and secure significant EPS bookings," said Laurent Bresson, president and chief operating officer at Nexteer.
"Rapid adaption of electric power steering is a direct result of automakers striving to meet new fuel economy regulations and EPS enables up to a six percent improvement along with numerous driver assist benefits."
The new contract covers a "wide range of vehicles from mid-size (sedans) to SUVs," said Luis Canales, Nexteer's director of global communications.
In October, Nexteer said it had been awarded a new contract, but hadn't decided if it would produce the systems in Saginaw County or Mexico, though it noted incentives had made it more competitive to consider Saginaw County, according to The Detroit News.
The Michigan Strategic Fund increasing from 325 to 2,725 the number of retained jobs for which the firm can earn a tax credit for 2012 and 2013. At the same time, Buena Vista Township approved $10.2 million in tax breaks for the project.
The company said its Saginaw facilities have a "highly skilled workforce."
"EPS(Electric power steering) systems are very complex products that require advanced manufacturing processes," said Mike Gannon, chief operating officer of Nexteer's Saginaw division.
Nexteer employs about 4,200 people in Saginaw County, including about 1,500 salaried workers. The new hires will be a combination of salaried and hourly employees, Gannon said.
The nearly $70 million investment in the next two years modernizing the plant infrastructure and installing more new high-tech manufacturing machinery and equipment.
"The new EPS contract was sourced to our Saginaw operations for two key reasons; first, we have a cost-competitive operation and footprint," added Bresson. "Second, EPS systems are very complex components that require advanced manufacturing processes, and the team in Saginaw has demonstrated its ability to achieve high quality levels."
Nexteer is the only steering supplier to provide 12-volt EPS across a full range of vehicle segments, sizes and classes, from compact cars to full-size trucks.
The company's 12-volt system, an industry breakthrough, has led to record new business over the past couple years.
By the end of 2014, 90 percent of newly produced North American full-size trucks will be equipped with Nexteer's 12-volt EPS systems. Through its in-house electronics design and validation, Nexteer has the ability to personalize its EPS systems to each automakers' unique brand DNA.
"Nexteer's strong relationships and close collaboration with the UAW, community leaders and local and state government have allowed the Saginaw site to remain competitive and be in a position to secure this new customer contract," said Gannon, who also serves as senior vice president and chief human resources officer for Nexteer. Last October Nexteer announced plans for a $150 million investment and new long-term contract with General Motors for the company?s next-generation full-size truck program, which resulted in the retention of more than 1,000 jobs at the Saginaw site.
Nexteer has experienced unprecedented customer demand for its EPS systems and EPS accounted for nearly 60 percent of bookings in 2011. The company booked a record $12 billion of new business bookings in the last 30 months with a majority of those being conquest bookings.
"There is a culture of high-performance and dedication to excellence at Nexteer," added Bresson. "The hard work is paying off and these unique skill sets have led to Nexteer designing and manufacturing the industry's most advanced steering and driveline systems."
Nexteer Automotive is a multi-billion dollar global steering and driveline business solely dedicated to electric and hydraulic steering systems, steering columns and driveline products for original equipment manufacturers. Its 10,000 workforce serves more than 60 customers in every major region of the world. The company has 20 manufacturing plants, five regional engineering centers, 10 customer service centers and three vehicle performance centers strategically located in North and South America, Europe and Asia. Nexteer Automotive's customers include GM, Fiat, Ford, Toyota, Chrysler and PSA Peugeot Citroen, as well as automakers in India, China, and South America. For more information please see www.nexteer.com
---
---

Dave Rogers




Dave Rogers is a former editorial writer for the Bay City Times and a widely read,
respected journalist/writer in and around Bay City.
(Contact Dave Via Email at carraroe@aol.com)

More from Dave Rogers
---
Send This Story to a Friend!
Letter to the editor
Link to this Story
Printer-Friendly Story View
---
--- Advertisments ---