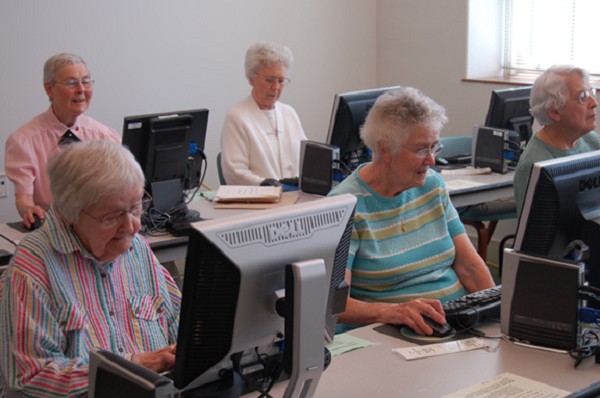 Armchair Activists at work; Sister Eileen Houlihan, 90, back row right. Others are Front row: Sisters Jane (Beata Maria) Nordhouse, Rita (Marie Ambrose) Rennell and Marilynn (Veronica Marie) Mechtenberg. Back: Sisters Bernetta Booms, Sister Eileen.
---
SAINTS AMONG US: Sister Eileen, IHM, A Nun for 72 Years Soldiers On
Monroe Mother House Nuns Send E-Mails Supporting Social Causes
December 23, 2012 Leave a Comment
By: Dave Rogers
The dedication of the "brides of Christ" is a continual matter for admiration.
Tours of the Immaculate Heart of Mary Mother House in Monroe were part of last year's State History Conference sponsored by the Historical Society of Michigan.
The IHM nuns are all highly educated and are not content to live out their lives just sitting in rocking chairs praying their rosary beads. They have confronted the modern world aggressively.
Most amazing was the grand chapel that seats 1,000, an awe-inspiring fact on its own. And the heating/cooling system employs 250 deep wells dug beneath the grounds of the Mother House, saving precious money for the operations.
The IHM Congregation recently completed a $58 million renovation of its historic Mother House, where over 200 IHM Sisters and a small number of family members reside today. This renovation was done according to environmentally responsive sustainable design that has come to serve as a national model for sustainable renovation.
The IHM also sold 80 acres of its campus to Monroe-based La-Z-Boy Inc. that recently announced it will construct a new world headquarters that will generate at least $47 million in new private investment and add 50 jobs.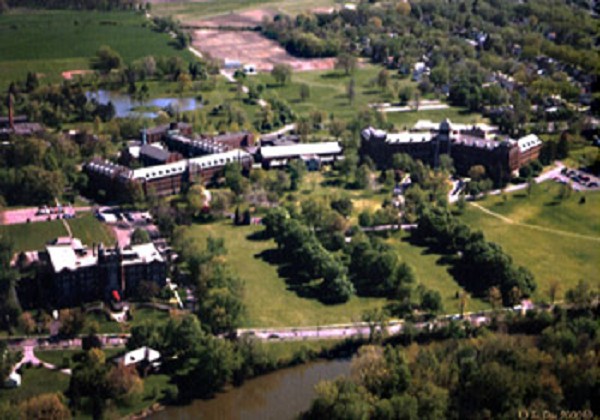 Aerial view of IHM 280 acre campus along River Raisin in Monroe, now to include new La-Z-Boy world headquarters .
Leadership of the Mother House explains the 2003 renovation of the Depression-era 376,000 square foot structure:
"Sustainable technologies and methods in the renovation project include a geothermal heating and cooling system and graywater recycling system. The design of the Mother House maximizes daylight, incorporates retrofitted period light fixtures and restored original wood windows. Materials and finishes are sustainable and contribute not only to excellent indoor air quality but also to a beautiful living environment."
While the average age of the nuns in residence is 77, some 54 sisters of the Immaculate Heart of Mary, Monroe, are members of "The Nineties."
Typical of these is Sister Eileen (Mary Gael) Houlihan, who turned 90 in December and joined the elite group.
There's no stopping Sister Eileen, who took the name Sister Mary Gael when she received her veil in 1940. She served mainly as a music teacher and once was assigned as a minister at St. Stephen Parish, Saginaw.
At the IHM Mother House, residents have access to computers on all floors, as well as in the Congregational Library. As a result, notes the IHM website, the "Armchair Activists," Mother House residents "with a lifelong commitment to justice, peace and sustainability who may not be as physically active as they once were, are able to easily send messages to their elected officials via email and the Web, in order to affect social change."
Among the more dedicated computerized social activists is Sister Eileen.
"IHM Sisters Julie Vieira and Maxine Kollasch are co-founders of aNunsLife.org, an online ministry reaching out with a pastoral presence to thousands of people worldwide each day," the IHM story continues. "The ministry is dedicated to helping people discover and grow in their vocation - their life's calling - by engaging questions about God, faith and religious life. Visitors to the website can read blogs by Catholic sisters and nuns, listen to a variety of podcasts and have conversations with one another on a wide range of topics."
The sisters have always been determined to continue the legacy of their founders: education. In order to be educators though, they must first be students, and as a result, IHMs of all ages embrace technology.
Born in Detroit in 1922 into a family of eight children, which included two sets of twins, she attended St. Mary of Redford High School and entered the IHM congregation two weeks after graduation.
Growing up, Sister Eileen took music lessons whenever the family could afford it. After making first profession in 1943, she was sent to Marygrove College where she earned a bachelor of music degree and later a bachelor of arts degree. She also studied at Notre Dame University during the summer and earned a master's degree in liturgy.
She began her teaching career in studio music, classroom music, choral, theology and English at St. Matthew, Detroit; then on to St. Mary Academy, Monroe; St. Michael the Archangel, Miami; St. Patrick, Wyandotte, Mich.; and Marygrove College (Monroe Campus).
In 1965, schools began cutting back due to financial reasons and many music teachers were placed into the classroom. Sister Eileen taught religion at Immaculata High School, Detroit; and religion and sociology at Marian High School, Bloomfield Hills, Mich.
It was during a reunion of her profession class that she heard Father Tom Sutherland speak on the opportunities for women religious in pastoral ministry. "I was excited, spoke to him and received great encouragement to pray and investigate this ministry," she recalled. Thus began her second career in pastoral care.
In 1971, she ministered throughout Michigan at St. Matthew Parish, Detroit; St. Mary of Redford Parish, Detroit; St. Ann Parish, Monroe; St. John Parish, Howell; St. Stephen Parish, Saginaw; and Our Lady of Lake Huron, Harbor Beach. She also spent two years on staff at Visitation in Monroe.
Then, in 2004, she retired and moved into the Mother House. Here she enjoys visiting sisters in the Health Care Center, especially her late sister Kathleen; worked distributing the mail; and used her musical skills as a substitute accompanist.
Looking back on her years, she said, "Along the way I have had the support of friends and a wonderful spiritual director. How could I not believe in God's love? For my IHM vocation I shall never be grateful enough. The wonder of this calling fills me with awe."
---
---

Dave Rogers




Dave Rogers is a former editorial writer for the Bay City Times and a widely read,
respected journalist/writer in and around Bay City.
(Contact Dave Via Email at carraroe@aol.com)

More from Dave Rogers
---
Send This Story to a Friend!
Letter to the editor
Link to this Story
Printer-Friendly Story View
---
--- Advertisments ---