SEAWAY TRAFFIC UP: Strong Finish Underway for Great Lakes Shipping Season
Cleveland Adds Dockside Railroad to Boost Foreign Steel Entering U.S.
December 23, 2012 Leave a Comment
By: Dave Rogers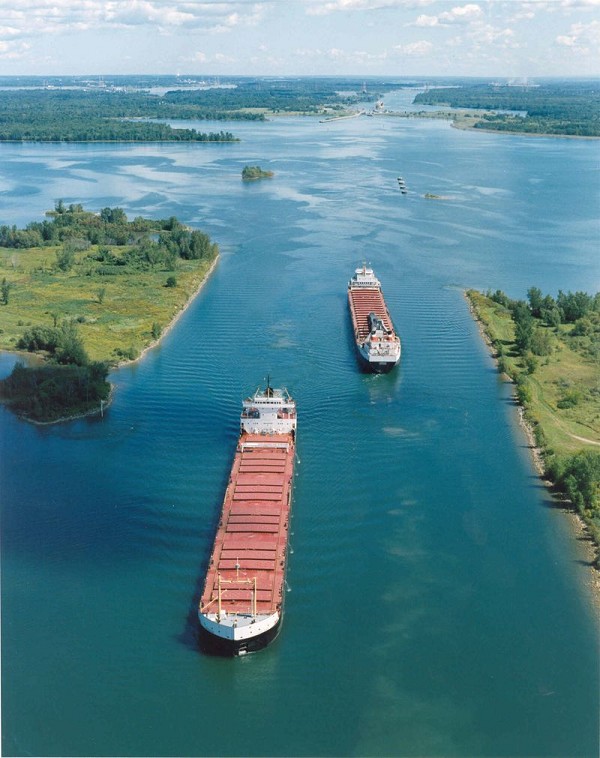 Ships in the St. Lawrence Seaway, called "the fast lane" by the U.S. Department of Transportation. (U.S. DOT Photo)
Prospects for more economic dynamism from the Great Lakes are looking up after decades of decline.
The Cleveland Plain Dealer reported ships and trucks now are a common sight at the Port of Cleveland, moving millions of tons of cargo into the city and to Midwestern factories.
Railroad cars rolled up the docks nearly to the water's edge recently to take on specialty steel from Europe. The cars used a new $4.5 million rail loop that connects the port to nearby main lines.
Ship cargo unloaded onto trucks typically goes no farther than local factories. Steel coils from Holland now will ride the rails deep into the Midwest and as far north as Milwaukee, Wisconsin, thanks to the greater carrying capacity of trains.
The ability to ship by rail right from the docks is seen as a critical new capability for the Port of Cleveland, the first major U.S. port encountered by ocean freighters sailing into the Great Lakes from the St. Lawrence Seaway. If the cargo can get most anywhere from here, the thinking goes, why sail farther?
Since opening of the seaway in 1959, more than 2.5 billion tons of cargo worth an estimated $375 billion has moved to and from Canada, the U.S., and nearly fifty other nations. Almost 25 percent of Seaway traffic travels to and from overseas ports, especially in Europe, the Middle East, and Africa.
"Seaway commerce now sustains an estimated 150,000 jobs, $4.3 billion in personal income, and $3.4 billion in business revenues each year for the regional economy," says U.S. Department of Transportation Maritime Administrator David Matsuda.
The number of foreign vessels visiting the Great Lakes is up this year with 365 ships transiting the Eisenhower Lock compared with 356 last year, according to Denny Dushane of boatnerd.com.
There were 89 salties that appeared for the first time on the Great Lakes/Seaway system, he said. That was an increase of 19 from the 2011 total of 70 first-time visitors.
The Duluth News Tribune reported the U.S. Coast Guard Cutter Alder and several local tugs are breaking ice in the Duluth-Superior harbor to help Great Lakes freighters move taconite, coal and other cargo until the Jan. 16 closing of the shipping season.
The Coast Guard is warning anyone who uses the ice - including ice anglers, ATVers and snowmobilers - to be cautious of thin ice and stay away from areas near the shipping channels. The Sault Ste. Marie locks are scheduled to close at midnight on Jan. 15, bringing an end to the shipping season.
The St. Lawrence Seaway shipping season is on course for a strong finish following brisk trade in grain, coal, salt and general cargo during the month of November.
The St. Lawrence Seaway Management Corporation said it was on track to increase tonnage for the 2012 season by 2 per cent.
Total shipments in November reached 5.1 million tons, up 10.7 per cent from the same month last year. Year-to-date total shipments from March 22 to November 30 rose to 34.6 million, up 2.7 per cent over the same period in 2011.
Bruce Hodgson, market development director, St. Lawrence Seaway Management Corporation said: "Seaway traffic was brisk in November with vessels carrying salt to cities to prepare for winter, coal for export for power generation in Europe; and steel, machinery and equipment for construction and manufacturing projects.
"Canadian grain exports have remained steady and American grain shipments picked up as low water levels on the Mississippi River diverted some shipments through the St. Lawrence Seaway."
He added: "We are on track to meet 2 per cent growth in shipments for the 2012 season. In spite of a weak global economy, the Seaway has seen growth in a number of areas this year, most notably iron ore and coal exports and oversized cargo like wind turbines and manufacturing equipment.
"Marketing efforts and toll incentives have also so far attracted 2.7 million tons of new business this year from the establishment of new trade routes or customers."
Salt shipments through the Seaway for the month of November rose to 595,000 tons, up 98 per cent over the same month last year. Year-to-date salt shipments were 2.3 million tons, up 1.2 per cent over the same period in 2011. Coal shipments were 529,000 tonnes in November, up 24 per cent over the same month last year. Year-to-date coal shipments were 4.2 million tonnes, up 24 per cent over the same period last year.
General cargo, which includes steel imports, aluminum ingots and project cargo like heavy machinery, rose by 28 per cent in November to 334,000 tons. Year-to-date general cargo shipments reached 1.9 million tonnes, up 12 per cent over the same period in 2011.
The Port of Oshawa has been one of the major beneficiaries of the rise in general cargo shipments, such as steel imports. Year-to-November 30 total shipments through the port reached 395,000 tons, up 53 per cent over the same period in 2011.
"The Port of Oshawa has seen a remarkable increase in imports of steel reinforcing bar this fall from countries like Turkey and Portugal. This steel is being used to build condos in the Greater Toronto Area," said Donna Taylor, president and CEO of the Oshawa Port Authority.
Hamilton-based barge and tug operator McKeil Marine has also gained business from the rise in general cargo shipments on the Great Lakes-St. Lawrence Seaway system. The company has hauled aluminum ingots from Quebec to ports in Ontario and the U.S.; massive plant components and equipment from Great Lakes communities to the Vale nickel plant being built in Newfoundland; and even helped to transport a decommissioned submarine from Nova Scotia to its final resting place at a museum in Port Burwell.
"It has been a very strong year for McKeil Marine. We have had the opportunity to work on many heavy-lift projects including: the Vale Long Harbour Project in Newfoundland and Labrador; and, the submarine tow from Halifax to Port Burwell. In addition, we have enjoyed a steady flow of bulk and break-bulk cargo movements including a number of exciting firsts for McKeil, including transporting food products such as soy beans on our barges," says Steve Fletcher, President of McKeil Marine Limited.
"To better serve our customers in the East Coast of Canada, we opened an office in St. John's and have expanded our fleet with the addition of a new vessel. We are also working with Mammoet Canada Eastern Ltd. and the Glovertown Shipyard to build two new deck barges, which will be contracted to work on the Hebron oil project in Newfoundland.
"As we prepare for the 2013 sailing season and beyond we are actively pursuing a number of opportunities spread throughout our markets of the Great Lakes, St. Lawrence River, East Coast and Arctic. We are certainly optimistic about all future prospects."
---
---

Dave Rogers




Dave Rogers is a former editorial writer for the Bay City Times and a widely read,
respected journalist/writer in and around Bay City.
(Contact Dave Via Email at carraroe@aol.com)

More from Dave Rogers
---
Send This Story to a Friend!
Letter to the editor
Link to this Story
Printer-Friendly Story View
---
--- Advertisments ---