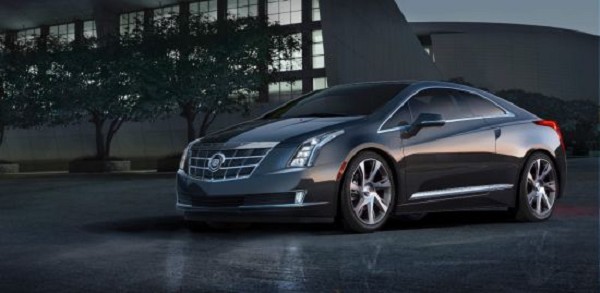 The 2014 Cadillac ELR luxury coupe cuts a dramatic, forward-leaning profile that remains faithful in its execution to the Art & Science design philosophy and the show car that inspired it.
---
ELECTRIC CADDY, CHEAPER VOLT: GM V-P Mark Reuss Resets Industry
January 21, 2013 Leave a Comment
By: Dave Rogers
Mark Reuss, General Motors vice president, knocked 'em dead with a speech this week at the Detroit International Auto Show.
Among news breaks: an electric Cadillac is in the works for 2014, and the price of the 2013 Chevy Volt is slated to come way down.
The Cadillac ELR will be manufactured at General Motors' Detroit-Hamtramck Assembly Plant, the world's only automotive manufacturing facility that mass-produces extended-range electric vehicles for global markets in 21 countries.
His remarks were good news to Bay-Saginaw autoworkers and supplier firms.
Declared Reuss: "The electric car is not dead.
"That's despite what you might hear, and despite what you might read about Americans not being ready for it, or about it being 'under attack' by local governments retracting incentives for it.
"Or you hear pundits criticizing slow sales of electric vehicles and you might think, 'See: The electric car is a failure' it's dead on arrival."
He added: "We're talking about a transformation here. And transformation takes time. It takes a long time to change an industry, to change habits, and to change a way of life.
"I believe, and we at GM believe that the public will accept and embrace electric vehicles; some people already have.
"And the rest of them will come around when technology advances electric vehicles to the point where they offer comparable performance at comparable prices.
"We'll get there. We will see the day when we have an affordable electric car that offers 300 miles of range with all the comfort and utility of a conventional vehicle.
"In the meantime, we have one that offers that kind of extended range in the Chevrolet Volt, which, by the way, tripled its sales last year vs. 2011, and whose owners continue to be the happiest customers on the planet.
"It's going to sell even more, and the next generation will be even better.
This week GM added the ELR, an extended range electric vehicle for Cadillac, the only full-line luxury marque to offer one.
ELR is in a class by itself, further proof of our commitment to electric vehicles and advanced technology.
People will instantly recognize it as a Cadillac by its distinctive, signature look and true-to-concept exterior design, said Reuss.
"Inside, it will have everything you'd expect in a Cadillac: luxury, comfort, sophistication and CUE.
"It also has features like Safety Seat Alert, adaptive cruise control, cross traffic alert, and Re-gen on Demand, which allows the driver to use steering wheel paddles to temporarily regenerate energy from the car's momentum.
"Production of the ELR should begin in the fourth quarter, and we expect the car to do very well because of its highly advanced technology -- and because of its stunning beauty," enthused Reuss.
Reuss also addressed the current state of GM, the other domestics and the auto industry as a whole.
"I think that, much like the electric vehicle, a lot of people have written obituaries far too early.
"This industry moved almost 15 million vehicles in 2012. That's more than most people expected, sooner than they expected.
Automakers anchor an industry that supports 8 million U.S. jobs, pays $500 billion in wages, and generates $70 billion in personal tax revenue.
The auto industry is America's largest exporter, among its largest consumers of steel, rubber, glass and semiconductors, and among its largest investors in R&D.
GM, Chrysler and Ford employ 2 out of every 3 autoworkers in the U.S., and base more employees in the U.S. than the competition - by a factor of eight, he asserted.
GM has announced North American facility investment of over $10.2 billion since July 2009, creating or retaining more than 26,500 jobs, he said, adding:
"And we're poised to announce another $1.5 billion or so in North American investments this year, so, stay tuned.
"By the end of this year well have replaced 70 percent of our U.S. lineup.
"By the middle of next year we'll have the freshest showrooms in the business.
"Today, we have the highest average transaction prices among full-line automakers. Our ATPs have increased at an annual rate of 4.1 percent since 2008, versus 2.85 percent for the industry.
Meanwhile, our incentives have declined from the highest in the industry in the early to mid-2000s, and are now consistently right around the average.
"That's helped drive continued and sustained profitability for us here at GM North America -- profits invested back into even better vehicles we are now getting ready to launch."
---
---

Dave Rogers




Dave Rogers is a former editorial writer for the Bay City Times and a widely read,
respected journalist/writer in and around Bay City.
(Contact Dave Via Email at carraroe@aol.com)

More from Dave Rogers
---
Send This Story to a Friend!
Letter to the editor
Link to this Story
Printer-Friendly Story View
---
--- Advertisments ---