One Year Run of Civil War Era Bay City Press-Times is Discovered
Rare Newspapers Microfilmed by Central Michigan University to be in Library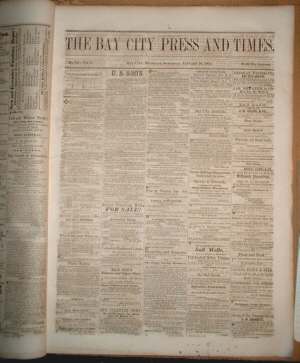 Masthead of historic Civil War era Bay City newspaper that will soon be available in microfilm in the Bay County Library System.
Very little has been known about activities in Bay City during the Civil War.
One main reason has been that no newspapers were available from that era.
%im%

%cp%


That problem is now mainly solved since local historian Marv Kusmierz received a gift from a friend.
"He came in with a big grin and a package under his arm," said Mr. Kusmierz, the conductor of the Bay-Journal historical website. "Some oldtimer had cleaned outhis attic and found it and asked him if he wanted it. So he brought it to me."
---
--- Advertisements ---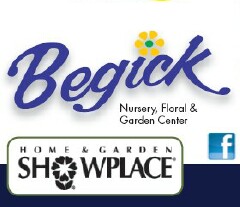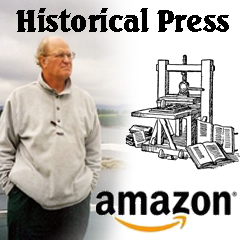 ---
It was a bound volume of a one-year run of theBay City Press-Times, Oct. 17, 1863 through Oct. 1, 1864. The Press-Times was Bay City's first newspaper when it was started in 1859.
The recent discovery is a volume of more than 70 issues. The newspaper was first a weekly and then changed tobi-weekly publication so the collection contains more than one newspaper issue for each week of that year.
Mr. Kusmierz has made his personal acquisition available to the community, and the world of history researchers. It will provide on-going benefits in terms of social science research and understanding of how our community developed and how local people lived during the Civil War. It is an invaluable resource that is much like opening up a massive time capsule from 140 years ago.
The Bay County Library System has received a grant from the Michigan Newspaper Project through the Clarke Historical Library at Central Michigan University to preserve the newspapers on microfilm.
Arrangements for the microfilming were made by former Bay City Branch Library managing librarian Tom Birch, now librarian at the Saginaw Township Library.
"The newspapers remain in very good shape, mainly because they were printed on rag paper," said Mr. Birch. "Microfilming will take several months but at least everybody will be able to have access to this historical information."
Local historians are excited to study the newly-discovered old newspapers for information heretofore lost to history. "I'm sure we will find out some things about Bay City that we never realized before," said Alan Flood, retired ship captain and history researcher for the Bay County Historical Society.
The microfilm of the Press-Times will be available in the local library and in the Clarke Historical Library on the CMU campus in Mt. Pleasant. Historians for generations to come will have Mr. Kusmierz to credit for their early Bay City research capability.
The mystery of why the newspaper volume ended in October, 1864, is answered by the famed "Redbook," "Bay County Past and Present," edited by George E. Butterfield, who was dean emeritus of Bay City Junior College and historian of the Bay County Historical Society when the history was published in 1957 by the Bay City Board of Education.
---
--- Advertisements ---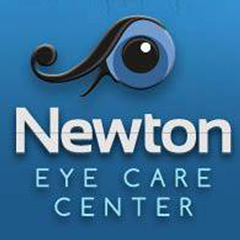 ---
"This paper was started by Perry Joslin of East Saginaw, with James Birney as editor, but it had a short life of only a few weeks," the Redbook states. "Three years later, in 1859, William Bryce published it as the 'Press and Times' and continued it as a weekly until he left for service in the Civil War in 1864."
"Michigan In The War," the state's compilation of Civil War information published by the State of Michigan in 1866, reveals that Bryce enlisted as a 1st Lieutenant and served as Quartermaster of the 29th Michigan Infantry in July, 1864, and was mustered out Sept. 6, 1865.
The 29th Regiment Infantry was formed late in the war at Saginaw and was raised entired in the 6th Congressional District by Hon. John F. Driggs. The muster of the regiment was completed on the 3rd of October, 1864. Therefore, Lt. Bryce must have shut off his press on Oct. 1, wiped the ink from his hands and reported for duty in the Union Army two days later.
By Oct. 26 Lt. Bryce and the unit were under attack in Decatur, Alabama, by the troops of rebel general John Bell Hood as he attempted to overrun Tennessee. The unit was headed by Col. Thomas M. Saylor of Saginaw and many of the officers and troops were from the Bay City-Saginaw or mid-Michigan area.
The unit marched to Murfreesboro, Tennessee, where it defended against Hood's seige of Nashville and Murfreesboro and engaged the enemy over control of railroad trains in the nearby area. Altogether, the 29th was in five actions, lost two men killed in action, four who died of wounds, and 65 of disease.
Lt. Bryce never returned to Bay City perhaps because his newspaper was succeeded in 1864 by the Bay City Journal, a Republican organ published by John Culbert, and a Democratic paper, William T. Kennedy's Bay City Signal. The 1886 Page history of Bay County notes that Lt. Bryce died only a little over three months after his Civil War service ended, on Jan. 15, 1866, in Marine City, MI.
Another newspaper called the Times and Press, with publication dating to 1873, combined with the Bay City Tribune daily newspaper in 1916 and evolved into today's Bay City Times.###
---
---

Dave Rogers




Dave Rogers is a former editorial writer for the Bay City Times and a widely read,
respected journalist/writer in and around Bay City.
(Contact Dave Via Email at carraroe@aol.com)

More from Dave Rogers
---
Send This Story to a Friend!
Letter to the editor
Link to this Story
Printer-Friendly Story View
---
--- Advertisments ---