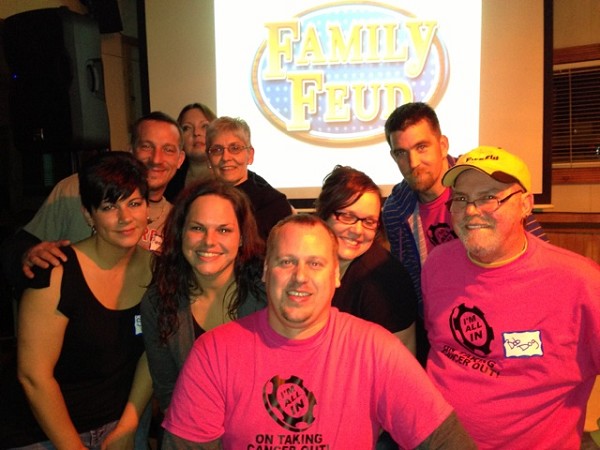 CHANGES SALON & SPA -- (L/R) Suzie Davis, Randy Davis, Audrey Arocha, Bonnie Johnson, Cody Strope, Tim Botzau, Shandy Schultz, Brian Strope (Nascar) & Bob Dog Schultz.
---
Changes Salon & Spa Wins Dysfunctional Family Feud at Willew
Winners Share Charity Dollars With 2nd Place Team
April 19, 2013 Leave a Comment
By: O. J. Cunningham
It was Dysfunction Feud Final Night at Willew Lounge on Bay City's West Side.
The money for charity was on the line.
The teams were "good to go" and ready to "throw down.".
Master of Ceremonies Josh Sharrow was on the microphone when he called the competition to begin. A total of $500 was on the line -- each team was playing for their favorite charity -- and the winning team would get to donate the prize money to the charity of their choice.
The show was hosted by the always-entertaining Josh Sharrow while Shawn Doyle and Amy (Ash Events) Austin ran all the techno gadgets and software/music that it takes to put on a very enjoyable night of Dysfunctional Family Feud.
The "family friendly" show started on March 7 and preliminary rounds were held at 7:00pm every Thursday. Winners from those previous weeks' competitions were on hand April 18, 2013 to battle it out until there was just one winner left standing.
Four (4) teams were "in the house" Thursday night when the games began. Changes Salon & Spa, A & T Cleaning, Zentyx Media Group and Old Kawkawlin 7-11 all made it to the Finals. After semi-final action, Changes Salon and A & T Cleaning stepped up to the podium to battle for their chosen charity.
Changes Salon Team was playing for The Bay Area Womens Center and A & T Cleaning's was playing for Relay For Life.
In the end, Changes Salon came out on top with a hard-fought 1192-816 win over A & T Cleaning.
And then . . . what started out as a great night of fun for charity . . . got even better.
Changes Salon Captain Suzie Davis announced that her team had voted unanimously to split the $500 winnings right down the middle with A & T Cleaning.
"This has just been a wonderful night," Davis said. "It's a charity event," she went on. "Let's make EVERYBODY a winner.
Team Captain Cody Strope - A & T Cleaning -- was bubbling over after the competition. "It was amazing that the other team gave our charity half of the money," Strope said. " Our whole team had such a great time, we'd love to do it again!"
"We started our relay team for Nicole Thomas (Nicole Thomas passed away in 2011 from breast cancer) -- when she was alive, Strope explained. "We keep doing the relay in her memory. I don't know how much more I can say about the whole event without crying," added Strope.
A & T Cleaning team members were: Cody Strope, Brian Strope, Shandy Schultz, Tim Botzau and Bob "Dog" Schultz.
Changes Salon team members were: Suzie Davis, Randall Davis, Bonnie Johnson, Audrey Arocha and Amanda Pullen.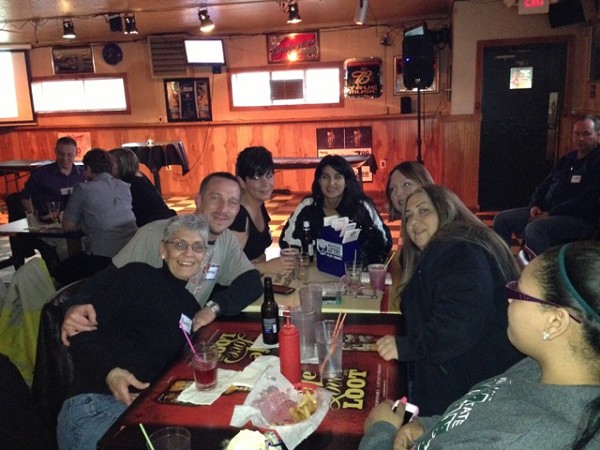 Team Thomas (A & T Cleaning) enjoyed dinner before playing Family Feud.
Photo by Josh Sharrow
© MyBayCity.com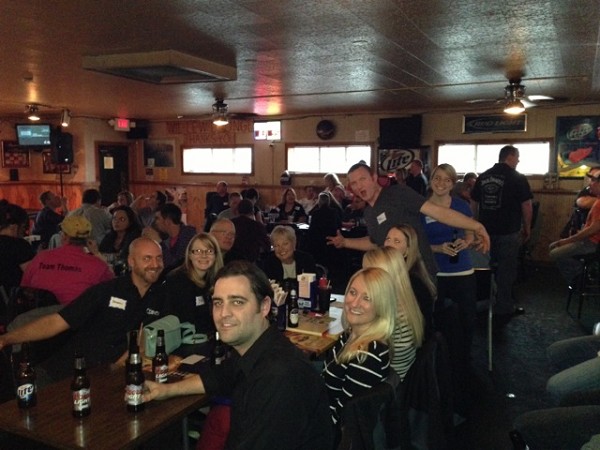 The room was full of supporters for the finale.
Photo by Josh Sharrow
© MyBayCity.com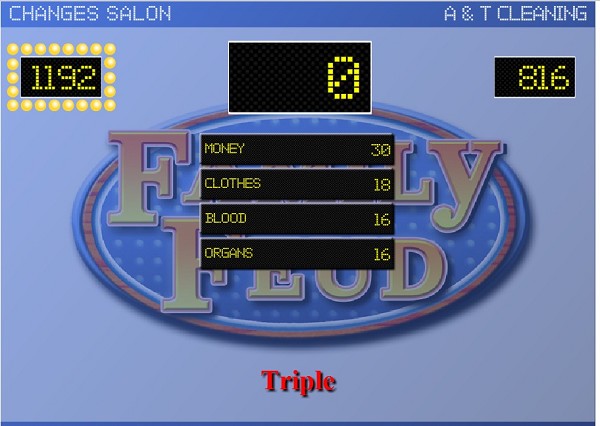 Changes Salon wins with a final score of 1192, but decided to split the prize, so both charities win.
Photo by Josh Sharrow
© MyBayCity.com
---
---
---
Send This Story to a Friend!
Letter to the editor
Link to this Story
Printer-Friendly Story View
---
--- Advertisments ---