Windmill Investments About to Blow Big Bucks into Huron County
Ubly, Pigeon Areas are Priming for Huge Units Planned by GE, Other Firms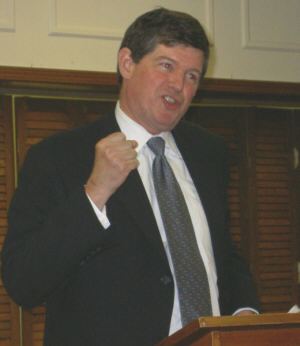 Anthony F. Earley Jr., president and CEO of DTE Energy, shows some energy making a point to Rotarians in Pigeon.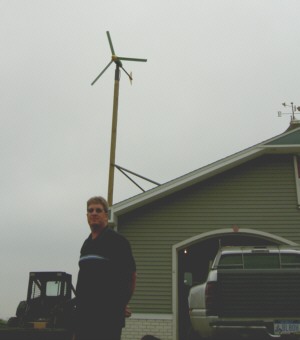 Brian Dicken stands in front of his barn with windmill whirring overhead; he has another windmill and heats his house with a corn-fired furnace.
Investment of about $120 million in windmills is reportedly in the works for Huron County while the future may bring up to half a billion dollars.
The development may be part of Michigan's answer to a projected critical energy shortage and economic turmoil due to high costs of natural gas, according to authoritative sources.
However, the president and CEO of DTE Energy, Anthony F. Earley Jr., in Pigeon last week to speak to about 50 members and guests of the Pigeon Rotary Club, doesn't see wind energy as an answer.
Mr. Early said wind is not a significant energy source, representing only about one percent of all electricity generated. He sees the nation's future electrical generating needs being filled by cleaner burning coal and nuclear power.
Ethanol, produced at a plant in Caro using local agricultural products, takes more energy to produce than it is worth, he said. "Ethanol doesn't make sense for longterm energy independence," he said.
Meanwhile, ground is reportedly being broken for about 40 huge windmills with spans of 300 feet to be erected near Ubly by Noble Environmental, a Connecticut firm, General Electric and J.P. Morgan. The GE-manufactured windmills are slated to be sold to Thumb Electric and Consumers Energy, according to reports.
Another 20 windmills reportedly are planned in the near future for the Pigeon area by a Midland Energy group headed by former Saginaw mayor Paul Wendler, the John Deere Co. and a Danish windmill firm, Micon-NEC Vestas.
The $2 million windmills produce 1.5 to 2 megawatts of energy each and will send the energy to a big transmission line serving the Thumb area.
The Ubly area has the potential for about 200 windmills and the Pigeon area for about 70; if realized, that would mean an investment of $540 million, huge incomes for some farmers and vast tax revenue for Huron County.
Tracts of land are said to have been leased to companies by farmers who expect payments of up to $50,000 per year, depending on acreage and electrical generating efficiency of the windmill.
The huge breakthrough in investment is the result of a federal study of little more than a year ago showing parts of the Thumb and Lake Huronshoreline area of Michigan as more wind productive than previously thought.
While a wind rating of 2 is not enough for energy production, areas of the Thumb are now reportedly to be rated 3 and bordering on 4, according to Brian Dicken, a Pigeon contractor and former industrial arts teacher who sells windmills through his company Woodland Wind L.L.C. (Woodland@airadvantage.net)
Mr. Dicken said the federal study by satellite imagery showed parts of the Thumb with winds that make windenergy production efficient. He operates two small windmills on his farm, heating parts of his home and an indoor pool.
He said the dried corn that he buys from a neighbor for $1.80 a bushel is about 20 percent of the cost of propane gas. "Economically, it's fantastic," he enthused. He burns about 1,000 bushels a year.
Mr. Earley was in Pigeon as the guest of Ted Leipprandt, operator of a family-owned chain of farm elevators, who recently retired after 14 years as a member of the Detroit Edison board.
Mr. Leipprandt noted that Detroit Edison pays more taxes than any other entity in Huron County, about $1,170,000 a year.
"The country needs to control its insatiable demand for energy," said Mr. Earley.
He said natural gas replaced coal in all of the power generating plants built in the 1990s. However, the price of natural gas went from $2-$3 per million BTUs to about $10, with a high of $40. Although the price has settled at about $6, many businesses were hurt by high natural gas prices. (Price was $7.39 on Friday, June 17) Dow Chemical, for example, was forced by high costs to cut 3,500 jobs two years ago and 3,000 jobs last year and has sent substantial production overseas.
"Coal remains critical," said Mr. Earley, noting that 55 percent of the nation's electricity, and 81 percent in Michigan, is generated using coal. We have 300 years of coal reserves, he said, and new methods are burning coal cleaner.
He sees an expanding rolefor nuclear energy, now producing about 20 percent of the nation's needs. Mr. Earley, a Notre Dame University graduate who served in the U.S. Navy on nuclear projects, is chairman of the Nuclear Energy Institute. He noted that France produces 80 percent of its power with nuclear energy.
Although there has been continual improvement in wind energy methods, it only works when the wind is blowing," said Mr. Earley. "Backup generators are necessary which significantly increase the cost. We haven'tfound that circumstances justify wind energy development."###
---
Business Article 812
---

Dave Rogers




Dave Rogers is a former editorial writer for the Bay City Times and a widely read,
respected journalist/writer in and around Bay City.
(Contact Dave Via Email at carraroe@aol.com)

More from Dave Rogers
---
Send This Story to a Friend!
Letter to the editor
Link to this Story
Printer-Friendly Story View
---
--- Advertisments ---