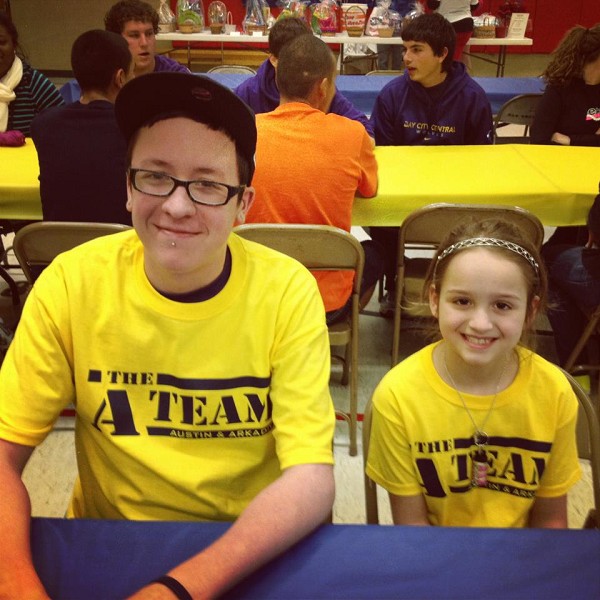 Austin Beck and Arkadiy Nahikian are the stars of "The A-Team" walkers and both suffer from Cystic Fibrosis. Photo by Cathy Koebke © MyBayCity.com
---
Families Raise Funds for Hopes CF Will Stand for "CURE FOUND"
Cystic Fibrosis Foundation Holds Annual Walk on May 18
For families suffering with the fatal genetic disease Cystic Fibrosis, all hope CF will one day stand for Cure Found.
But finding a cure involves raising funds for the Cystic Fibrosis Foundation (CFF), the world's leader in the search for a cure for cystic fibrosis. The Great Lakes Bay Region will play its part in raising these valuable dollars with its annual CFF Great Strides, a national walk that generates critical funds to support lifesaving cystic fibrosis research, education and care.
In Bay City, this year's walk will be held along the river walk at Veteran's Memorial Park Saturday, May 18, with free registration to begin at 10 a.m. and the three mile walk to begin at 11 a.m.
Funds raised through Great Strides have helped spur dramatic progress in the lives of those who have cystic fibrosis. Fifty years ago, most children with CF did not live long enough to attend elementary school. Today, people with CF are living into their 30s, 40s and beyond. Cystic Fibrosis causes debilitating lung infections that lead to premature death. More than 10 million Americans are symptomless carriers of the CF gene.
"We still lose precious young lives to this disease every day. It's more important than ever that we raise every dollar we can to fight CF," said Adrian Laux, development manager from the CF Foundation's Metro-Detroit/Northwest Ohio Chapter. "We're grateful for every volunteer, donor and corporate sponsor who supports Great Strides."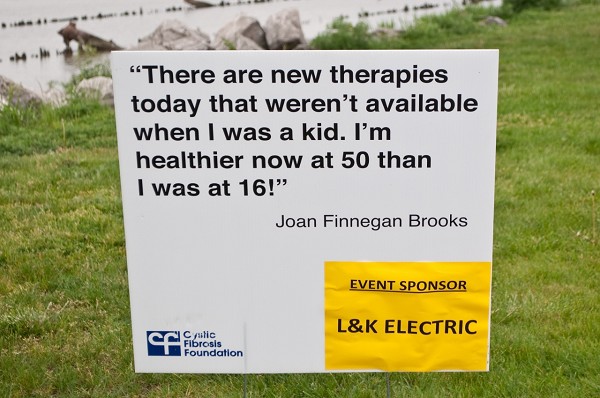 This is one of many signs that lined last year's walk.
Photo by Cathy Koebke
© MyBayCity.com
Melissa and Jason Ruple of Bay City have been participating in the Great Strides walk since 2008 when their daughter Emilie was six months old. When asked what the most important thing Melissa wants people to know about the disease, she said she would like people to be aware that cystic fibrosis is not a federally funded disease like diabetes or cancer.
"In order to further our research and make CF stand for 'CURE FOUND' we must continue to fundraise. Things such as our Great Strides walk and the annual CFF and Rock CF golf outing that we put together are crucial to finding a cure. The CFF and Vertex Pharmaceuticals are so close with new drugs such as Kalydeco and others that are still in the pipeline. These drugs will not be FDA approved if we can't raise enough money to get them through clinical trials. I am hoping people get involved and help us add more tomorrows for the 30,000 Americans battling this disease," Melissa said.
Five year old Emilie, like many who have this disease, has a daily routine she must follow in order to stay as healthy as she can be. It includes taking six pills, two inhalers, a nebulizer treatment and acapella (PEP device) every morning as well as her feeding supplement of Pediasure and Miralax before school. She has enzymes that she takes whenever she eats to digest her food because people with CF are unable to do so on their own. Emilie also takes another three pills, two inhalers and a nasal spray at night along with her acapella, Melissa said.
These medications and treatments are just a small part of Emilie's life. The Ruples had a couple incidents involving Emilie's health that led to emergency trips to the CS Mott Children's Hospital in Ann Arbor. Despite all of the obstacles they have faced, little Emilie doesn't let her disease get in her way.
"We try to allow her to be as normal as any other kid. Our biggest obstacles would include keeping her healthy and germ free," Melissa stated.
To help fight CF, get involved in Great Strides by calling the Metro-Detroit/Northwest Ohio Chapter at 248-269-8759 or by visiting
greatstrides.cff.org
You can also help Team Emilie with the Ruple's fundraising efforts by clicking here.
Like the Ruples, my family has been affected by this disease. I have one nephew and three cousins who have Cystic Fibrosis. I will also be participating in the Great Strides walk on May 18.
Please help us create more tomorrows for those affected by this disease by making a donation here.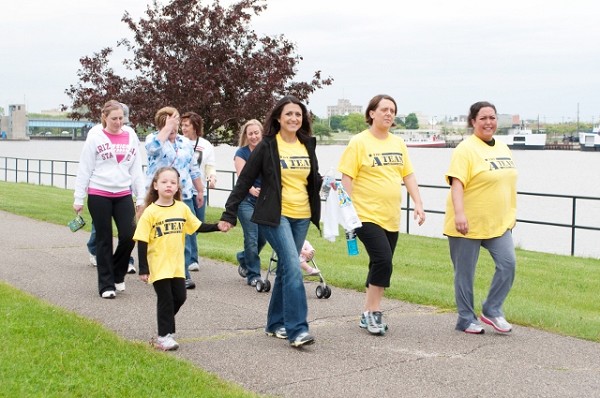 This year's CFF Great Strides walk is set for May 18. Registration starts at 10 a.m. with the walk starting at 11 a.m.
Photo by Cathy Koebke
© MyBayCity.com
---
---

Cathy Koebke




Cathy is a friend, sister, mother and multimedia account executive at the Midland Daily News

More from Cathy Koebke
---
Send This Story to a Friend!
Letter to the editor
Link to this Story
Printer-Friendly Story View
---
--- Advertisments ---