Chicago One Big Rotary Meeting with 40,000 Rotarians in Town
Windy City is Much More: A Huge Summer Tourism Mecca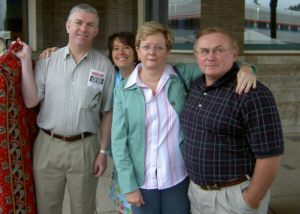 Rotarians from Frankenmuth, Bay City and Caro gather for a friendly parley at the Amtrak station in Durand prior to leaving for the RI Convention in Chicago.
Chicago is where Rotary International started 100 years ago; and last weekend 40,000 Rotarians came to town from all over the world to prove it is the most successful service club ever organized.
Up and down Michigan Avenue on Sunday afternoon the white RI convention badges sparkled like so many tulip petals on a wind swept meadow.
Rotarians streamed through McCormick place like millions of lemmings, heading for this concourse or that, the camadarie thick as the honeyed tones of the weekly greeter at the club meeting.
The majority of the Rotarians appeared to be from foreign countries, exemplifying the international aspect of this club that has grown from a handful of pals meeting with lawyer Paul Harris in Evanston, Illinois, in 1905 to 1.2 million members in 32,000 clubs spread across 168 countries.
From Shula's in the Sheraton, where $99 live lobsters are waved by aggressive waiters, to a super-crowded McDonald's on Navy Pier, Rotarians were a hail-fellow swarm.
On hand were yachting Rotarians, bicycling Rotarians, motorcycling Rotarians roaringthrough town on their "hogs" after the Saturday parade, Rotarians of every stripe imaginable. An international convention is a melange of variety in fellowship to behold.
Chicagoans barely blinked; they see hordes of tourists from May through October: Boy Scouts, doctors, dentists, Realtors, lawyers, architects, plumbers, Teamsters -- you name it, conventions gravitate to Chicago.
"We're pretty much like this all the time," we heard an enthusiastic hostess exclaim at Charley's Ale House, hosting a mass of meal-ordering humanity on the pier. "They just keep coming and its been like this for 10 years."
---
--- Advertisements ---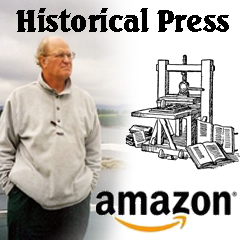 ---
A decade ago the City of Chicago, after years of puzzling about what to do with the old naval facility, decided it should be an entertainment center designed to draw tourists. Man, did that strategy succeed! The place is an absolute beehive of activity.
Jumping on one of the dozens of tour boats leaving the pier, we heard guide Kevin rhapsodize about tall buildings, including the world's tallest, the Sears Tower (challenged by some foreign competitors) and heard the incredible tale of the what musthave been the world's most profitable real estate investment -- The Merchandise Mart.
As the story goes, Joe Kennedy bought the MM in 1946 for a paltry $250,000 in back taxes. The family sold the building in 1996 for $600 million. that's an astounding 24,000 increase, or about 480 percent per year for 50 years.
Legends and stories abound in Chicago. One Chicagoan, desperate to be famous, is known as "Mr. Suits." It seems he has purchased hundreds of different flamboyant suits to appear on a bridge high above the tour boats, repeating his 15-minutes of fame many times daily. Sure enough, there he was, the poor guy, jumping up and down and waving a gold jackets from the bridge, gaining a nod from the tour guide and a few polite claps from the passengers as we passed by.
I passed my old workplace, Tribune Tower, several times, but never regretted leaving the place in 1959 for a job at The Bay City Times that paid more. I could live at home and save the $15 a day it cost me to park my car in Chicago. Besides, Al Capone's pals from out in Cicero and Berwyn were closing in on me for the exposes I wrote on corruption in city government. I guess I got out of Chicago just in time. It's a fun place to visit, but . . . (you know therest of the story.)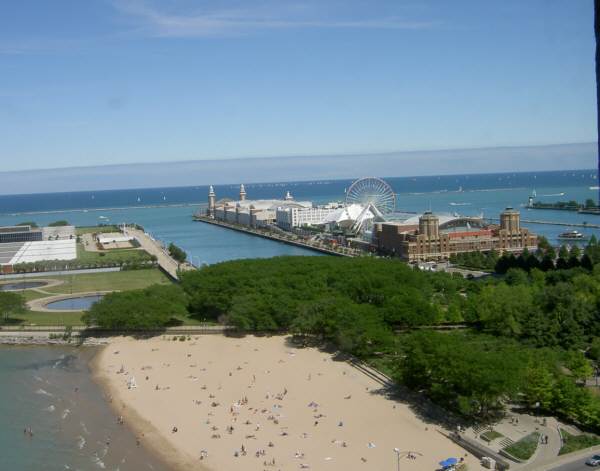 Navy Pier in Chicago - Great Chicago Tourist Attraction
---
Columns Article 816
---

Dave Rogers




Dave Rogers is a former editorial writer for the Bay City Times and a widely read,
respected journalist/writer in and around Bay City.
(Contact Dave Via Email at carraroe@aol.com)

More from Dave Rogers
---
Send This Story to a Friend!
Letter to the editor
Link to this Story
Printer-Friendly Story View
---
--- Advertisments ---