www.mybaycity.com
July 3, 2005
Columns Article 820
---
Whither the Modern American Conservative Movement, Founded in Mid-Michigan?
Russell Kirk Center at Piety Hill Perpetuates Memory of Movement's Founder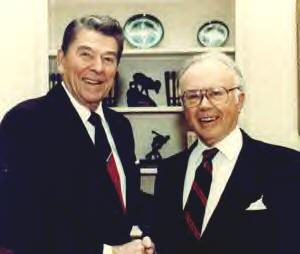 Dr. Russell Kirk with President Ronald Reagan.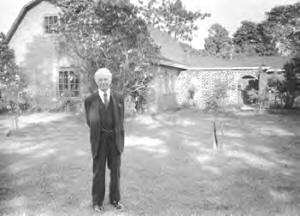 The Sage of Piety Hill, in Mecosta, Michigan, called by the family "a little village in the stump country."
Mid-Michigan, far from being an intellectual backwater, is in fact the birthplace of the conservative movement in the United States.
This woodsy area also is a continuing wellspring of dynamic, though often controversial, ideas through the Mackinac Center at Midland.
The name Russell Kirk comes to mind as the nation, and the world,are increasingly affected by a monumental struggle between the forces of conservatism and those of liberalism.
In this perilous environment complicated by technological change and economic globalization a look into the life of Professor Kirk may be instructive.
Local political thinkers are mainly unaware of the full impact of the career of Russell Kirk, called "the prophet of American conservatism" by former President Ronald Reagan.
Dr. Kirk himself indicated that the labels "conservative" and "liberal" transcend party affiliations. He noted that conservativism gained credence as Americans after World War II became increasingly aware of such "afflictions as burdensome taxation, oppressive political centralization, sorryconfusion in the public schools, disintegration of great cities by social change, violent crime, feebleness and failure in foreign affairs."
Dr. Kirk explained in a Heritage Foundation publication in 1980: "Because political administrations professedly liberal were in power while these grim troubles came to pass, and because liberal dogmas dominated the serious press and the universities, quite justly the American public tended to look for some alternatives to liberal slogans and policies."
He also prophetically warned: "Conservatives defend a free economy as bound up with a complex social structure of order and justice and freedom, founded upon an understanding of man as a moral being. To reduce ourselves to economic determinists offering sacrifices to the great god Mammon is to ruin the prospects of all of us."
%ad%
%ad%
On a trip to Boyne Mountain for a conference in the early 1970s I stopped in Mecosta, Michigan, hoping to see Russell Kirk at Piety Hill, his home and workplace in the center of this small town.
The eminent conservative thinker, writer and speaker happened to be off speaking at a conference, but I had a brief chat with his wife, Annette, before heading north.
Entranced at the time by conservative ideas, I had sought a personal word or two of advice from the sage of Piety Hill, but had to settle for reading some of his books and articles.
Dr. Kirk's 1953 book "The Conservative Mind," opined The New York Times in 1998, "gave American conservatives an identity and a genealogy and catalyzed the postwar movement."
At the time of publication of his book, Kirk was a 35-year-old instructor in History at Michigan State University. "Almost overnight it catapulted the author from the obscurity of East Lansing, Michigan, into national prominence and restored the word 'conservative' from an adjective of opprobrium reserved for members of the Liberty League to respectability," wrote conservative publisher Henry Regnery in a bibliography of Kirk's work published in 1980 by my friend John Cumming at the Clarke Historical Library at Central Michigan University, Mt. Pleasant.
Born in Plymouth, Michigan, in 1918, Kirk attended a private school and was graduated from Plymouth High School in 1936. His father was a railroad engineman. He was a scholarship student in History and debater at Michigan State College, graduating in 1940. He earned a master's degree in History from Duke University, Durham, NC, in 1941.
After four years in the U.S. Army as a staff sergeant in the Chemical Warfare Service in Utah, Dr. Kirk was assistant professor of the History of Civilization at MSC. In 1952 he became the only American to earn the doctor of letters degree at St. Andrews University, Scotland.
---
--- Advertisements ---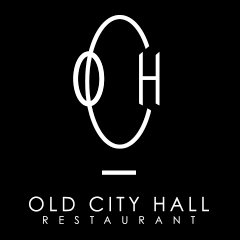 ---
In 1953 Dr. Kirk resigned from MSU and worked out of his ancestral home in Mecosta, an Italianate house filled with sculpture and architectural antiques. He became a narrator and writer of ghostly tales as well as a prolific writer on political and philosophical topics. He and his wife, Annette Courtemanche, had four daughters.
This smallish, owl-faced fellow, smiling continually like someone who knows something you don't (and, of course, he did) was a titan of the academy. A prominent disciple of Edmund Burke and self-described "Bohemian Tory," his message was a humane conservatism rooted in traditions of Western civilization, wrote his bibliographer Charles Calvin Brown. He laid out the conditions for order and freedom in all areas under Burke's "contract of eternal society," Christian doctrine codified in law and custom and preserved in literature. "He has been largely responsible for replacing a tired, destructive libveralism with a vigorous, positive conservatism," wrote Mr. Regnery.
He was a Guggenheim Fellow, a senior fellow of the American Council of Learned Societies, a Constitutional Fellow of the National Endowment for the Humanities and a Fulbright Lecturer in Scotland. He received honorary degrees from 12 American colleges and universities.
More than a million copies of Kirk's books have been sold. The Conservative Mind has gone through seven editions. His syndicated column ran in major national newspapers from 1962 to 1975.
In 1989, President Reagan conferred on him the Presidential Citizens Medal and in 1991 he was awarded the SalvatoriPrize for historical writing. He died in 1994.
Annette Kirk continues her late husband's work through the non-profit Russell Kirk Center for Cultural Renewal at Piety Hill in Mecosta, Michigan. You may contact the center at www.kirkcenter.org.
We are now keenly aware that the "afflictions" in society that launched the conservative movement are not the sole fault of liberals and Democrats but instead are bipartisan in nature.
If we add governmental, electoral and corporatecorruption as the latest maladies besetting the nation, we see that no political party has a monopoly on creating "afflictions" that imperil the public good. Therein lies our current national political conundrum. The people hardly know where to turn anymore for truth and virtue let alone employment and economic security.
Liberalism is not to blame for all the nation's ills, as Dr. Kirk and the conservative movement have postulated. There was a fatal flaw in the sage's reasoning after all, although his intent was pure at the time and his contribution to needed political change was monumental.
---
--- Advertisements ---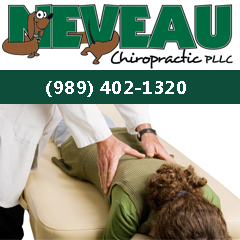 ---
Purging the nation of liberal power and debasing liberal thought apparently leads to an even more despotic conservativism when ruled by the money god, "Mammon" as now appears to be the case. Although Dr. Kirk led by knowing where he stands, according to his bibliographers, it is his erstwhile followers who are uncertain ground, who have gone perhaps too far from the Kirkian fields.
The immortal words of Baron Acton more than a century ago still have undying application today: "Power tends to corrupt, and absolute power corrupts absolutely." And in today's political world, money is power.
The obvious questions come to mind:
1-What would Dr. Kirk think now that his brave new world of cultural renewal through conservative dominance is faltering?
2-Where are the intellectual thinkers, the new Russell Kirks, who will postulate new paradigms that insure that the political system operates for the greater good rather than just for the economic elites?
3-And, will integrity of the electoral system be able to be renewed to restore political balance and lead us out of this morass?###
---
Columns Article 820
---

Dave Rogers




Dave Rogers is a former editorial writer for the Bay City Times and a widely read,
respected journalist/writer in and around Bay City.
(Contact Dave Via Email at carraroe@aol.com)

More from Dave Rogers
---
Send This Story to a Friend!
Letter to the editor
Link to this Story
Printer-Friendly Story View
---
--- Advertisments ---