Bay City's Ashley Anderson is a Pioneer of Two Men and A Truck
Franchise Started by a Woman Now Has 151 Centers in 27 States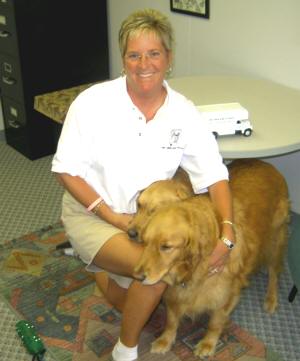 Ashley Anderson of Bay City's Two Men And A Truck and her Golden Retrievers, Samantha and Cherry.
Bay City's Ashley Anderson has gone from one woman and a truck to 26 guys and 10 trucks managed by a woman -- her!
The local entrepreneur got hands on experience early, working five summers up to 14 hours a day seven days a week in a cherry canning factory in Traverse City while she was in high school.
That was good training for one the the area's most successful businesswomen. Beginning with a beat-up 1987 GMC manual transmission truck costing $4,000 in 1994, Ms. Anderson climbed on the truck and did much of the moving herself for the first two years.
The company has grown so much over the past 11 years that she serves a five county area with moving service all over the country and does more than $1 million in business each year.
"I've become very thankful for what I have and I try to give back to the community," says the dynamic 43-year-old who is a board member of the Bay Area Chamber of Commerce.
---
--- Advertisements ---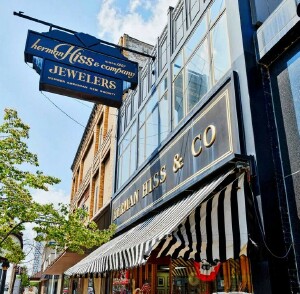 ---
She is also a member of the board of the Bay Regional Medical Center Foundation, the Bay Arts Council, the local American Red Cross organization and the Saginaw Zoo.
She operates the booming business out of a building at 105 Garfield Avenue that once was the location of NorthernIndustrial Supply, Inc., not to be confused with a business owned by her family, Northern Supply Co., 1111 S. Henry St., an automotive parts distributor with several branches in mid-Michigan.
The family business was run by her father, the well-known, respected business leader Andrew F. Anderson, who died five years ago. That business was operated previously by her grandfather, Oscar Anderson, a prominent civic leader and one of the prime movers in the formation of Delta College more than 40 years ago.
After graduating from Bay City Central High in 1980, Ms. Anderson studied Business and Marketing at Michigan State University, East Lansing.
It was in East Lansing that Ms. Anderson met Mary Ellen Sheets, the founder of Two Men And A Truck. In the early 1980s, Ms. Sheets' two sons, Brig and Jon Sorber, made extra money helping people move using an old pickup truck. She advertised in the East Lansing weekly newspaper using a logo depicting "stick men." When her sons went on to Michigan Technological University, Houghton, Mary Ellen kept the business going by hiring the now legendary two men: "Elmer and Joe" and buying a 14-foot truck for $350.
A single mother, Ms. Sheets worked for the state of Michigan as a computer analyst. She went fulltime with the business in 1985. After a fellow participant in a business panel at MSU suggested that Two Men And A Truck was a great franchising concept, she went to an attorney and kicked off the idea by awarding the first franchise to her daughter, Melanie Bergeron, in 1989.
Ms. Sheets this year was named Entrepreneur of the Year by the International Franchise Association at its 45th national convention in Ft. Lauderdale, Florida. The franchise has had double-digit growth every year. Training is provided by "Stick Men University." Franchisees have 978 trucks on the road and the company is the nation's fifth largest mover.
Ms. Anderson was the 32nd franchise awarded; she got the last available Michigan franchise, the tri-counties. She got a second truck, an '89 GMC, within six months and paid off her first truck in a year.
The local company's marketing territory now includes Tuscola and Isabella counties as well as Bay, Midland and Saginaw.
Her goal, she says, is to "keep growing. We hit the milestone last year and we're now in the million dollar club. I want to hit $2 million and I need to do more marketing."The local company now has eight licenses from the state and U.S. Department of Transportation, five intra-state and three inter-state. Her service "costs a little more" but customers benefit by having the security of knowing that their goods are the only ones on the truck and that the same two movers are with the job from startto finish.
"A customer can literally follow the truck with their goods aboard all the way to their destination," she said. Two of her 26-foot trucks equals one semi moving van.
Unfortunately, she said, much of her business has been moving people out of Bay City to other parts of the nation as the Michigan economy shrinks. "We've got to figure out how to start moving more people in," she said.
She now uses International trucks exclusively and has a fulltime mechanic, GaryWielen, who does all the work in-house that used to be farmed out.
The office is home to 12 rescued cats and three dogs, nearly identical Golden Retrievers Samantha and Cherry, and a Labrador, Orchard.
To what does she attribute hersuccess? "Mostly just intuition and guts," she says, admitting however that using the business skills of forecasting and goal setting helps a lot.
---
--- Advertisements ---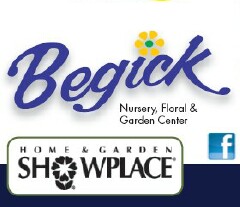 ---
---
---

Dave Rogers




Dave Rogers is a former editorial writer for the Bay City Times and a widely read,
respected journalist/writer in and around Bay City.
(Contact Dave Via Email at carraroe@aol.com)

More from Dave Rogers
---
Send This Story to a Friend!
Letter to the editor
Link to this Story
Printer-Friendly Story View
---
--- Advertisments ---