Raising Healthier Kids
The American Heart Association provides tips to get kids up and moving
July 11, 2013 1 Comments
By: Stacy Sawyer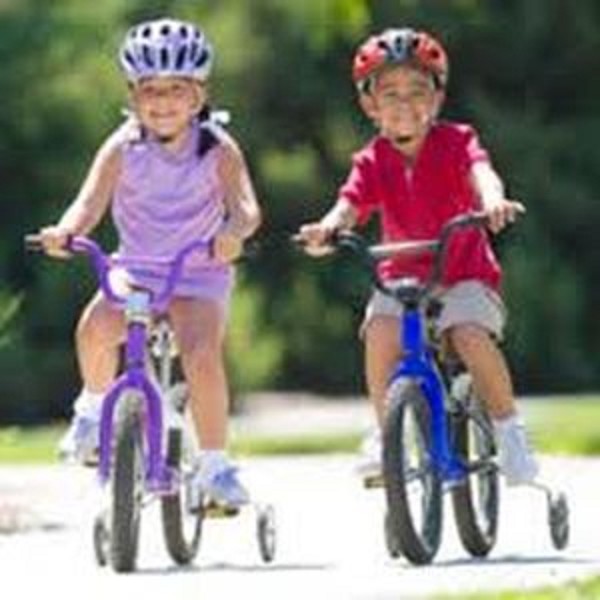 Ride a Bike
Today, about one in three American kids and teens is overweight or obese--nearly triple the rate 50 years ago. Among children today, obesity is causing a broad range of health problems that previously weren't seen until adulthood. These include high blood pressure, type 2 diabetes and elevated blood cholesterol levels, as well as psychological effects, such as low self-esteem, negative body image and depression.
However, there's good news: Obesity can be stopped and it doesn't take high-tech treatments or cutting-edge medications. The solution begins and ends with the daily decisions we make. Parents and caregivers are essential decision makers when it comes to the nutrition, physical activity and health needs of their children.
The American Heart Association recommends that all children over 2 years old participate in 60 minutes of physical activity a day. If your child or children don't have a full 60-minute activity break each day, try to provide at least two 30-minute periods or four 15-minute periods in which they can engage in vigorous activities appropriate to their age, gender and stage of physical and emotional development.
Here are some activity tips to help get your kids moving.
Physical activity for kids around the house:
Get your kids active while doing housework. Place a sticky note on all of the items that need straightening up (like the kitchen table, the sofa, the bed). Your child will collect each sticky note after they clean the item. Make it a friendly competition to see who collects the most stickies. You could even offer a prize. Your kids will be physically active, helping with household chores and having fun!
Get the entire family involved. After dinner, assign everyone a task in the cleanup. Everything from clearing the dishes, loading the dishwasher, and putting away leftovers can get the family up and moving. Finish off the evening by going for a family walk or doing group physical activities like stretching. Not only will everyone be out of their chair, but this will also be fun bonding time for you and your family.
Physical activity tips to get kids outside:
Make exercise an easy choice. Try using physical activity to counter something your child doesn't want to do. For instance, make it the routine that your child can ride a bike for 30 minutes before starting homework after school. Your child will beg for 20 more minutes outside!
Find an activity they love. Some kids just don't like competing in sports. That's OK, there are lots of other ways to be active. Try swimming, dancing, cycling, skateboarding, karate, walking, jumping rope, or even horseback riding. Encourage your child to explore multiple activities to find one they really enjoy.
Build confidence. Some kids might be embarrassed to participate in sports because they don't think they're good enough. Find time to practice together and boost their confidence.
Learn more about health rates in Michigan children and get tips on better nutrition and physical activity for the whole family at the American Heart Association's website, www.heart.org.
---
"The BUZZ" - Read Feedback From Readers!
WALLWE Says: On July 15, 2013 at 09:53 AM

YOU THINK GAS FIRED UTILITIES WITH LESS CARBON EMISSIONS WOULD BE WELCOME CHANGE FOR OUR CHILDRENS FUTURE??? SO GLAD WE DEFEATED THE 14 "COAL FIRED " ENERGY PLANTS.. SHAME ON OUR POLITITIONS FOR EVER ENTERTAINING SUCH A HORRIBLE AGENDA. SEEMS AS IF THE POLITCOS HAVE THEIR OWN AGENDA AND SELDOM TO BENEFIT OF FOLKS IN THE FUTURE..
---

Stacy Sawyer




Stacy Sawyer is the Director of Communications for the American Heart Association. She can be reached at (989) 225-7513.

More from Stacy Sawyer
---
Send This Story to a Friend!
Letter to the editor
Link to this Story
Printer-Friendly Story View
---
--- Advertisments ---