GAS BEATS COAL: Consumers Shift to Natural Gas Replaces Bay City Clean Coal
$750 Million Plant in Genesee Would Save 50 Percent of Carbon Emissions
July 14, 2013 1 Comments
By: Dave Rogers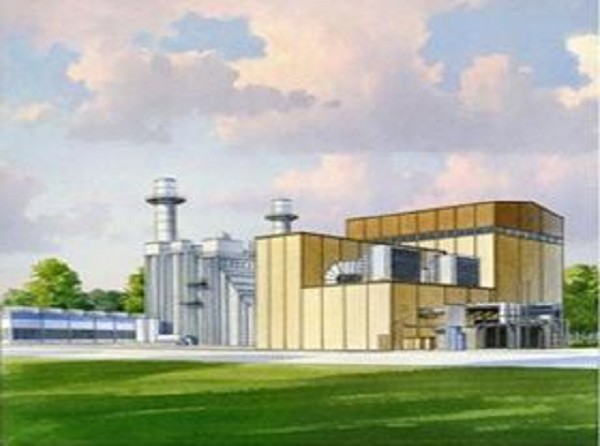 New Consumers natural gas generating plant slated for construction in Genesee County just east of Clio.
The center of electrical generating by Consumers Energy is shifting south, from Bay City to Genesee County.
A $750 million natural gas plant, cutting carbon emissions by half and replacing seven coal-fired plants, is in the Consumers Energy game plan for 2017.
Consumers Energy filed Friday for approval of a certificate of necessity for a proposed new natural gas plant in Genesee County.
The new plan apparently means the utility is scrapping a 2009 proposal for a $2 billion expansion of its Karn/Weadock Generating Complex near Bay City. That plan called for building a new 800-megawatt (MW) advanced supercritical pulverized clean coal power plant -- equipped with the latest technology to control emissions -- slated originally to go into operation in 2017.
Coal-fired plants are under fire by environmentalists and governments around the world and natural gas supplies are extensive in Michigan, energy experts indicated.
"The Michigan Public Service Commission (MPSC) filing today establishes that this new natural gas plant is in the best long-term interests of Michigan and our 1.8 million electric customers," said John Russell, Consumers Energy chief executive officer, adding:
"This $750 million project will create 600 construction jobs, about 30 operating and support jobs, and ongoing economic benefits for the regional I-75 corridor and Genesee County."
The filing under Michigan's energy reform law provides Consumers Energy's comprehensive analysis for the 700 megawatt natural gas plant planned for Thetford Township, about 20 miles northeast of Flint. The review process for the filing is expected to take nine months.
Tim Sparks, Consumers Energy's vice president of energy supply operations, said the new facility will be one of the most economical and efficient power plants in operation, using advanced combined cycle technology.
Consumers owns the 272-acre site, which is already home to nine smaller natural-gas fired combustion turbine units. There is also enough land to build a second, similar size unit at a later date, and the firm is evaluating this option. The Thetford site was selected primarily because high-volume gas pipelines and high-voltage power transmission lines necessary for the plant's operation are readily accessible, officials said.
Sparks noted that the plant's 700 megawatts are needed due to the scheduled suspension of operation of Consumers Energy's seven smallest and oldest coal plants, some of which are at Karn-Weadock in Bay City, which have a total capacity of about 950 megawatts.
The company's customers set an all-time peak demand record in 2012, as electric sales rebound with Michigan's improving economy.
"When operational in 2017, this plant will produce about 50 percent less carbon emissions than the coal plants it will replace. This switch in generation will help us reach our greenhouse gas reduction target of 20 percent by 2025," said Sparks.
An economic impact study released today for the Thetford project cited numerous benefits for Michigan, the regional I-75 corridor and Genesee County. The study cited increased construction and spin-off jobs, local economic investment, and increased annual property taxes benefiting Genesee County, Thetford Township and its libraries, parks, health services, local schools and other special districts.
Consumers Energy owns the 230-acre Thetford Township site, which features access to high-volume natural gas delivery and high-voltage power transmission lines. The site already is home to nine smaller natural gas fired combustion turbine units.
The current project schedule calls for construction to begin in 2014 and for the new combined cycle power plant to begin serving Consumers Energy's electric customers in 2017. At 700 megawatts, the plant would be able to serve a community of about 445,000.
Development of the power plant is tied to Consumers Energy obtaining an air permit from the Michigan Department of Environmental Quality (MDEQ), a certificate of necessity from the MPSC, and suitable financing. Consumers Energy is awaiting an air permit from the MDEQ, having completed the application process. Its air permit application covered two combined cycle units at the Thetford site, supporting the company's option to develop a second unit at a later date.
Sparks said development of a major new natural gas fueled power plant is part of the company's Balanced Energy Initiative, a comprehensive plan that includes renewable energy and energy efficiency programs to meet the energy needs of Consumers Energy's customers through 2040.
"This plant will use state-of-the-art technology to help meet the future needs of our 1.8 million electric customers in an environmentally responsible manner," said Sparks.
"We selected natural gas as the fuel source for this new power plant because we project it will be the most economical way to serve our customers in the future and continue to bring them value," Sparks said.
Consumers Energy, Michigan's largest utility, is the principal subsidiary of CMS Energy (NYSE: CMS), providing natural gas and electricity to 6.6 million of the state's 10 million residents in all 68 Lower Peninsula counties.
---
"The BUZZ" - Read Feedback From Readers!
WALLWE Says: On July 15, 2013 at 09:48 AM

POWER TO THE PEOPLE . TIRED OF GOING ALONG WITH WHATEVER DRIVL THE COAL LACKYS WISH TO PUSH UPON US . FOLKS HAVE FINALLY SAID ENOUGH. 14 COAL FIRED PLANTS WENT DOWN THE DRAIN WITH THIS ONE ALSO. GIVE ME CLEAN AIR AND CHILDREN ABLE TO GROWN TO ADULTHOOD WITH OUT THE "ASTHMA" INHALE AS PART OF THEIR SCHOOL GEAR.. CORPORATE AMERICA HAS FOUND THAT EVEN THO THEY LIKE HIGH PROFITS FROM "CHEAP COAL
" THEIR CUSTOMERS WOULD RATHER PAY A BIT MORE AND BE HEALTHY ENOUGH TO PAY THOSE BILLS AS BENEFIT FROM LONGER LIFE.. HMMMN WHAT ELSE COULD WE CHANGE FOR THE BETTER "CLEAN WATER??"
---

Dave Rogers




Dave Rogers is a former editorial writer for the Bay City Times and a widely read,
respected journalist/writer in and around Bay City.
(Contact Dave Via Email at carraroe@aol.com)

More from Dave Rogers
---
Send This Story to a Friend!
Letter to the editor
Link to this Story
Printer-Friendly Story View
---
--- Advertisments ---