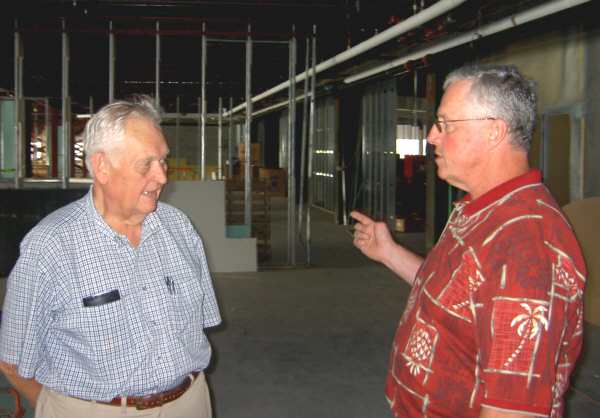 Luxury condominium developers Bill Gregory, left, and Jim Reid, exchange trade talk at a recent tour of the Boathouse luxury condominium building on Water Street
---
Boathouse, Iron Bridge, Other Condos Have Important Historical Settings
Train Once Ran Through Boathouse; Last Indian Pow-Wow Was At Iron Bridge
August 7, 2005 Leave a Comment
By: Dave Rogers
Some condominiums in Bay County have a historical connection and others link the industrial heritage with the future.
"The Transformation Has Begun! Join The Excitement" shouts a brochure for The Boathouse Condominiums, being developed by Billand Marian Gregory and Paul and Peggy Rowley.
A railroad train once ran through the building now called The Boathouse, an old steel warehouse being converted to 37 luxury condominiums by the Rowley-Gregory development team.
The location of the Iron Bridge condominium complex on Marquette Avenue was the site of the last great Chippewa Indian encampment here in 1865.
Breaker Cove condo complex on South Water Street is on the site of the old N.B. Bradley Lumber Mill.
More than 100 condos presently for sale in Bay County include some of the first units built here, the tennis condos at Bay Valley that went up in 1972.
---
--- Advertisements ---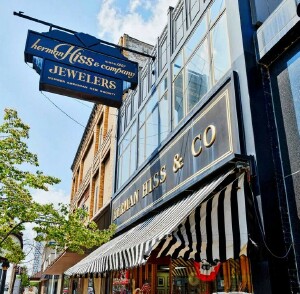 ---
Other condominiums for sale include 21 units in Whispering Pines, and three units in Nature's Ridge off Ridge Road in Hampton Township; and nine units at Bay Harbor Pointe in the Bay Harbor Marina complex near the mouth of the River in Bangor Township.
Others include several units each in Riverbend Condos on the Kawkawlin River at the Euclid Avenue Bridge and in Antrim Place, Jennison Place and the Water Street Brownstones all on Water Street in Bay City.
The site of the Riverbend condominiums was long home to the Green Gables resort, last of the individual resort cabin complexes that proliferated during the early part of the century. Other similar developments were the LindenHof cabins, Walt's Cabin Camp on the Kawkawlin and others.
The 12-unit luxury Shearer Building on Center Avenue, being developed by Jim Reid and his team, has one unit completed, several reportedly sold and others awaiting completion.
While the tennis condos at about $30,000 are at the lower price range, the Boathouse condo prices range from $289,000 to $750,000.
Despite the high prices, most condos here have proven to be bargains. A Jennison Place owner reportedly was offered $600,000 for a condo,double the purchase price 10 years ago.
Condos are attracting a whole new lifestyle class of people -- those who don't want to do their own yardwork and home maintenance, or who are physically unable to do so.
Jennison Place folksgather frequently for cookouts and other events building a sense of community and camaraderie. "It's just a great place to live," said one resident.
The Boathouse will set an even high standard for downtown living, offering craft shops, a fitness center, clubrooms with skylights, two elevators, two indoor parking spaces and a boat dock for 30 units.
A 345-foot long deck on the riverfront at the Boathouse may soon be as famous as the porch on the Grand Hotel on Mackinac Island.
The developers report 15 Boathouse units sold and reservations on nine more.
"The Boathouse and its residents will bring even more vitality to bay City's vibrant downtown," says attorney Bob Sarow.
Obviously Gil Currie, Guy Garber, Bill Harvey and partners who developed Bay Valley more than 30 years ago were onto something big when they brought in a California architect to design condos in complexes of various price ranges, such as Bay Woods, Fairway Pines, Golf Lakes and others.
Although the Bay Valley Tennis Center is closed and is being used for storage, the 48 tennis condo units remain an attractive living area especially for singles.
While Bay Valley was mainly farmland with Squaconning Creek meandering through, the Boathouse was an integral part of the rich industrial heritage of Bay County.
Historical reports note that the Jennison Hardware Company is perhaps the oldest local business, having been founded by Charles E. Jennison in 1850.Mr. Jennison was married to Florence Birney, daughter of Bay City pioneer James Gillespie Birney, twice abolitionist candidate for President.
In 1917 the Jennison Company built the 350-foot long warehouse that now is being converted to condos.It was expanded by an addition in 1936.
Not only did a train unload steel inside the building, but a five ton traveling crane shifted the 5,000 tons of steel kept there for sale and shipment around the state.
The warehouse had a 24-ton squaring shear, a bar cutter and a cold saw that cut a 15-inch "I" beam in 30 seconds.
Residents of West Bay City awoke one morning to discover hundreds of Indians encamped along the river from Indiana to Joseph Street. Part of the encampment was on the site where the Iron Bridge condominium complex is now under construction. Plans are for several dozen condos, with prices ranging from about $129,000 for smaller units.
---
--- Advertisements ---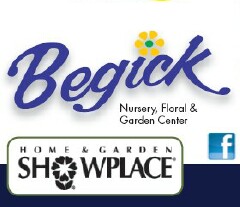 ---
Father H.J. Schutjes of St. Mary Church and delegation of town leaders, fearing that a massacre might be imminent, met with the chiefs. Fears were soon allayed when the leaders found that the Indians were merely gathering for their annual payment for lands ceded in the Treaty of Saginaw of 1819.
Indians apparently had been gathering along the west bank of the river in that area for centuries. In 1967 the Fletcher Site, an important burialground, was uncovered near the river and was excavated by archaeologists from Michigan State University.
Remains of some aboriginal peoples were recovered, along with artifacts dating back to the occupation of Michigan by the French in the 1700s. After much discussion with the Chippewa tribe, the remains were returned for proper burial in Mt. Pleasant.
City officials in recent years have worked out agreements with the Chippewa for preservation of any artifacts or remains found in the area and development has been allowed to continue on nearby sites.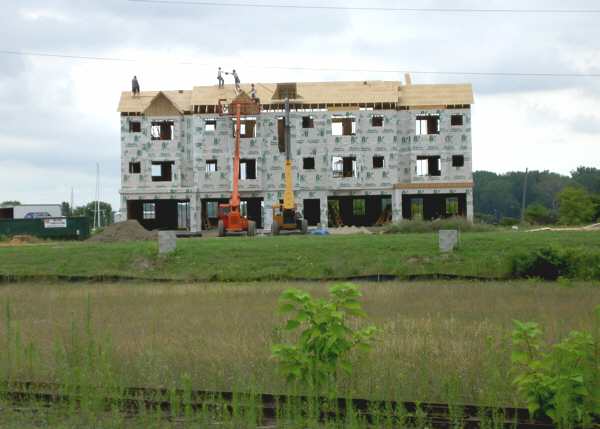 Iron Bridge Condominiums first four unit building
looms like a French military blockhouse on Marquette Avenue.
---
---

Dave Rogers




Dave Rogers is a former editorial writer for the Bay City Times and a widely read,
respected journalist/writer in and around Bay City.
(Contact Dave Via Email at carraroe@aol.com)

More from Dave Rogers
---
Send This Story to a Friend!
Letter to the editor
Link to this Story
Printer-Friendly Story View
---
--- Advertisments ---