Atomic Energy Contract Put Bay City Firm in Graphite Purification Business
New World Industry Launched Here by George Sermon From Dow Chemical Roots
August 14, 2005 Leave a Comment
By: Dave Rogers
Sermon explains qualities of purified graphite electrode to customers at meeting in Detroit.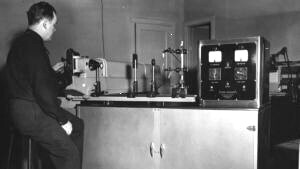 George T. Sermon uses spectrograph for analysis of graphite in the early days of United Carbon Products, pioneer firm in purification of graphite for spectographic analysis.
It was early 1945: sixty years ago.
President Roosevelt was still alive and World War II was winding down, with only Japan holding out.
The Atomic Energy Commission (AEC) under J. Robert Oppenheimer was feverishly working on the Manhattan Project to produce a nuclear bomb.
The AEC needed purified graphite for testing and production of nuclear materials.
Mid-Michigan's Dow Chemical Company may have been the only place on the globe where purified graphite was available.
Enrico Fermi was experimenting with 400 tons of graphite, layers of uranium and cadmium sheets in a squash court at the University of Chicago. He soon produced the world's first nuclear "chain reaction."
"The Italian navigator has just landed in the New World," came the cryptic message indicating the success, as scientists uncharacteristically sipped Chianti in celebration.
President Roosevelt died April 12, 1945, and was succeeded by Vice President Harry S Truman. In August, 1945, two atomic bombs developed by the AEC were dropped on Japan, ending World War II.
We may never know if purified graphite produced at Dow was ever used in the production of atomic bombs.
Or if Bay City technicians working for Dow were among the key players in the technological advance that won the greatest and most destructive war in the history of mankind.
It is known that the Germans at first mistakenly failed to use graphite and instead focused on heavy water in their experiments. "As we now know, the scientists in the American Manhattan Project successfully used graphite in their own reactor for the critical job of slowing neutrons," wrote one of the participants.
When the Germans discovered the error and switched to graphite, the product used contained minute traces of boron that contaminated it and made the graphite ineffective as a moderator. The Germans "simply did not know where or how to obtain a more pure sample of graphite," thesource wrote.
Dow's official position was that purified graphite was not big enough business, so technical employees George T. Sermon and Lynn Brooks left to start their own company. Ned Arbury, whose brother, Dr. Anderson Arbury, was married to one of the Dow girls, Dorothy, was an investor and on the board of UCP for years. He died about three years ago.
The result was the United Carbon Products Co. (UCP), later Ultra Carbon Co., in Bay City. The new company was formed in mid-yearand the articles of incorporation were received and stamped Sept. 6, 1945.
A two-year contract was won with the AEC when the local firm proved it could successfully remove Boron from nuclear grade graphite. Of course that was the key to successful nuclear reaction that Dow may have produced for the AEC while Sermon and Brooks worked there. Richard T. Sermon recalled that his father often had to travel to Oak Ridge, Tennessee, to meet with J. Robert Oppenheimer and his staff and there were indications he had also met with Albert Einstein, another scientist interested in the project.
Even today, secrecy prevails and there is little documentation of those perilous days. Had Sermon and Brooks worked at Dow on purifying graphite that wasthe key to U.S. atomic bombs? The juxtaposition of facts and extrapolation of details seems to indicate that may have been so, but we may never know for sure. "My Dad was very close mouthed about those things; he never said much about what he was workingon," said his son Richard T. Sermon, 67.
Dow had a nasty experience with the military and pulled out of mustard gas production in World War I, according to company historian E.N. "Ned" Brandt in his 1997 book, "Growth Company," published by Michigan State University Press, East Lansing, MI.
After the mustard gas episode, the firm may have shied away from military products, especially lethal ones like nuclear bombs, except when under government mandate. However, the war was over andDow decided that the graphite purification process discovered and perfected there would not be pursued.
Once the war was over, the military project could be spun off without fear of being unpatriotic.
An old 20 x 30 concrete block building on McGraw Street in Bay City was purchased.
"It took men with vision and courage to embark on a new venture at that time," said Sermon, the 34-year-old co-founder of UCP.
Sermon, who had grown up on Linn Street near the present approach to the Veterans Memorial Bridge on the West Side, was graduated from Central High in 1929. His parents were Joseph and Ida Sermon, 403 S. Linn St. The 1929 city directory lists Ida as widow of Joseph and organist at the State Theatre. She also taught piano and organ.)
Young George earned a Science and Engineering associates degree from Bay City Junior College, enough training to get him hired at Dow.
In those days of high academic standards, he took such courses asQualitative Analysis, Engineering Physics, Engineering Drawing, Analytical Geometry and Engineering Chemistry, and Historic and Economic Geology, according to his son, Richard T. Sermon, of Bay City. He also taught Math to fellow students while in juniorcollege, he son said.
(George T. Sermon's sons, Richard and George Sermon Jr., both followed in their father's footsteps in the graphite purification business. Richard recently retired from Bay Carbon where he was director of quality control. His son, Richard A. Sermon, also works at Bay Carbon and formerly worked at Dow, making the third generation in the graphite business.)
Within two years of its founding the firm moved to a larger building at First and Madison, to which a 6,500 foot addition was made in 1956.
A new worldwide industry was launched that is still vigorous today, with several successor firms operating here, including Carbone of America, General Graphite, Inc., and Bay Carbon Products in Bay City and Saginaw Graphite.
The success of this industry is further confirmation of Bay City's position as a center of industrial innovation. Dozens of products and companies have begun here, from ready-cut homes 100 years ago to automatic welding machines 50 years ago and high tech products and Internet communications today.
Within a decade after its founding, UCP had dozens of employees and was selling high purity graphite to over 750 industrial, institutional and commercial organizations in the U.S. and 21 foreign countries. "It is recognized as the world's finest product," said a company publication.
In 1960, UCP was "a leading supplier to the semiconductor industry and one of two major concerns supplying spectroscopic electrodes to a worldwide market," according to Electronic News.
The successor firm, Ultra Carbon,grew to about 100 employees under Sermon's leadership, using his famous F Process for ultra-pure graphite for the semiconductor field.
Sermon resigned from Ultra Carbon in 1965 and founded another firm, Met-Bay. Met-Bay was sold to a Massachusetts scientist, Dr. Robert O. Teeg, was struck by employees and eventually went out of business.
Del Hughes headed the firm when it expanded in 1977 at 900 Harrison St. It the had $7 million a year sales and employed 120 with $1.5 million annual payroll. Hughes died the following year.
Ultra Carbon was sold in 1987 to Stackpole Corp, of St. Marys, Pennsylvania, and ultimately to the French firm Carbone Lorraine.
Sermon died of a heart attack in 1977 at age 66 at the Tawas Area Hospital.###
---
---

Dave Rogers




Dave Rogers is a former editorial writer for the Bay City Times and a widely read,
respected journalist/writer in and around Bay City.
(Contact Dave Via Email at carraroe@aol.com)

More from Dave Rogers
---
Send This Story to a Friend!
Letter to the editor
Link to this Story
Printer-Friendly Story View
---
--- Advertisments ---