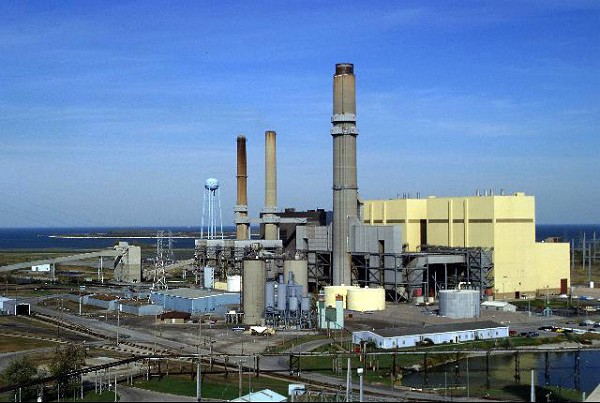 The 2,138 megawatt Karn-Weadock electrical generating complex of Consumers Energy is situated at the mouth of the Saginaw River. (Photo courtesy Michigan Building Tradesman)
---
DEMOLITION DELAY: Consumers Energy Approved to Wait Extra Year on Shutdown
Two Karn Plant Coal-Fired Units Get Extra Year Operation 'til 2016
November 17, 2013 Leave a Comment
By: Dave Rogers
Consumers Energy has received approvals to delay by a year the retirement of seven older coal-fired generating units representing 950 MW of capacity until April 2016, a company spokesman said.
The Mid continent Independent System Operator (MISO) and Michigan Department of Environmental Quality have approved the firm's plans to delay suspension of operations at three units of the J.R. Whiting plant at Erie and two units each at its Karn-Weadock and Cobb plants at Bay City and Muskegon, respectively.
The Michigan business environment has changed to reflect an economic recovery that has led to a rise in electric loads in the state.
Consumers Energy has plans to close and demolish its J.C. Weadock coal-fired power plant in Hampton Township beginning in 2016. Those units, Nos. 7 and 8, were built in 1955 and 1958. The Dan E. Karn coal fired units 1 and 2 (built in 1959 and 1961) on the same site reportedly would remain in operation.
Karn units 3 and 4, built in 1975 and 1977 respectively, are gas and oil fired and no plans for their retirement have been announced.
The company has more than 300 employees at the electrical generating complex at the mouth of the river that was opened in 1940.
Meanwhile, the coal-burning Harbor Beach Power Plant was shut down last week after operating for 45 years. According to a DTE Energy representative, spokeswoman Randi Berris, ?The final fire was put out sometime late Monday night or early Tuesday morning.?
DTE cited recent bolstering of the Thumb?s electricity infrastructure reducing the need for a power plant in the area. Also, environmental regulations now require Michigan energy companies to have 10 percent renewable energy by 2015.
?The grid has changed. Infrastructure is much more robust now, and with new environmental standards combined with the age of the facility, it didn?t make sense to update the facility,? Berris told the Huron Daily Tribune.
The Jackson-based Consumers Energy is seeking approval from the Michigan Public Service Commission on a $454 million bond issue to fund the demolition in Bay City and at two of the company's other Michigan plants.
Consumers, the state's second largest power utility behind DTE Energy, is forecasting load growth of about one percent a year over the next decade, company spokesman Dan Bishop said.
"Michigan has seen electric sales come back from the recession, a strong recovery for industrial sales," Bishop said.
While Consumers' overall sales for 2013 are at or a little below last year's level, "We have seen a good, strong recovery," he said. Earlier this month, Consumers posted a record peak for September.
Along with the positive economic developments, delaying the plant retirements also allows Consumers to forestall wholesale power purchases at least a year.
According to Bishop, MISO expressed some concerns about reliability if the units were shut in 2015. Delaying the retirements for another year would help reduce reliability worries, he said.
MISO, along with PJM Interconnection, has worried about the reliability impact from so many planned coal plant closings across the region.
"Authorization to continue operation for another year comes from the Michigan Department of Environmental Quality and MISO," Bishop noted. "The company has the option of continuing operation at our seven oldest generating units until April 2016. So, we've informed employees and community leaders about this option."
###
---
---

Dave Rogers




Dave Rogers is a former editorial writer for the Bay City Times and a widely read,
respected journalist/writer in and around Bay City.
(Contact Dave Via Email at carraroe@aol.com)

More from Dave Rogers
---
Send This Story to a Friend!
Letter to the editor
Link to this Story
Printer-Friendly Story View
---
--- Advertisments ---