City Commission Monday Night to Consider Endorsement of School Bond Issue
Facility Improvements of Nearly $69 Million Proposed for November Vote
September 11, 2005 Leave A Comment
By: Dave Rogers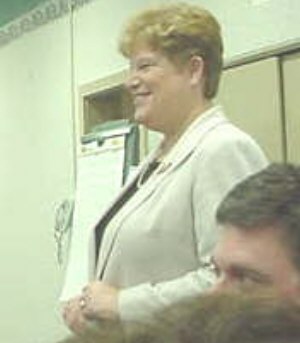 Superintendent Carolyn Wierda explains the need for the renovation of facilities faced by the Bay City Public Schools.
Bay City commissioners Monday night will consider endorsing a $68.8 million bond issue for building improvements in the Bay City School District.
"Why this bond -- and why now?" Campaign supporters comment: "Deteriorating structural supports, walls and door frames, rusted steel and crumbling masonry, outdated wiring, asbestos laden ceilings and floors, and bathrooms inaccessible to handicapped students are serious problems -- the kind of things that go above and beyond normal maintenance."
A November 8 vote is scheduled on the bond proposal, termed critical for the district and its 9,000 plus students. Approval of the plan would levy 1.63 mills for 30 years. However, school officials point out that the increase would be only .53 of a mill when a present 1.1 mill levy expires in 2007.
Official city endorsement of the proposal would give a major boost to the campaign, considered vital to economic development efforts and preservation of home values.
Supt. Carolyn Wierda states the case for the bond issue:
"It takes more than great teachers and staff, great students, great parents and a great community to provide the necessary services to help children achieve. It takes a safe, secure and less-crowded learning environment."
Supt. Wierda has been seeking endorsements from governmental and private organizations and recently made a presentation to the City Commission citing the need for the bond. The presentation was featured last week on Bay3TV as part of the regular city commission televised program. She also said:
"Making facilities improvements is our focus this fall. That's why Bay City Public Schools has placed a bond proposal on the November 8 ballot. The bond is expected to raise $68.8 million dollars to make our schools asbestos free, up to code, less crowded, and handicapped accessible. Renovating our schools will remove all of the asbestos; bring our schools up to current fire and safety codes; and replace walls, windows, ceilings and floors."
James R. Johnson, Auburn, an attorney who was active in fundraising for the new Western High weightlifting facility, is among leaders of the citizen effort to pass the bond proposal along with Mike Hanisko, local CPA and civic leader.
Campaign information states: "Previous bond proposals called for new buildings, but this proposal only addresses the improvements that are needed and the expansion of serious overcrowded existing buildings, including library, science classroom and computer lab conversions at Central High.
"Our schools may look good from the outside but what you can't see is the asbestos used below the floors and above the ceilings, structural damage caused by water leaks or outdated wiring. Renovation will make our schools last without having to replace them, protecting our community's investment."
The Auburn area is experiencing significant population growth, as Supt. Wierda commented:
"Even though there has not been overall population growth within Bay City, in parts of the district the student population has grown significantly—creating overcrowded conditions in the western part of the district. The bond proposal includes expansion of existing buildings to address overcrowding. (See MyBayCity.com Dec. 8, 2004, "Addition of About 1,000 Homes in Western Suburbs Concerns School Officials.")
"Improving education quality begins with safer, less crowded schools."
Four years ago, on Sept. 17, 2001, a Bay City School District proposal for $76.6 million in facilities improvements and construction of two new middle schools was defeated 2,410 to 8,715.
In 1996, school district voters turned down a $21.8 million facilities improvement request by a 5,121 to 7,745 count.
About half of all bond issue requests in Michigan were approved in the past 20 years, the Michigan Department of Education (MDE) reports. Those bond issues levied a total of $15.5 billion for school constructionand facilities improvements while a like amount were turned down.
So far in 2005, eight bond issue requests have received voter approval and 21 have been turned down, MDE reports. Among the approvals, Caro voters okayed a $14.9 million, 1.93 mill, 20 year bond issue by a 1,433 to 1,084 vote for remodeling elementary, middle and high schools. Bad Axe voters rejected a $3.8 million request and Cass City turned down an $11.5 million proposal for 4.02 mills for elementary additions and a high school performing arts center. Those were the only requests on the ballot among schools in the northeast Michigan area.
Last year voters approved 66.7 percent of all bond issue requests. That was the second highest approval rate in the past two decades, the highest being 74 percent in 1986. However, approval rates have ranged as low as 32 percent in 1985. and 33 percent in 1993.
The 1992 bond issue approved by Bay City voters was $15 million for facilities improvement. A 1973 bond issue for construction of Western High School was adopted by board action. Most of the present schools were built as a result of voter approval in 1949 of a 15-year "pay-as-you-go" millage, then considered an innovative approach to school construction finance and placing Bay City in the forefront of Michigan school districts.###
---
Schools Article 879
---

Dave Rogers




Dave Rogers is a former editorial writer for the Bay City Times and a widely read,
respected journalist/writer in and around Bay City.
(Contact Dave Via Email at carraroe@aol.com)

More from Dave Rogers
---
Send This Story to a Friend!
Letter to the editor
Link to this Story
Printer-Friendly Story View
---
--- Advertisments ---