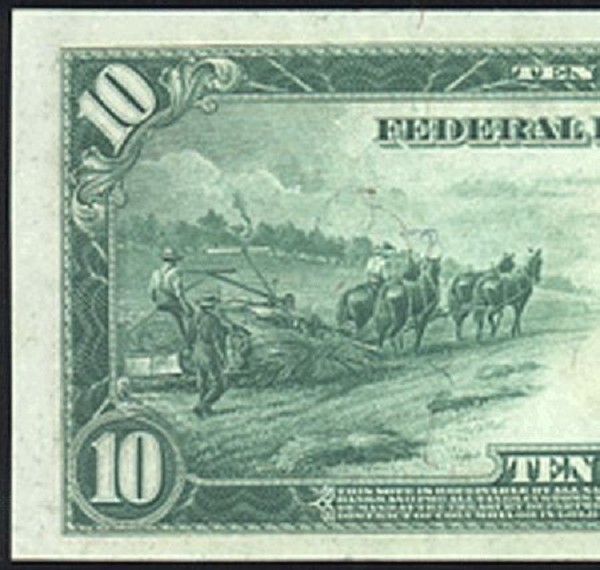 Hemp farmers are shown at work on a 1914 $10 bill.
---
HEMP VS. POT: Long-Banned and Misunderstood Product May Spark Ag Boom
January 31, 2014 Leave a Comment
By: Dave Rogers
The ag product that made Bay City pioneer James G. Birney rich when he lived in Kentucky is now poised to return to farms in 10 states -- not in Michigan, however.
Industrial hemp, cousin to marijuana, has been used for over 12,000 years and was once the primary fiber used to produce rope, paper, canvas, and clothing in the United States and Europe.
Presidents George Washington and Thomas Jefferson grew hemp. The Birney family of Kentucky became wealthy by growing hemp and using slave labor to produce cordage in long barns called rope walks. James Birney Sr. reputedly became the wealthiest man in Kentucky by furnishing rope to the U.S. Navy in the War of 1812. The Birneys' neighbor Senator Henry Clay, also was said to be enriched by his slave-produced hemp products.
The little known aspects of hemp growing by the Birneys are documented in a book, "Apostles of Equality: The Birneys, the Republicans and the Civil War," published by Michigan State University Press in 2011.
James G. Birney, eldest son of James Birney Sr., was sent to Princeton and to study law in Philadelphia with the wealth created by the hemp trade. Exposed to anti-slavery influences in the east, young Birney became a leader of the abolitionist movement that evolved into the Republican Party in Michigan while Birney was a pioneer developer of Bay City, 1842-1853.
Ironically, top Republican leader Senator Mitch McConnell of Kentucky, is one of the leading advocates of a rebirth of hemp cultivation because of its economic and balance of trade benefits.
Congressman Ron Paul, Texas Republican and former Presidential candidate, also has strongly supported ending the ban on hemp cultivation.
The Federal government banned the plant in its anti-drug efforts through the 1970 Controlled Substance Act. It wasn't until 1999 that the Drug Enforcement Administration (DEA) issued a hemp permit for an experimental plot in Hawaii on a quarter acre of land.
Hemp, Inc. notes that industrial hemp is cultivated very differently than marijuana. Marijuana is used solely for its medical and psychoactive aspects, and growers strive for a high content of psychoactive THC (tetrahydrocannabinol), a component found only minimally in industrial hemp.
Hemp got unfairly tarred and feathered in the national hysteria over pot when drug laws were being adopted nearly half a century ago. Michigan and many states banned hemp cultivation even though hemp and pot are vastly different.
The new Farm Bill, passed by the U.S. House last Wednesday, allows hemp sales, but not growing, in Michigan. Some 10 other states that had laws allowing hemp cultivation will be benefiting from it, however.
Hemp, Inc. notes that it focuses strictly on industrial hemp products and is "allowed to market in all fifty states and worldwide without any ambivalence between state and federal laws."
The major market for industrial hemp is as a food or supplement as it is rich in protein and Omega fatty acids, and has a high fiber content. Costco carries hemp seeds, and Natural Grocers and Whole Foods Market stock many brands of industrial hemp food products and supplements.
The clothing industry aims to use industrial hemp as a promising niche market fabric. High fashion designers Ralph Lauren and Versace make apparel from industrial hemp blended fabric. Footwear giants Vans and Adidas make hemp sneakers. Trendy companies market hemp T-shirts, hats, jewelry, backpacks, even pet beds and leashes.
Auto manufacturers use durable, green hemp composites and fabrics when feasible. Industrial hemp can also be used for building materials, plant based plastics, and paper products.
Medical researchers are interested in the medicinal value of marijuana's non-psychoactive CBD content. Industrial hemp, on the other hand, has a low THC content, eliminating any psychoactive effect.
In cultivating marijuana, the plants are spaced far apart and the male plants are destroyed to assure that they cannot seed the female plants which would result in undesirable, less potent and less marketable, seeded marijuana buds.
Hemp, however, is planted close together as hermaphrodites to maximize production of seed, the main component of hemp foods and supplements. The hemp stalks are processed and used for fiber, composite, and other hemp-based end products such as car interior panels.
Industrial hemp has long been known for its versatility, durability, sustainability, and high-quality. Industrial hemp grows quickly, in just about any climate and doesn't require pesticides, while simultaneously removing toxins found in soil.
Hemp was banned in the United States based on its biological connection to marijuana. While it is currently illegal under federal law to grow industrial hemp plants in the U.S, countries including China, Canada, Australia, New Zealand and England allow cultivation and these and other countries supply the industrial hemp which is imported into the United States.
For the first time in decades, the Federal government is allowing farmers to cultivate hemp. As of Wednesday, January 29, 2014, pursuant to the passage of the farm bill, the cultivation of industrial hemp is legal on a Federal level and is clearing the way for industrial hemp pilot programs in states such as Colorado, Washington, California, Kentucky, Maine, Montana, North Dakota, Oregon, Vermont and West Virginia, where growing the plant is legal.
The bill was originally introduced as an amendment by Representatives Jared Polis (D-CO), Thomas Massie (R-KY) and Earl Blumenauer (D-OR). The provision allows universities, and now also state departments of agriculture, to grow hemp for academic or agricultural research purposes, however, it only applies to states where industrial hemp farming is already legal under state law.
Senator Mitch McConnell, who worked to retain and strengthen the provision was the lead negotiator in getting hemp included on the Farm Bill was quoted, "We are laying the groundwork for a new commodity market for Kentucky farmers."
Bruce Perlowin, CEO of Hemp, Inc. said, "these are monumental steps for the industry. What we are all trying to get people to understand is that this will finally unlock a clean 'American Industrial Revolution' that will not only be economically sound, but environmentally advantageous." Soon companies like Hemp, Inc. (HEMP) will not have to import their hemp fabrics, hemp seeds, hemp hearts and hemp hurd for their hemp products, he said.
According to the Associated Press, "The plant's return to legitimacy could clear the way for U.S. farmers to compete in an industry currently dominated by China. Even though it hasn't been grown in the U.S., the country is one of the fastest-growing hemp markets."
In 2011, the U.S. imported $11.5 million worth of legal hemp products, up from $1.4 million in 2000. Most of that growth was seen in hemp seed and hemp oil, which finds its way into granola bars and other products." Other estimates place the U.S. 2013 hemp sales at half a billion dollars ($500 million).
Hemp has thousands of uses. From rope and clothing to soap and lotions and nutritional additives in everything from milk to cooking oil. ###
---
---

Dave Rogers




Dave Rogers is a former editorial writer for the Bay City Times and a widely read,
respected journalist/writer in and around Bay City.
(Contact Dave Via Email at carraroe@aol.com)

More from Dave Rogers
---
Send This Story to a Friend!
Letter to the editor
Link to this Story
Printer-Friendly Story View
---
--- Advertisments ---