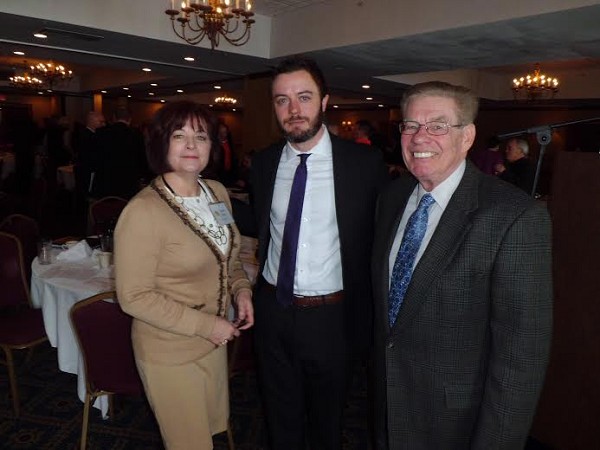 The U.S. Chamber of Commerce's regional director Ben Taylor, center, meets with Chamber President Mike Seward and Chamber Chair Laurie Bush at the eye-opener breakfast.
---
CHAMBER PEP TALK: Regional U.S. Chamber Director Fires Up Troops
Ben Taylor energized an early morning eye-opener breakfast crowd of Bay Area Chamber of Commerce members Tuesday with the inside story from Washington.
He showed a picture of U.S. Chamber headquarters in Washington with huge letters spelling J-O-B-S across the front, an attention-setting goal statement.
He pointed to an actual 14 percent unemployment rate reflected by 21 million "dropouts" no longer seeking to join the labor force.
The hustings for political races are already being erected around the nation, indicated Taylor, of Chicago, executive director of the Great Lakes (5 states) regional office of the U.S. Chamber of Commerce.
Pointing to an uncertain political climate in Washington, D.C., (14 percent approval rating for Congress), he decried the lack of momentum on Midland Rep. Dave Camp's tax reform bill and on immigration reform.
Calling the U.S. tax code "a giant mess," Taylor said the nation has "the highest corporate tax rate in the industrialized world. There were 4,430 changes made to the tax code in the past decade, he said. Rep. Camp, who has tried heroically to get tax reform adopted, is term-limited at six years as chairman of the Ways and Means Committee.
Surveying the election landscape and the results from the 2012 Presidential race, Taylor called the Senate "fertile ground for Republican pickups."
According to Mr. Taylor, "entitlements" like Social Security, Medicare and Medicaid "are sinking" the U.S. budget.
The government shutdown last year hurt the GOP, he said, noting that Ted Cruz and other firebrands have been destructive of the Republican brand in terms of polling.
Asserting that "historically low interest rates are unsustainable," he quoted Erskine Bowles, leading financial advisor: "The dollar is still the best looking horse in the glue factory."
On education, that he called "a broken system," we are not producing enough STEM (science, technology, engineering and mathematics) graduates.
While the U.S. Chamber and Republicans support President Obama's Trade Promotion Authority, Senate Majority Leader Harry Reid says "no," he complained, noting that 95 percent of customers of U.S. companies are outside the country.
Calling the Affordable Care Act "one of the most onerous pieces of legislation on the books," Taylor said he doesn't expect full repeal of the act to happen and expressed a wish for the President and Senate leaders to meet halfway to solve the most pressing national problems.
###
---
---

Dave Rogers




Dave Rogers is a former editorial writer for the Bay City Times and a widely read,
respected journalist/writer in and around Bay City.
(Contact Dave Via Email at carraroe@aol.com)

More from Dave Rogers
---
Send This Story to a Friend!
Letter to the editor
Link to this Story
Printer-Friendly Story View
---
--- Advertisments ---