Gov. Granholm Keynote, Tour to Hot Spots, Development Sites Set Tuesday
Bay City "On The Go" Luncheon, Expo, Forums Slated Tuesday at DoubleTree
September 17, 2005 Leave a Comment
By: Dave Rogers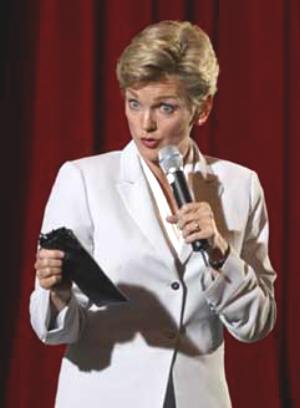 Governor Jennifer Granholm will address the 'Bay City On The Go' Gathering
Gov. Jennifer Granholm's keynote address at 3:15 p.m. Tuesday at the DoubleTree Hotel - Bay City Riverfront, will be the news event of the day at "Bay City On The Go."
The governor will make headlines here, but the most lasting results for community development may come from a bus tour of the city and area.
A dozen Bay Metro buses will navigate the Bay City area from 9:30-11 a.m. on Tuesday with perhaps several hundred visitors and local folks interested in economic development.
Tour guides will explain the rebirth of downtown housing and lay out the facts about three development hubs, the city's Marquette Industrial Park, Valley Center Technology Park and the Salzburg-Morton industrial area, and the $50 million expansionat Bay Regional Medical Center, among others.
Bay City's rich entrepreneurial heritage and historical record of innovation will be a theme running through the tour script, put together by Rob Clark, assistant metro editor of The Bay City Times.
From ready-cut homes of the Aladdin Company in the 19th century to Internet communications of Concentric Network that sprang from a garage on 41st Street in the 1990s, Bay City's heritage as a center of innovation will be highlighted on the tour and during the daylong events.
The tour will be part of the annual development event initiated last year by Mike Seward, president, Bay Area Chamber of Commerce.
"Participants can take a tour and get a feel of what is happening from a development perspective in the Bay area and why they should look here for investment opportunities," said Mr. Seward.
"Sometimes we're too close to what's going on around us that we don't really see the positive steps occurring both in business and the community," says Mitzi Dimitroff, RDS Management owner and chair of the Bay Area Chamber of Commerce board.
The city has invited about 700 out of town developers, banks have invited major out-of-town customers and industries haveinvited suppliers. Those who come cannot fail to be impressed with the revitalization of Bay City, the organizers say.
Besides the tour, events will include:
Luncheon featuring special video presentation by Eric Jylha of WNEM-TV Channel 5 and development awards, special recognition to initiators of "quality developments and new and significant renovations in Bay County during the past year;"
A reception sponsored by BaySail aboard the two Appledore schooners moored in front of the DoubleTree for the occasion;
An expo featuring Realtors, downtown organizations, Bay Future, area colleges and universities, health care organizations, employment agencies, tourism bureaus, and others. Exhibitors will have booths in the DoubleTree.
Forums on downtown, economic development plans and business development financing.
A special forum, "Occupational & Health Care Development."
Activities start with registration at 8:30 a.m. at the DoubleTree and run until the reception on the Appledores 4-5:30 p.m.
For information contact the Bay Area Chamber of Commerce, 893-4567 or access www.baycityarea.com.
Among "talking points" about Bay City's history of innovation, tour guides may mention:
Bay City is a center of industrial innovation:
The ready-cut home and knock-down boat industries started here with Aladdin;
Dredges, cranes and power shovels made here by Industrial Brownhoist and Bay City Shovels helped dig the Panama Canal, irrigate Florida and California and build military airstrips in the Pacific;
Defoe's roll-over ship construction and prototype destroyer escorts helped win World War II; The Defoe research vessel Knorr still criss-crosses the oceans for the Woods Hole Oceanographic Institute;
Automatic welding machines by RWC can stamp out a refrigerator body or car fender in minutes;
Precision metal cast parts by GM PowerTrain are key components of General Motors and other cars;
Bay Cast metal castings are used in spacecraft;
Purified graphite for nuclear and industrial testing waspioneered by Ultra Carbon and is still produced here by Carbone and other companies;
Power generated by the Karn-Weadock plants at the mouth of the river serve the entire Saginaw Valley;
Gougeon's epoxies for wood and metal composites made the world's fastest sailing craft and windmill blades and are used to fabricate space vehicles;
Internet communications was innovated here by two young men, Mark Collins-Rector and Chad Shackley, who started Concentric Network in a garage on 41st Street in the mid-1990s; Concentric is now part of the worldwide XO Communications;
S.C. Johnson makes Saran Wrap, Zip-Loc bags and other consumer products once produced by Dow;
Dow Corning's Semiconductor Fabrication Materials plant at Auburn has 4,000 patents and makes high tech products sold to 57 countries;
Bay County natives who were innovators include Fred M. Zeder at Chrysler, with hydraulic brakes, air cleaners, oil filters and curved windshields; Arthur Summerfield who modernized the U.S. Postal Service; Warren Avis, car rentals at airports; Les Staudacher, world's fastest racing boats.
Bay City is a prime example of conversion of industrial and commercial buildings to luxury condominiums and other downtown housing.###
---
---

Dave Rogers




Dave Rogers is a former editorial writer for the Bay City Times and a widely read,
respected journalist/writer in and around Bay City.
(Contact Dave Via Email at carraroe@aol.com)

More from Dave Rogers
---
Send This Story to a Friend!
Letter to the editor
Link to this Story
Printer-Friendly Story View
---
--- Advertisments ---