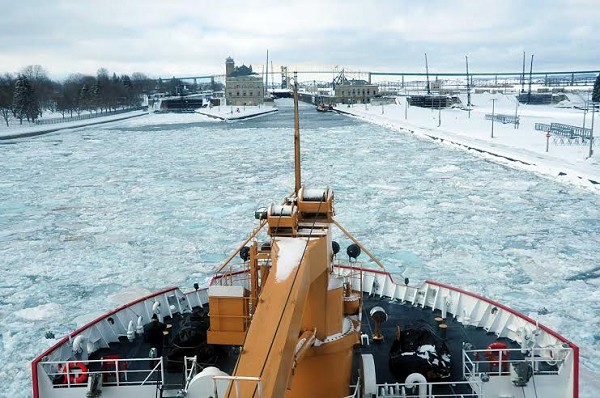 The crew of Coast Guard Cutter Mackinaw maneuvers through ice on the St. Marys River near the Soo Locks in Sault Ste. Marie, Mich., March 20. (U.S. Coast Guard Photo)
---
ICE UNTIL JUNE? 90 Percent Coverage on Lakes Stymies Ships, Cuts Ore Trade
March 23, 2014 Leave a Comment
By: Dave Rogers
The iron ore trade was down 35 percent in January, the month shipping on the Great Lakes normally begins, because lake carriers are blocked by ice.
Despite the fact that nine Coast Guard cutters across the Great Lakes are prepared to clear channels and escort ships, and two more cutters are on the way from Canada, reports are two to three times more cutters are needed but not available.
Coast Guard cutters Mackinaw, Katmai Bay and Morro Bay transited up bound through the Sault Locks Friday morning, according to boatnerd.com.
These icebreakers are slated to work the Upper St. Marys River, Whitefish Bay and Eastern Lake Superior. They will also break ice in vicinity of the Presque Isle Harbor iron ore dock in Marquette as they transit to western Lake Superior. Although not limited to a specific area, the icebreakers will focus their activities to the charted Lake Carriers Association (LCA) track lines.
These icebreaking efforts will expand and increase in frequency as the ice and demands of shipping require. This will include all navigable waters in and around the ports of Duluth and Superior, as well as the waters of Silver Bay, Taconite Harbor and Two Harbors in Minnesota. The 240-foot USCGC Mackinaw is the only U.S. heavy ice breaking resource assigned to the Great Lakes and is homeported in Cheboygan. Katmai Bay, home-ported in Sault Ste. Marie, and Morro Bay, homeported in Cleveland, are 140-foot icebreaking tugs.
While the ice is good business for civilians who operate ice-breaking tugs, Lake Carriers Association Vice President Glen Nekvasil told Minnesota Public Radio News that it's bad for the shipping industry.
"We fully expect that transit times will be two to three times their normal length, and that the Coast Guard (cutters) will be leading convoys across Lake Superior in the beginning," he said.
Ice coverage, which hit an unprecedented 95 percent last month, has receded to about 90 percent as of last week but is still far from normal, the Coast Guard has reported.
Capt. Mike Ojard of the tug Helen H, who has spent all of his 68 years among the tugs on the North Shore of Lake Superior, said this is the worst ice on the lake in 20 years.
"Last year we were breaking ice on the 4th of May. This year will be worse. There's a lot of slips that will have to be opened up later in the season," he told MPR News. "I'm sure we'll have ice with us way into June."
"Because of the severe ice conditions, several fleets have delayed their first sailing until early April," said Jim Sharrow, with the Duluth Seaway Port Authority.
"The 40-year average of ice cover for the month of Feburary is 32 percent," said George Leshkevich, a physical scientist with NOAA's Great Lakes Environmental Research Lab, Ann Arbor. "This is the second greatest ice cover on record since 1979."
According to Leshkevich, ice cover levels broke 92 percent as of March 6, and remains well above 80 percent. "Since the first polar vortex, the ice as just been building and building," he said.
Leshkevich added that the ice was one, but not the only, factor in evaporation. "There was also a lot of snow in the northern basins, so that combined with the ice cover reduced evaporation as well as reduced lake effect snows."
Higher lake levels, one possible positive benefit from the ice, could also benefit marinas, since it would mean improved docking areas for boats and tourism could see a boost, as sandy beaches would be replenished.
Farmers in the region even stand to benefit from the deep freeze as it could stall crops from premature growth that could leave them susceptible to freezing during the earliest stages of the growing season.
---
---

Dave Rogers




Dave Rogers is a former editorial writer for the Bay City Times and a widely read,
respected journalist/writer in and around Bay City.
(Contact Dave Via Email at carraroe@aol.com)

More from Dave Rogers
---
Send This Story to a Friend!
Letter to the editor
Link to this Story
Printer-Friendly Story View
---
--- Advertisments ---