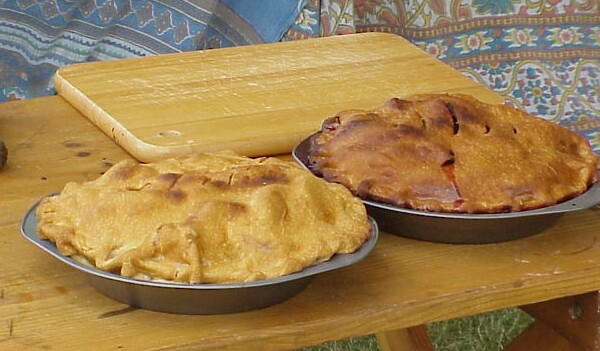 Something's Cooking at the River of Time
Everywhere you look there's something tasty on the fire or the table!
September 25, 2005 Leave a Comment
By: Stephen Kent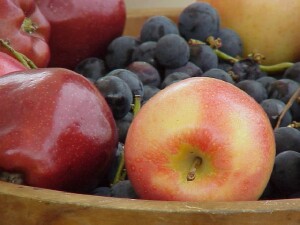 If you're hungry, visiting the River of Time will just make it worse. Everywhere you look there something on the cook fire. Pies are on the tables, the smell of woodsmoke and cooking is in the air.
Sure, life was tough on the frontier. If you were a Civil War soldier you had meger rations of salt pork, some beans and hard tack, and maybe a shriveled up carrot. But on Bay City's river front, thatfare was for demonstration purposes only. Most of the food looked irrestible! Here are some of our favorite stops!
---
The Sanford Bridage's
cooks Ben and Karen Smith have been a favorite visit each year. They cook all day and set up a feast for the whole crew. Hams, turkey, roast beef and pork stews, corn, bread and pies. What a spread.
---
--- Advertisements ---



---
---
Kathy and Randy Baker
could be found down by the river's edge cooking fried apple pies using their home grown Mcintosh apples. They cooked the apples up with sugar and cinnamon then spooned them into flat sheets of bisquit dough, folded it over, and fried them up in a cast iron skillet over the wood fire.
Normally the re-enactors are not allowed to feed the "flatlanders". But if you talk real nice, and really work up your "hungry puppy" look, you may get lucky. It's certainly worth a try to get a taste of these wonderful apple treats!
---
--- Advertisements ---



---
---
Roger Whitcher
demonstrated his clay "white oven", which is sometimes called a Quebec oven. The principle is to build a fire inside the oven to heat it up while your dough rises in a dutch oven. When the oven is hot you sweep out the coals and ashes and sprinkle some corn meal on the floor to judge the temperature. When it seems right you put in the bread dough and close it up to bake.
White ovens were typically outdoor equipment and could be 10 times larger than the demonstration oven. The walls might be 8 to 12 inches thick. "Black Ovens" were more commonly used indoors. In these the fire was kept burning in one section and the bread was baked in another section.
Roger was baking 1 pound, sour dough, ration loaves. He was more than happy to share samples with an appreciative crowd!
---
--- Advertisements ---



---
---
For those more interested in a "modern" approach to cooking, the Historical Society's
Richard Howard
and his assistants were cooking on the wood stove in the
Trombley House's 1880 era kitchen
.
The Trombley House, Bay City's first frame house, had a long history as the center of community activities. Today the house provides a living look at the way people lived in the 1800's. Besides the fully functioning 1880's kitchen, the house has a modern kitchen and is available for meetings, parties and other functions.
MyBayCity.com has covered the River of Time since 2003.
Take any of these links for prior year coverage:

2018.a, 2018.b
2017.a, 2017.b, 2017.c,
2015, 2014, 2013,
2012, 2011, 2010, 2009,
2008, 2008, 2008, 2008,
2007, 2007,
2006, 2006,
2005, 2005, 2005,
2004, 2003,
---
---

Stephen Kent




Steve Kent and his family have lived in Bay City for 40 years. He is VP of Technical Services at MMCC which produces MyBayCity.Com. Kent is active in many Bay City civic organizations.

More from Stephen Kent
---
Send This Story to a Friend!
Letter to the editor
Link to this Story
Printer-Friendly Story View
---
--- Advertisments ---