Old General Hospital Section to Fall as Bay Regional Med Center Expands
New Era in Bay City Hospitals Launched with $53 Million Addition
October 8, 2005 Leave A Comment
By: Dave Rogers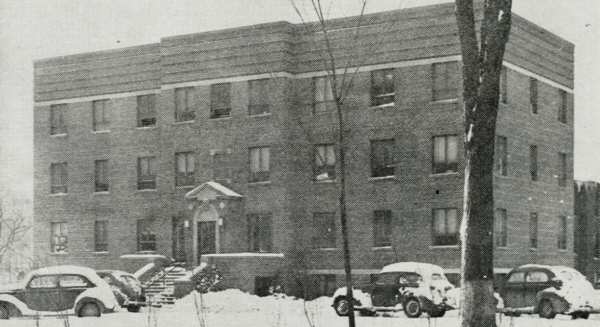 Old General Hospital building, photographed in 1940, dates to 1934.

New Bay Regional Medical Center will anchor Columbus Avenue and provide a wide variety of services to the entire Northeast Michigan region, approximately 500,000 people.
With the first shovel of dirt for a $53 million addition to Bay Regional Medical Center (BRMC) on Columbus Avenue, hospital service here has taken a giant leap forward.
BRMC is part of the McLaren Health Care network of hospitals, that also includes Flint's McLaren Hospital, and Ingham Regional Medical Center, Lansing, and Lapeer Regional Medical Center, Lapeer.
Bay Medical Center took shape with the merger of General and Mercy hospitals in 1979. The local hospital merged with McLaren in 2001 and BRMC is now part of a 22-county health care network with about 1,700 beds, 12,000 employees, and $1.5 billion in annual revenues.
With acute care at Bay Regional Medical Center-Main Campus and Bay Special Care Hospital on the West Campus, home health services, medical equipment, pharmacy, women's health and rehabilitation services, BRMC is area leader in comprehensive health care services.
The history of medical care in this community needs documenting, but there is some evidence that in the early days it was offered sporadically and dubiously.
"Consulting and operating rooms," believed run by Dr. Charles Newkirk, were located upstairs from a store at Fourth and Water in 1878. It was the center of "Hell's Half Mile" and there was plenty of business from lumberjacks banged up in brawls or hurt in drunken shenanigans.
In the 1880s a Dr. Waterhouse from Cincinnati, Ohio, operated a hospital on Third Street mainly for lumberjacks and mill workers injured on the job.
The good doctor sent agents for the hospital into the lumber camps where they sold "insurance" for $2 or $3 a month, a substantial sum in the days when pay was only about $1.25 daily.If the lumberjack was injured, he could stay with Dr. Waterhouse until he was mended and able to get back to work.
The building used for the lumberjack hospital is still there and a tour a few years ago revealed the word "Infirmary" in frosted glass above one doorway. Amazingly, another room held bedpans and what apparently were hospital beds -- still there after more than a century.
Another relic of bygone days, the original General Hospital, dating to 1934, is yielding to the wrecker's ball. Also slated to fall is another section dating to 1958. The process of demolition was started by Robert N. Wright, CEO, and William R. Bowen, chairman of the board of BRMC last Thursday.
The medical center is on the verge of a massive $53 million expansion that will provideadditional facilities for growth. Construction is slated for completion by spring, 2007.
The old General Hospital section is coming down and a new four story wing will take its place, including a new expanded emergency room, outpatient surgeryon the second floor, cardiac care area on the third level and eventually a new obstetrics and nursery on the fourth floor. Cardiac and radiology services will be significantly enlarged.
The expansion is being financed as part of a $150 millionbond issue sold by the McLaren Health Care Corporation and the use of some of the local hospital's cash. "There should be no disruption of current services" while construction is underway," said Mr. Bowen.
BRMC has racked up a remarkable series of accomplishments in the past few years. These include:
Establishment of a comprehensive array of acute, specialty, primary and preventive care services including:
Cardiovascular surgery;
Neurology and neurosurgery;
Advanced diagnostics including CT, MRI, PET/CT four cardiac catheterization laboratories, electrophysiology, and special studies;
Women's health services including comprehensive breast health, the area's first birthing apartments, family-centered delivery, gynecology, menopause counseling;
Five Star Award winning orthopedic surgery, including Joint EXPRESS physical rehabilitation;
EMS Paramedic Service;
24-hour Level II emergency department;
Oncology/radiation therapy (Great Lakes Cancer Institute;
In the past five years, no area hospital has gained more national recognition for quality and patient safety than Bay Regional Medical Center.
Top 100 Hospital Award - Solucient
2004 Distinguished Hospital Award for Patient Safety ™ HealthGrades Keystone ICU Award of Excellence - Michigan Health & Hospital Association & Johns Hopkins University;
Top 5% in the Nation for Interventional Cardiology - HealthGrades;
Five Star Award for Overall Cardiology Services - HealthGrades;
Five Star Award for Overall Orthopedic Services - HealthGrades;
Top 100 Award for Orthopedic Services - Solucient;
Five Star Community Award - American Cancer Society;
Five Star Community Investor Award - American Cancer Society;
Community Hospital Comprehensive Cancer Program - American College of Surgeons: Commission on Cancer;
2004 National Customer Service Award for Laboratory Services Professional Research Consultants;
Award of Excellence: OB/Women's Health Nurses - Johnson & Johnson;
Health Technology Program - Governor's Excellence in Practice Award.
###
---
Community Article 907
---

Dave Rogers




Dave Rogers is a former editorial writer for the Bay City Times and a widely read,
respected journalist/writer in and around Bay City.
(Contact Dave Via Email at carraroe@aol.com)

More from Dave Rogers
---
Send This Story to a Friend!
Letter to the editor
Link to this Story
Printer-Friendly Story View
---
--- Advertisments ---