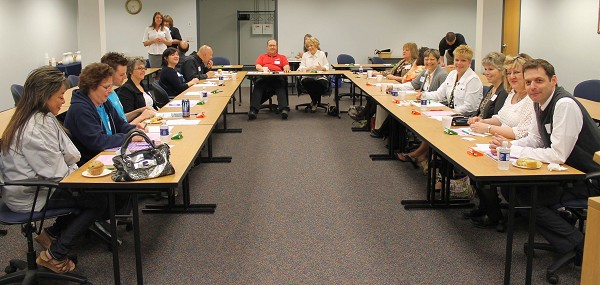 Small Business Council Seminar at FinancialEdge Community Credit Union
---
Bay Area Chamber Small Business Council
Customer Service Topic Of Seminar
May 25, 2014 Leave a Comment
By: Diane Szczepanski
The Small Business Council, just one of the many active groups within the Bay Area Chamber of Commerce, recently held a Customer Service presentation for local council members and non-members.
The event was held at FinancialEdge Community Credit Union located at 1199 S. Euclid Ave in Bay City, MI.
Diane Szczepanski from FinancialEdge CCU offered customer service examples of recent mystery shopping and Dennis Beson, of Merrill Institute was the presenter.
For more information on future events, contact Jo Ellen Strieter at the Bay Area Chamber of Commerce. (989) 893-4567.