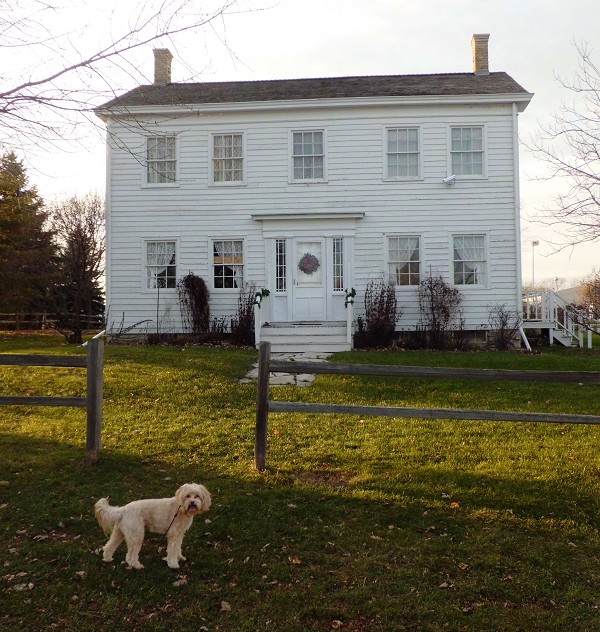 Birney, 3-year-old cockapoo who often walks with Dave Rogers, waits for possible sausage treat outside Trombley House.
---
TROMBLEY HOUSE BREAKFASTS: Customers Already Lining for Chow with Santa
December 4, 2014 Leave a Comment
By: Dave Rogers
Breakfast with Santa?
Yes, it's possible, even probable, if you and the family arrive hungry at Trombley House, 901 John F. Kennedy Drive, Saturday at 9:30 a.m.
But get your tickets first at the Bay County Historical Museum.
The jolly rotund gentleman will have on a chef's hat from the famous Krzysiak's House Restaurant to greet you and serve pancakes, sausage, tater tots, milk and coffee.
The scrumptious way to start the day will also be offered Saturday, Dec. 13, to benefit the Bay County Historical Society and the historic Trombley House, once called Centre House.
For the children, elves will be on hand to help them with their Christmas lists, hand out crayons for coloring pictures and lead the singing of Christmas carols.
Ho, Ho, Ho -- it sounds like good food and fun will go together to highlight the holiday season for you and your family. That is, if you show up and have purchased your ticket for $7 per person in advance at the Bay County Historical Museum, 321 Washington Ave., in downtown Bay City.
Tots under 2 will be free, compliments of Santa.
Call 893-5733 for more information.
Rest assured you will get a great meal with the fun and the proceeds will go to a good cause -- historical preservation.
Trombley House also will be open two successive Friday nights, Dec. 12 and 19, 6-8 p.m. "Decorated in its holiday splendor, Trombley House is open to visitors on two Friday evenings before Christmas. Visit the parlor where the family entertained their guests and view old-fashioned dolls and toys. See the dining room where boarders once shared a meal, peek into the 1880s kitchen and smell the aroma of food prepared on a wood stove. Lots of activities, crafts and fun for the whole family. Free admission."
This is no ordinary house, it is known as the oldest frame house in Bay County, according to historians.
Trombley House was built in 1837-1839 the classic "Greek Revival Style," a construction mode popular in the 1820-1840 period.
Since its construction came at the dawn of the Bay City community, materials had to be imported, notes Marv Kusmierz of Bay-Journal.com. Rough lumber came from a mill on Pine River, shale for the foundation was hauled by boat from Charity island reef, and finished boards, doors, and windows by boat from Detroit. Nathan C. Case, who had expertise in building frame buildings, supervised.
After pioneer days, Trombley House was converted to an apartment building. Among the past residents was Paul Hennard, ironically now one of the innkeepers at the Historic Webster House bed and breakfast, Fifth and Van Buren. Hennard recalls that the house was an interesting place to live as a young child growing up in Bay City.
First erected at 24th and Water, the historic structure is now located in Veterans Memorial Park overlooking the legendary Saginaw River and directly across the river from the new Uptown at RiversEdge development.
It was moved as a project of the Rotary Club of Bay City as a community betterment in 1981, being floated down the river on the Stender Marine barge "Helen.". The project was under direction of Rotary President Kyle Haselden, Historical Society President Mary Smith and the late Frank Braman, president of the Bay Area Chamber of Commerce. Rotary also pledged $4,500 to the fundraising for the gift to the community.
A fascinating contrast is provided when one considers the pioneer era Trombley House and the new Courtyard by Marriott under construction several hundreds of yards east across the river.
The house is currently being renovated under the guidance of the Trombley-Centre House Committee of the Bay County Historical Society. The renovation of the home has become an ongoing effort of many volunteers.
While renovations are in progress the house is a centerpiece for events such as River of Time, the Holiday Open House, luncheons, educational programs and meetings. Tours are also available by appointment.
An heirloom Vegetable Garden is maintained at the Trombley-Centre House growing plant varieties from the 1800s. In addition, the historic herb garden is maintained by the Olde Thyme Herb Society, an affiliate group of the historical society.
Pure Michigan Travel notes: "Considered Bay City's first real settlers, brothers Joseph and Mader Trombley were drawn to the area around the Saginaw River to make their fortunes trading with Native Americans. Sometime between 1837 and 1839, they built a two-and-a-half story Greek Revival structure, which is thought to be the first frame house erected in Bay County and was considered the finest residence at that time."
---
---

Dave Rogers




Dave Rogers is a former editorial writer for the Bay City Times and a widely read,
respected journalist/writer in and around Bay City.
(Contact Dave Via Email at carraroe@aol.com)

More from Dave Rogers
---
Send This Story to a Friend!
Letter to the editor
Link to this Story
Printer-Friendly Story View
---
--- Advertisments ---