RESURRECTED? Heston, Wayne Live in Films; How About Princess Wenonah?
January 12, 2015 Leave a Comment
By: Dave Rogers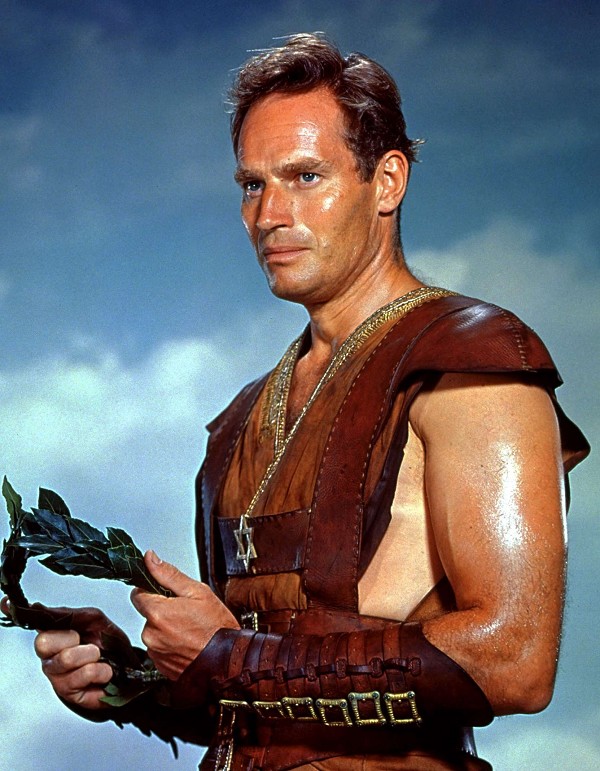 Charlton Heston in all his Hollywood glory.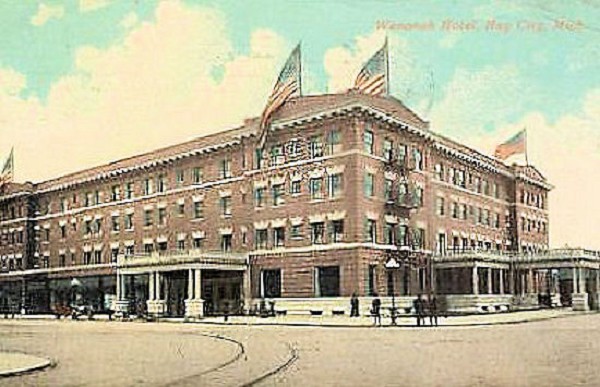 The iconic Wenonah Hotel in its Bay City glory days.
Movie stars apparently can live forever -- at least on the screen.
The age old quest of mankind for eternal life seems to be finding a niche in reality through the cinematic technology of today.
The news release states: "For the first time in more than fifty years, Golden Globe award-winning films El Cid and Circus World will be available exclusively to DIRECTV customers during the month of January."
The headliners in those iconic films were, respectively, the unforgettable celluloid stars Charlton Heston and John Wayne.
OK, the truth is the only reason I'm interested in the films is that I sort of knew Heston since I once played tennis against him in a doubles match at a benefit tournament in Bloomfield Hills. Perhaps more interesting to us in mid-Michigan is that Heston hails from St. Helen in Roscommon County.
John J. Miller, writing in 2012 in Traverse magazine and MyNorth.com, recalls: "Heston tried to preserve his Michigan roots in other ways as well. As a boy, he remembered visiting the Wenonah Hotel in Bay City, said to be the most opulent hotel between Detroit and Mackinac Island. The floor of its lobby featured a 4-by-6-foot tile mosaic of Wenonah, the mother of Hiawatha, the legendary Ojibwe hero.
"After the building burned down in 1977, the mosaic spent a couple of winters outside, in a Pinconning cow pasture. When Heston learned of its plight, he mailed a $100 check for its preservation, calling attention to a little-known cause. Today, the rescued mosaic is on display in the Historical Museum of Bay County."
Now for the rest of the story...
When the nearly 70 year old Wenonah Hotel, venerable convention center of mid-Michigan, burned down in 1977 one secondary piece of news was the saving of the mosaic of Princess Wenonah from the lobby floor.
That is of more than passing interest because Mr. Heston, way off in faraway Hollywood, saw the news item and sent a check for $100 to The Bay City Times as a contribution to a fund for preservation of the iconic artifact of colored glass set in concrete.
It turns out Heston had visited the Wenonah as a boy with his parents when it was a big deal to come to the big city from the tiny burg of St. Helen. The actor never forgot the Princess; no doubt her image was burned into his memory as a child and never dimmed.
The Heston check was somewhat of an item of amazement around the paper, and soon was forgotten.
The mosaic was rescued from a farm field a few years after the fire, and was cleaned up.
I wrote about the Wenonah Fire, or rather reprinted Fire Chief Don Besaw's report of the fire, in one of my local history books, "Ghosts, Crimes and Urban Legends," (now out of print) but failed to mention the interesting fact concerning Heston and the Princess.
Another player in this so-called drama is Rex Thatcher, a journalist smart enough to get into the business side of newspapering early in his career, who was business manager of The Times at the time of the fire. "What did you ever do with the check from Charlton Heston? I asked, hoping he would say he had saved it as an artifact of the event.
"I sent it back, of course," he parsed in his best business suit manner. Of course that was the right thing to do, even though it would have been a nice museum curiosity today.
"Oh gosh, too bad" was about all the response I could muster.
So, to make a long story short, as long-winded folks are wont to say, the check is dead, lost in Hollywood heaven, but Heston lives.
And so does the Princess Wenonah in the name of a vessel of the Bay City Boat Lines of Bill and Elaine Fournier. Her image is reproduced on the prow.
To complete the tale of maudlin reminiscing, the mosaic of Princess Wenonah, guaranteeing she will live forever -- until all turns to dust at least -- was for a while on display in City Hall and now is in the Bay County Historical Museum for all to view, perhaps with more amazement now that you know the history.
Two years before Heston died in 2008, I wrote about him noting he was a symbol of Second Amendment advocates. "He saw no contradiction between his Civil Rights work in the 1960s and advocacy of gun ownership rights in the 1990s, saying in both areas he was 'promoting freedom in the truest sense.'"
According to his autobiography, "In the Arena," he supported the freedom of speech and the First Amendment. He opposed McCarthyism, racial segregation and the Vietnam War and considered Richard Nixon a disaster for America. He contended that he was a Native American and decried protests against use of native nicknames in sports.
He clashed with Chinese officials while directing a stage production in Bejing in 1988, insisting that his actors be paid a fair wage. He took the same stand with several American directors.
Just seven (now 15) years ago Heston gave one of the most memorable speeches ever written and presented by an actor. His peroration, "Winning the Cultural War," was given Feb. 16, 1999 at Harvard University Law School.
"If Americans believed in political correctness, we'd still be King George's boys -- subjects bound to the British crown," he said.
But I digress... the news release continues:
"Digitally remastered in HD by Harvey Weinstein, El Cid and Circus World promise viewers a crystal clear, artistically faithful reproduction of the 1960's classics from the comfort of their own home."
Cutting to the chase, as they say in the flicks, a guy named Harvey Weinstein who started Miramax Films 35 years ago, has a new schtick: fixing up old films and splashing a glitzy sales pitch for them on TV ads.
Describing the movies expansively as "world renowned masterpieces," Mr. Weinstein and pal Michael White, el supremo of Direct TV, announced grandly they are presenting "a unique film experience that can't be found anywhere else, and we are thrilled to continue that tradition by bringing film fans a piece of movie history that showcases iconic Hollywood stars in an amazing picture quality that they have never been seen in before."
OK, great, I said, trying to catch my breath. You got my attention.
Now for some facts amongst the hype:
"El Cid (1961) is a romanticized story of the life of the Christian Castilian knight Don Rodrigo Díaz de Vivar, also known as 'El Cid,' who fought the North African Almoravids in the 11th century and ultimately contributed to the unification of Spain. The film stars two-time Academy Award winner Charlton Heston in the title role and two-time Academy Award winner Sophia Loren as Doña Ximena.
"Circus World (1964) is a dramatic western featuring Academy Award winner John Wayne as circus owner Matt Masters, whose life is beset by one disaster after another as he attempts a European tour of his circus while traversing a complicated relationship between his adopted daughter and her mother.
El Cid and Circus World will be available in HD for $6.99 and in standard-definition (SD) for $5.99 from Jan. 1 to Jan. 28 through directv.com/cinema.
Well, that's all folks, for this rambling trip down memory lane. As the late great Dick Hardy used to write at the end of his columns, "Carol wants me to take out the garbage." In my case it's Dolores asking me to take Birney the Cockapoo out for his daily walk, and mine.
###
---
---

Dave Rogers




Dave Rogers is a former editorial writer for the Bay City Times and a widely read,
respected journalist/writer in and around Bay City.
(Contact Dave Via Email at carraroe@aol.com)

More from Dave Rogers
---
Send This Story to a Friend!
Letter to the editor
Link to this Story
Printer-Friendly Story View
---
--- Advertisments ---