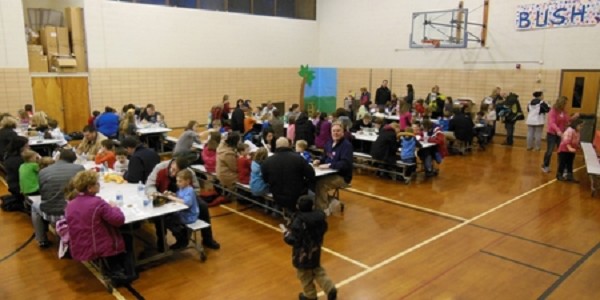 Gymnasiums in Bush and Verellen elementary schools in the Essexville-Hampton Public School District double as lunchrooms.
---
SCHOOL UPGRADES: Essexville-Hampton District Town Hall Wednesday at Bush
Average Bond Cost for $100,000 Home is $2.54 Per Week, Campaigners Explain
February 7, 2015 Leave a Comment
By: Dave Rogers
The Essexville-Hampton Public Schools will hold its final town hall meeting on a bond/sinking fund proposal Wednesday, Feb. 11 at 6 p.m. at Bush Elementary, 800 Nebobish Avenue, Essexville.
A campaign committee of parents and district supporters headed by a parent, Amber Davis-Johnson, is circulating literature explaining to district taxpayers that the average cost for a home valued at $100,000 would be $2.54 a week.
The district's residents will vote Tuesday, February 24, on the plan to raise funds. Supt. Matthew Cortez explains "approval of the bond/sinking fund will help stabilize the environment in our buildings, add student safety features, help to modernize some technology to create better learning environments, and alter our school buildings and facilities to make them more energy efficient and/or structurally sound."
Earlier this year the Essexville-Hampton Public School employees ratified a 6 percent concession of their contracted compensation for the next two years, amounting to over $1.2 million in concessions to the district.
Mr. Cortez addressed several frequently asked questions:
1-Why didn't the district keep up the buildings over the years?
Answer-"We have made continual repairs and patchwork upgrades whenever possible with our custodial/maintenance staff. For instance the boilers at Bush Elementary are old and could go any day. The cost of replacement is about $150,000. Every homeowner knows roofs need replacement after 20 years or so and all our school roofs need to be repaired or replaced."
2-Will any of the bond money go to pay teachers and staff?
Answer: "No, there are strict restrictions that all the funds raised under these issues must be used ONLY for buildings and equipment necessary to support the outstanding student achievement for which this community is known. Bond funds cannot be used for administrative salaries or general operating expenses either."
3-Are we paying for kids from other districts under Schools of Choice?
Answer: "No, students from outside the E-H district bring with them state aid of $7,000 plus per student per year (depending on the state formula), and they are accommodated for learning in the classrooms and with the equipment we have for in-district students. There is no need for any extra spending for Schools of Choice students. Actually, the additional revenue they bring in helps us maintain programs for our kids."
"We hope to get a positive vote on both the important bond and sinking fund proposals," said Mr. Cortez. A letter to all parents that went out recently states: "we are writing to make sure everyone understands how these two proposals affect our entire school district and provide some information about the planned improvements."
Some of the key initiatives funded by the bond and sinking fund include the following:
* Upgrading aging facilities (roofs, walls, floors, boilers, chillers, doors, windows, etc.)
* Improving student safety and security (doors, exterior lighting, security cameras, cross corridor doors to limit access, etc.)
* Improving energy efficiency within our buildings and, therefore, reducing costs that are taxing on our district's general fund (lighting, mechanical controls, windows, doors, etc.)
* Updating classroom and building technology so our students are learning with modern technological tools and adapting to the outside world (wireless, smart projectors, laptops, tablets, etc.)
* Maintaining our bus fleet (purchasing of newer buses)
A copy of the details from the twelve page brochure, and a complete list of all state-approved bond projects and proposed sinking fund projects can be found on the district website at www.e-hps.net. At our site, you can also review the bond language and a copy of the application submitted to the State of Michigan.
"What will happen if the bond and sinking fund proposals do not pass?" Mr. Cortez queried. "If voters do not approve both the bond and sinking fund proposals on February 24, the key items identified above can, quite simply, not be addressed. If one passes and not the other, the stabilization of the district will be incomplete. In that scenario we will have to look at coming back to the voters with an altered proposal."
Since a bond proposal was not approved in an election last August, he addressed the frequently asked question: "Why another bond election now? By having another election quickly, the proposal qualified for the Michigan School Bond Loan Fund (SBLF) rate before it closed. This fund is not planned to open again until 2016.
"Without the rate guaranteed by using the Michigan School Bond Loan Fund (SBLF), costs would be much higher due to the higher rates applied when using private bond markets.
"The purpose for both a bond and sinking fund is to ensure the best investment of the community's money. This is due to the continued devaluation of the Consumers plants. The retiring and demolition of the Weadock plant resulted in a negative tax rate for the district, which made a large bond a poor investment of the community's money.
"Pairing a small bond with a larger sinking fund allows for less cost in oversight and interest free funding of the sinking fund projects. We could not propose just a sinking fund initiative because many of our projects cannot legally be funded by a sinking fund initiative or could not be spread out over the five-year sinking fund cycle.
"How much will the sinking fund and bond cost? In 2015 and 2016, there will be a total of 6.68 mills due to the overlap from finishing the last two years of the 1997 bond payments. "The debt will then reduce to 4.37 mills until 2019. From 2020-2030 the debt millage will be 1.37 mills. For a house with an SEV Value of $50,000 (retail value of $100,000) the total tax would be $2,009 paid over 15 years, or $134 per year when averaged over the life of the bond. This averages out to about $2.53 per week.
"Anyone who lives in the Essexville-Hampton Public School District, will be 18 years of age or older and is registered to vote can do so at the polls on February 24. Voting will occur at the usual voting sites. Absentee ballots can be requested at the city clerk's office or at the Hampton Township office until Saturday, February 22 at 2:00 p.m. for anyone who will be out of town on February 24.
"If you have questions or need more information, please attend our final Town Hall meeting regarding this matter to be held on February 11, 2015 at 6:00 at Bush Elementary."
---
---

Dave Rogers




Dave Rogers is a former editorial writer for the Bay City Times and a widely read,
respected journalist/writer in and around Bay City.
(Contact Dave Via Email at carraroe@aol.com)

More from Dave Rogers
---
Send This Story to a Friend!
Letter to the editor
Link to this Story
Printer-Friendly Story View
---
--- Advertisments ---