LumberJacks Steakhouse & Piano Saloon Now Open on Midland Street
The Diamond Banquet/Ballroom & Wenona Room Will Offer Banquet Facilities
December 30, 2005 Leave a Comment
By: Julie McCallum, Entertainment Editor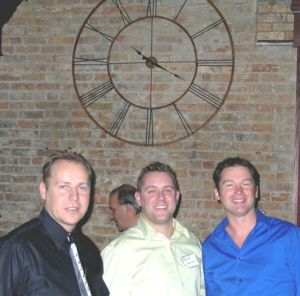 Ringing In 2006 - LumberJack Owners (L/R) Jay Samborn, Bruce Falcon, & John McCallum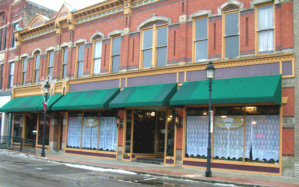 LumberJacks Steakhouse & Piano Saloon ,
The Diamond Banquet & Ballroom
Midland Street, Bay City , Michigan
John McCallum, Jay Samborn & Bruce Falcon, current owners of Midland Street's Westown & Luckys Pub, purchased the 3 vacant buildings next door, 605, 607 & 609 Midland Street (formerly: Bourbon Street, Yesterdays & LumberJacks) at the end of August in 2005.
The building has been vacant since 1998 except for a short time that LumberJacks was open for one summer. In the late 1800's, the building served as a general store, and in the late 50's it was Mohr's Clothing Store. At one time, the upstairs was used as cigar factory, according to Samborn.
Some of the work that has been done includes: refinished floors, the ceilings, a new sprinkler system, & a revamped kitchen.
"We are now open and ready for business
, forboth lunch and dinner, and just in time to start off the New Year!" said McCallum
According to McCallum, LumberJacks will employ approximately 50 employees including Chef Mike Stickler, General Manager Rod Craven, and Assistant Manager Dan Roberts.
Samborn added that, "We have a couple of piano players set to play in the LumberJacks Steakhouse and Piano Saloon which seats 80. It's a great place to go after dinner for fun and upbeat music."
"We hope that LumberJacks will be a great addition to the Midland Street's Business District," added Samborn
Below are just a few of the delectable & mouthwatering specialties featured on The Menu:
Maryland Crab cakes , Grilled Peppered Portobello Steak, Spinach Salad, Three Peppercorn Filet Mignon, Grilled Smoked Rib eye, Sante Fe Pasta, Grilled Honey Garlic Salmon, Hot Wings, Desserts such as Jack Daniel's Mud Slide Brownie and A Children's Menu with mini pizzas and much much more .. .
Reservations are currently being taken for The Diamond Banquet & Ballroom which seats 150 & The Wenona room which seats 100. For information, call
892-5741
---
A V.I.P. Pre-Grand Opening Party was held Thursday the 29th of December 2005.
Below:(Left)
The Piano Player's singing and piano flair drew a croud and offered an entertaining and pleasant atmosphere. Everyone said they had a fantastic time. "ThePiano playing gives our restaurant a very unique style and its makes it a very fun and uplifting atmosphere," said Falcon.
Below:(Right)
LumberJacks is decorated with wildlife mounts & a huge, full-sized bear that greets visitors on their way inside.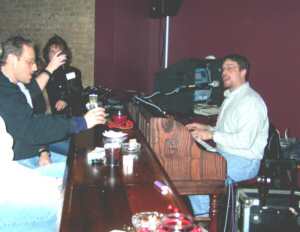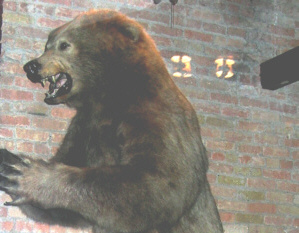 ---
Below:(Left)
Darin & Vicki Crook (Valley Carpet), said, "We are anxious to come back for dinner, after looking at the menu and after tasting some of the hors d'oeuvres."
Below:(Right)
Kevin & Stacy Kukla, (Kelsyd Builders), said, "The appearanceand the mood of this place is very classy but also comfortable. It's exactly the type of place Midland Street needed." Kevin Kukla said. "The food was excellent. I was impressed with the quality & presentation, it was very delicious," added Stacy Kukla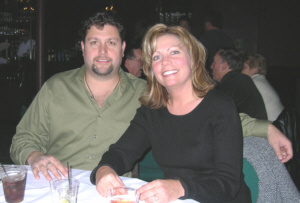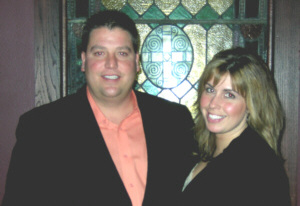 ---
Below:(Left)
John McCallum holds an axe that will be displayed at LumberJacks. The axe, which belonged to his great-great, grandfather's on his Mother's side, Faye McCallum (Hayes) and is dated back to the 1870's.
Below:(Right)
Kyle O'Neil of Garber Buick, State Street, Saginaw, said jokingly, "The place is so big you could almost get lost on your way to the restrooms." Waitress Maggie Montei says, Reservations are now being taken for weddings, babyshowers, business conferences and more.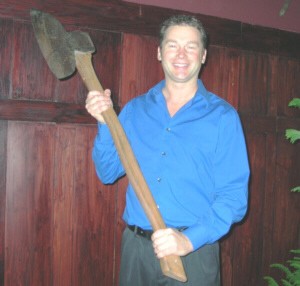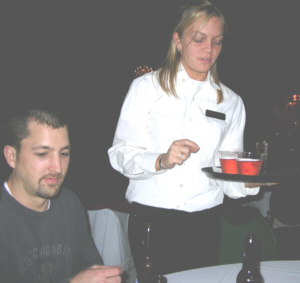 ---
Below:(Left)
Pictured, enjoying the evening, are: Mr.& Mrs Kurt Legner, Bay City Mayor Robert J. Katt, Mr. & Mrs. Michael Wooley, Mr. & Mrs. Mike Buda. Mike Wooley, an attorney & Bay City's 2nd Ward Commissioner, said, "As an elected official of this community it is always a pleasure for me to see a historically important building brought back to economic viability. The renovations are extraordinary and the environment is very enjoyable! I look forward to frequenting this restaurant!"
Below:(Right)
Bay County Prosecuter, Joe Sheeran along with Kurt & Wendy Legner. Wendy Legner (Bay City's current 3rd Ward Commissioner) said, "The owners did a wonderful job of taking on the project of opening this restaurant. There is an old style vintage look about the place that is very welcoming."
Sheeran said he worked at this building back in 1968 repairing & cleaning typewriters. "Its nice to come back here," Sheeran said. "I'm impressed with what they have done and the people here are nice and the staff is very attentive ."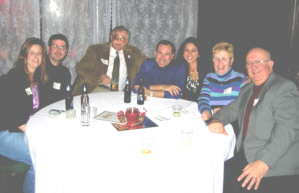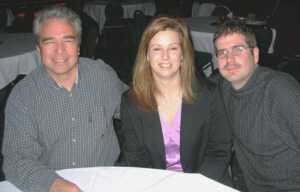 ---
Below:(Left)
LumberJacks Steakhouse & Piano Saloon and The Diamond Banquet & Ballroom, are located on Bay City's Westside on Midland Street -- just West of the Westown and Lucky's Pub, (shown)
Below:(Right)
LumberJacks should be easy to find. But if you're having trouble locating the restaurant, just look for the BIG BEAR in the window!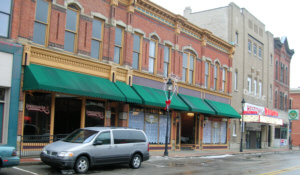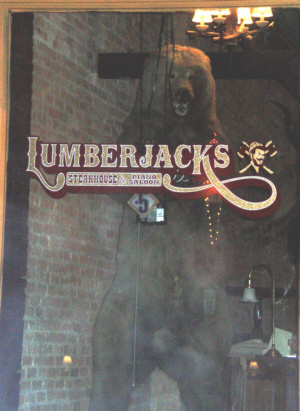 ---


---
---
---
---
Send This Story to a Friend!
Letter to the editor
Link to this Story
Printer-Friendly Story View
---
--- Advertisments ---