Whither the Wily Wolverine, the Fearsome, Leaping Ubly Ugly?
Ontario Biologist Rules Out Goderich Area Source of State's 1st Wolverine
January 11, 2006 Leave A Comment
By: Dave Rogers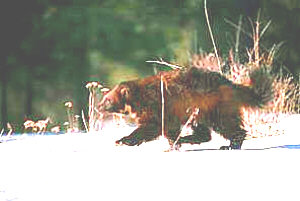 Idaho and Wyoming officials are attempting to bar skiing from helicopters because the sport may disturb the habitat of the notoriously shy wolverine who looks anything but shy in this photo from northern Canada.
"Picture a weasel -- and most of us can do that, for we have met that little demon of destruction, that small atom of insensate courage, that symbol of slaughter, sleeplessness, and tireless, incredible activity -- picture that scrap of demoniac fury, multiply that mite some fifty times, and you have the likeness of a Wolverine." --Ernest Thompson Seton, 1953
OK, where do you think Michigan's first wolverine came from?
The only wolverine known to have inhabited Michigan, roaming near Ubly for the past three winters, is causing a perplexing wave of questions about its origin.
Ontario Ministry of Natural Resources (MNR) officials said this week they do not believe the beast came over the ice since there have been no reports of wolverines in the area around Goderich.
That apparently blows the theory that the wolverine came over the ice about 50 miles from Huron County, Ontario, Canada. Yet the door was still slightly open for that possibility.
"I have heard of animals doing that on Lake Ontario," (crossing the ice) said Crista Sharp, acting area biologist in the MNR's office at Clinton, Ontario. "We've had odd cougar sightings, but no wolverines. Maybe he came from another area."
She did allow as how the interconnected lakefront parks rimming Lake Huron's western shore in Canada might provide cover for rambling wolverines. But the closest known wolverines in Canada are in northwestern Ontario near Sault Ste. Marie. That would pose a heroic 400 plus mile trek for the wolverine to get to Ubly near the tip of Michigan's Thumb.
Since Michigan's first wolverine was initially spotted Feb. 24, 2004 by coyote hunters and that was the dead of winter, there is a remote chance the wolverine could have ranged the 200 miles across the ice, as the crow flies, from the Canadian Soo, wildlife observers speculated.
"After all, wolverines need a 200 square mile habitat to survive and the males, especially, are known to travel long distances in search of food," said Yooper Bill, an authoritative source on such matters.
Facts about the sighting and subsequent videotaping by Deckerville school teacher Jeff Ford are dribbling out, attracting more attention to the story.
Michigan DNR agent Arnie Karr, called to check out the wolverine shortly after the sighting, saw the beast jump 30 feet from a tree and was finally able to videotape it after much maneuvering.
The wolverine's reputation for viciousness has been honestly earned since the 40-pound leaping scrappers have been known to drive mountain lions and even 800 pound grizzly bears away from a kill.
The origin of the appelation "wolverines" as applied to Michigan also is an ongoing controversy. Some reports are that the name was given to the state by Ohioans who considered Michiganians greedy like wolverines during the Toledo War, a dispute over land. Others says the name came when trappers brought wolverine skins down from Canada and had them at fur sales in Detroit.
We have written about Gen. George A. Custer's use of the name wolverines when referring to Michigan troops during a cavalry charge at Gettysburg, an incident that no doubt immortalized the nickname.
However, legendary Michigan football coach Fielding H. "Hurry Up" Yost, riding a 55-game winning streak, in 1924 got two wolverines for even more inspiration. The question of whether they came from the Detroit Zoo or whether Yost commissioned trappers to bring the mascots in is also unsettled. U-M gridders tolerated the beasts only for a short time and fears they might escape prompted Yost to turn them over to the zoo.
The media has been entranced by the wolverine. Woods-N-Water News in its May, 2005 issue delved into the Ubly wolverine in depth, the Bay City times rhapsodized editorially about the beast and a 20-minute video is available from Mr. Ford at http://www.wolverineguy.com
Your input on all these questions is welcomed. Send your opinions, informed or not, to MyBayCity.com using the click bar below. Somebody's got to know something more about this famous wolverine rousting about Ubly and making headlines in the process.###
---
Outdoors Article 984
---

Dave Rogers




Dave Rogers is a former editorial writer for the Bay City Times and a widely read,
respected journalist/writer in and around Bay City.
(Contact Dave Via Email at carraroe@aol.com)

More from Dave Rogers
---
Send This Story to a Friend!
Letter to the editor
Link to this Story
Printer-Friendly Story View
---
--- Advertisments ---