MACKINAC REVERIE: Fur Trader Madame LaFramboise Stymied Astor
April 14, 2015 Leave a Comment
By: Dave Rogers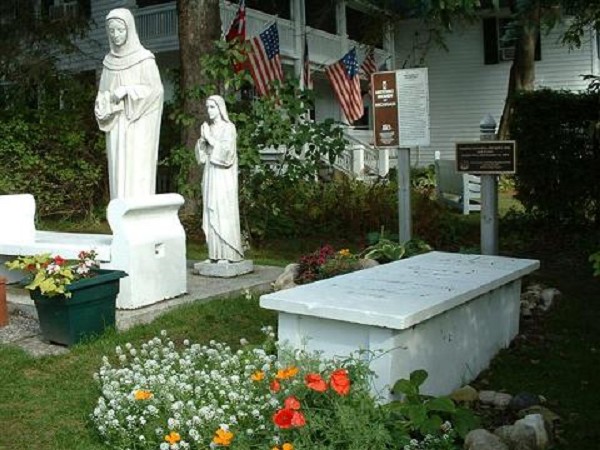 Madame LaFramboise's burial vault next to St. Anne Church. Most island burials are above ground because of the rock substrata.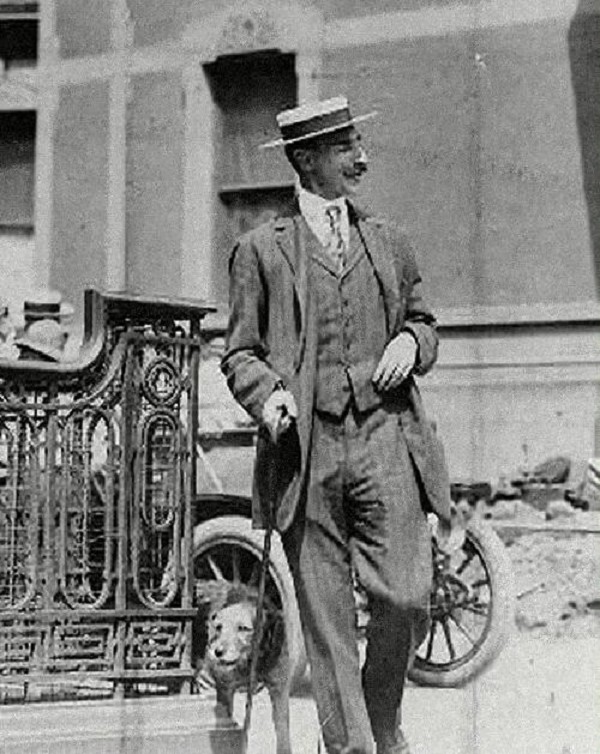 John Jacob Astor walks his Airedale Kitty on Fifth Avenue in New York City.. Kitty also perished in the Titanic sinking.
The place reeks history.
Michigan's Mackinac Island, that is, the crossroads of history and commerce in the Northern Hemisphere for the past several centuries.
As Jesuit missionaries were "saving the souls" of the Native Americans in the Great Lakes region and Canada, French fur traders and Indians were collaborating in the rapidly growing fur business.
British and French mercantile firms sent gift-bearing agents each year to Mackinac to trade for beaver, muskrat, otter, and fox pelts with the Indians beginning in the 1670s. Mackinac became one of the most popular trading posts in America.
The heritage of fur trading on Mackinac is personified by the name Astor, the New York family of tycoons whose presence on the island helped them to outdo the Europeans in acquiring the animal riches of the North woods.
If and when you jump on the ferry in Mackinaw City and the mist of the Straits clears to reveal rocky cliffs, you might reflect on the tragic life of the late, very late, lamented Col. John Jacob Astor IV, who went down on the Titanic in 1912...
...and the historic intersection of his great-grandfather John Jacob Astor with perhaps the most famed female fur trader of early Michigan, Madame Magdelaine LaFramboise.
After the last glacier retreated 11,000 years ago, natives prowling the Straits demarking two newly formed great lakes saw an island looming under the high bluffs.
The aborigines called it mish-la-mack-in-naw or "big turtle." They marveled at its unusual natural limestone formations and found labyrinthine caves where their dead could find eternal solitude.
French-Canadian explorer Jean Nicolet no doubt saw Mackinac during travels on behalf of Samuel de Champlain, governor of Canada, in 1634.
Jesuit Missionary Jacques Marquette preached to the Straits Indians in 1671 and soon after the area became the most important French western fur trade site.
After the British acquired the Straits following the French and Indian War, the English Major Patrick Sinclair chose those high bluffs for the site of his Fort Mackinac in 1780.
That was about the time Madame LaFramboise was born at Fort St. Joseph near today's city of Niles. Her father was French-Canadian trader Jean Baptiste Marcot and her mother was Marie Nekesh, grand-daughter of Odawa Chief Kewinoquot.
Dr. Keith Widder, island historian, tells of Madame LaFramboise: "A woman of Odawa and French- Canadian ancestry, she took control of her husband's fur-trading business upon his death in 1806.
Her husband, Joseph, was killed in an argument over whiskey with the Indians.
Traveling throughout Michigan, she became a prosperous fur merchant, and maintained a home on Mackinac Island. Her business was said to rival that of the wealthy socialite John Jacob Astor, operator of the American Fur Company that thrived 30 years after the War of 1812.
Committed to social causes, she cared for the poor, helped establish schools for Native American and Métis children, and supported the Island's Roman Catholic church. In the 1820s, she donated a portion of her land for the building of Ste. Anne's Church, which still sits next to her house.
A history posted by ancestry.com notes: "She was so successful, that John Jacob Astor decided to quit competing with her, and, in 1818 he bought her out. She was able to live in great comfort for the rest of her life."
She died in 1846 and, along with her daughter Josette, rests in a grave in a garden next to the church. Josette had died shortly after her marriage to the commandant of the fort, Major Benjamin Pierce, brother of later U.S. President Franklin Pierce.
Her 176 year old former home next door was converted to an inn, the Madame LaFramboise Harbour View Inn, and remains a popular island hostelry.
The home of Astor's father, William Backhouse Astor, also survives on the island and is noted because it was his home and headquarters while the fur trade was in its heyday.
The life of John Jacob Astor IV, great grandson of the tycoon, came to its stunning conclusion in the North Atlantic about this time 103 years ago when an "unsinkable" ship named Titanic sank after hitting an iceberg.
Mackinac Island, then was beginning to come into its own after transitioning from fur trading to tourism -- on which it still thrives.
The Astor House fur trading post remains an island sightseeing attraction, just as it was a magnet for natives and French voyageurs more than a century ago.
Bree's Mackinac Island blog comments: "He was the wealthiest person on the sinking ship, and history recounts that he asked to be allowed to follow his wife into a lifeboat because of her 'delicate' condition. When he was told there simply were not enough lifeboats, and women and children only could board them, it is said that Astor gave his wife his gloves and moved aside.
"At his death that night, as owner of the Astoria Hotel, as an author and inventor, and coming from one of the wealthiest families in history, his net worth was $37 billion dollars."
Col. Astor, the paragon of two islands: Manhattan and Mackinac, was so confident the Titanic would never sink that he cut his life jacket to shreds in a show of bravado.
He scorned the lifeboat until the awful reality was confirmed by rising waters submerging the huge vessel.
After all the famed Waldorf Astoria Hotel bore his family name and he was one of the wealthiest men in the world and he had been commissioned a lieutenant colonel in the U.S. Army in the Spanish-American War.
When Astor married Madeleine, "Pookie," Force, there was considerable public disapproval since he was 47 and Pookie still in her teens. Also, he had divorced his first wife and mother of two children, Ava Willing, daughter of a Philadelphia Mainline family.
To escape the glare of unfavorable publicity and the tut-tuts of Edwardian era disapproval, the May-December couple fled to Europe.
They soon tired of the continent and she was pregnant so they booked passage in the French port of Cherbourg to return to the States aboard a vessel whose name would live in human memory --Titanic.
As the ship's band played "Nearer My God to Thee," Astor and 1,513 others went to their deaths in the deep.
###
---
---

Dave Rogers




Dave Rogers is a former editorial writer for the Bay City Times and a widely read,
respected journalist/writer in and around Bay City.
(Contact Dave Via Email at carraroe@aol.com)

More from Dave Rogers
---
Send This Story to a Friend!
Letter to the editor
Link to this Story
Printer-Friendly Story View
---
--- Advertisments ---