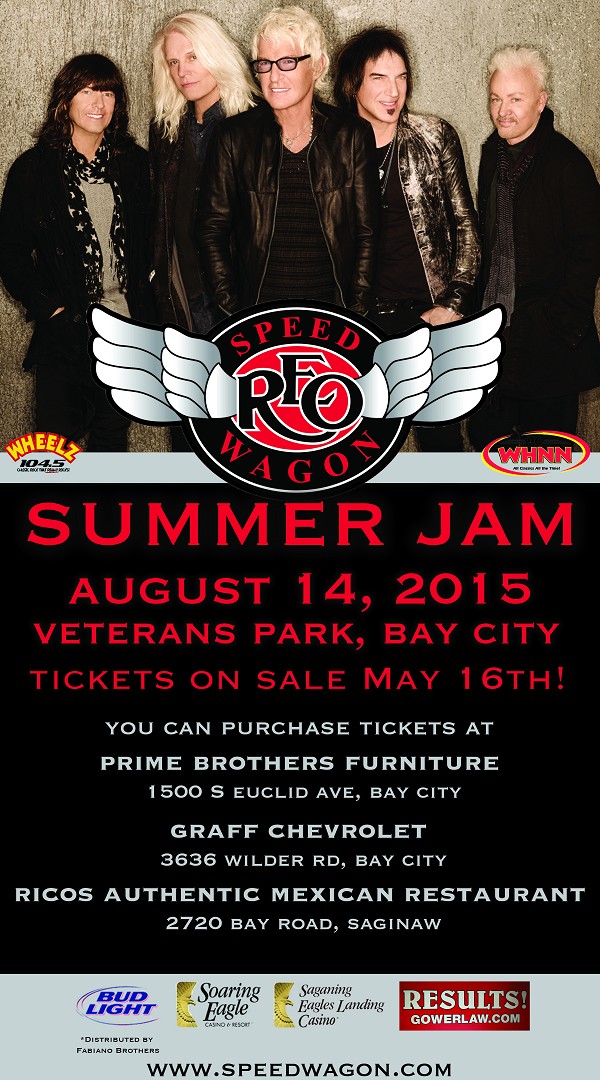 REO Speedwagon returns to Vets Park Bay City for Summer Jam 2015
Super Ticket Saturday is coming May 16th. This will be the day you'll be able to buy General Admission tickets to Summer Jam for just $25. Normal price is $35. Visit one of these ticket locations between 10am and 3pm and get those GA's and save $10 on each ticket:
Prime Brothers Furniture - 1500 S Euclid Ave. in Bay City Graff Chevrolet - 3636 Wilder Rd. in Bay City Rico's Authentic Mexican Restaurant - 2720 Bay Rd. in Saginaw
VIP Up Front section tickets will also be available for $45 beginning on Super Ticket Saturday! REO Speedwagon will be performing on the Northeastern Paint & Home Decorating Center's Stage.
About REO Speedwagon
Formed in 1967, signed in 1971, and fronted by iconic vocalist Kevin Cronin since 1972, REO Speedwagon is a band where the main constant over the decades is a never-ending desire to give their all to their fans, year in and year out.
Formed loosely in the late '60s at college in Champaign, IL, REO (named after the precursor to the light truck) rode to gigs in station wagons, hopping from small gigs to even tinier gigs, just to get their name out. It worked, as fans quickly realized there was much more going on here than your average college party band.
By the early '70s, the band's unrelenting drive, as well as non-stop touring and recording, jump-started the burgeoning rock movement in the Midwest. It carved a path that was eventually followed by STYX, Kansas, Cheap Trick and more. Platinum albums and freeform FM radio staples such as "Ridin' The Storm Out" followed, setting the stage for 1980's explosive Hi Infidelity. REO rode the top of the charts with a RIAA-certified 22 million albums sold in the U.S. and 40 million around the globe, with a string of gold and platinum records and international hit singles.
Even now, fully established with songs on the radio in every city and town they ever set foot in, REO Speedwagon still has that Midwest work ethic. The band has gone on stage and in the studio to work- dozens of albums, thousands of concerts, and countless radio spins. Their eyes have always been on the future and on the road - not a year has gone by where REO Speedwagon didn't perform live, thrilling fans with hit filled sets.
The band's younger fans might not realize the sheer impact REO has had on music and the culture of rock 'n' roll. Hi Infidelity'smillions in sales were fueled by massive hit singles such as "Keep On Loving You" and "Take It On the Run." Thirty-plus years later, the nine-times certified platinum Hi Infidelity still remains a high-water mark for rock bands; the album spent 15 weeks in the #1 slot, a feat simply unattainable in music today.
At the center of REO's desire to keep it rocking for the fans is Kevin Cronin, who looks like he's found the fountain of youth--along with the secret to penning some of the biggest hits in rock. With bandmates Bruce Hall on bass, keyboardist Neal Doughty, Dave Amato on lead guitar and drummer Bryan Hitt, REO has remained busy since the band celebrated its 40th anniversary in 2007.
After an eleven-year break from recording, REO Speedwagon released Find Your Own Way Home in 2007, marking the band's 15th studio effort. Just two years later, REO teamed up with their fellow Midwestern rockers Styx to record the new single, "Can't Stop Rockin'," which was co-written by the two band's frontmen, Cronin and Tommy Shaw.
Later that year, the tune became the title track for the Can't Stop Rockin' Tour, as REO Speedwagon hit the road with STYX and .38 Special to unite three of the hardest working bands in America. Sponsored by VH1 and Rock Band®, the tour was a recession-busting night of rock 'n' roll, offering the best value of the year. At the close of 2009, not only did the trio of bands end up being nominated for the "Most Creative Tour Package" by Pollstar, but they were also one of the highest grossing, most successful shows of the year. In November 2009, REO Speedwagon celebrated the holidays with the release of Not So Silent Night...Christmas with REO Speedwagon.
In the summer of 2010, REO teamed up with yet another rock icon, Pat Benatar, for the "Love on the Run Tour," which brought the songs of these two historic rockers to stages all across America. The "Love on the Run Tour" took fans back to the early '80s explosion of hits, when both artists ruled the Billboard charts with #1 and Top 10 positions for the better part of the decade. While on the 2010 tour, REO announced the release of a 30th anniversary deluxe edition reissue of Hi Infidelity.
In the spring and summer of 2012, REO linked up with Styx and Ted Nugent for the Midwest Rock N' Roll Express tour. The trek kicked off May in Texas, and crossed the country before winding up in New York in July. The title of the tour was a tip-of-the-hat to Illinois-bred bands Styx (from Chicago) and REO, as well as Nugent, who has his roots in Detroit. At that time, Cronin said "I am a Midwest boy, born and raised with Midwest values. In the Midwest, we work hard, play hard, and rock hard. I am proud to join my brothers in STYX and Ted Nugent to celebrate Midwest rock 'n roll and represent the greatest rock fans in the world."
Hot on the heels of that successful run, the Midwest Rock N' Roll Express tour will be back again for spring of 2013. The highly anticipated tour starts on April 18 in Grand Forks, MI and will hit more than 20 cites before wrapping in Burgettstown, PA a month later. REO will then continue to with headlining tour dates and festival shows throughout the summer.
These days REO are still doing what they've always done - taking good care of their legacy while keeping the focus on the future. REO's career will always carry on with music that continues to define excellence in song craftsmanship and brilliant live performance for several generations of fans.
---
---

Josh Sharrow




Sharrow is the Sales Manager, columnist, writer, coffee maker for O.J. Advertising and an on-air personality for 98 KCQ.

More from Josh Sharrow
---
Send This Story to a Friend!
Letter to the editor
Link to this Story
Printer-Friendly Story View
---
--- Advertisments ---