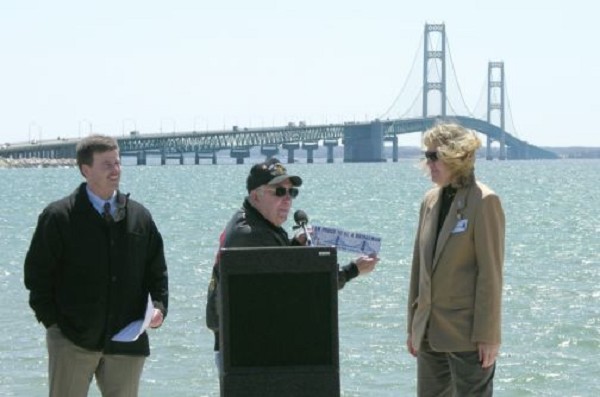 Dick DeMara presents a certificate from Ironworkers Local 25 to bridge officials in 2007.
---
CLIMB BIG MAC? You Could Win 2 Free Tickets to View State From Atop Bridge
(NOTE: It's spring, and thoughts of Michiganians are turning to the north. This writer recalls the Mackinac Bridge half a century ago when covering the sinking of SS Cedarville in the Straits on 7 May 1965. The fog was so thick the bridge could not be seen from its deck. But that's another story we'll write here soon.)
-0-
It's 552 feet to the top of the Mackinac Bridge.
Want to go there?
The State of Michigan has a new program where you and your best friend can climb the inside of the superstructure of the bridge and get a once-in-a-lifetime view of the Straits of Mackinac.
https://www.youtube.com/watch?v=nhk9MLdQmlI
The Mackinac Bridge Authority holds a drawing once per year each August, and randomly chooses 25 non-profit organizations to receive a tower tour certificate to be raffled or auctioned for charitable purposes.
Bridge officials are expecting to receive more than 800 applications this year. The certificates can be used May 1st through October 15th of the following year, and are good for two people.
http://www.mackinacbridge.org/tower-tour-certificates-66/
"On a clear day you can see almost 30 miles out from the top of the tower," wrote Holly Baker for upnorthlive.com.
"Surrounded by water and miles of Michigan as far as the eye can see, the Mackinac Bridge is an iconic sight recognizable by tons of people, but the best view is from the top."
Holly should know, she's been all the way up there.
While the state trumpets the bridge as one of its Pure Michigan highlights, the state would not fund the bridge, so members of the Mackinac Bridge Authority, led by Larry Rubin, convinced investment firms to buy and sell private revenue bonds that would be paid off by tolls on the bridge. The last of the Mackinac Bridge bonds was retired in 1986.
Yours truly was covering the Michigan Legislature in the 1950s and the Republican dominated state Senate would not fund hardly anything; they even stopped paying the state payroll for awhile. Those days came to be known as "Payless Paydays."
Dick DeMara of Bay City, an Ironworker, recalls working on the bridge in 1957. He recently gave a presentation to an appreciative crowd at the American Legion Post 18. He also recalled those days in an interview with Michigan Radio:
"Well at the time I was working at a small plant up there not making too much money, about a $1.60 an hour," said DeMara, adding, "When they said the bridge was gonna pay this big money, three dollars and a half, I said well lets go up there and see if we can't get a job on the bridge."
And nearly a thousand iron workers did and had steady work for five years it took to finish the job.
Constructing the Mackinac Bridge actually started in 1954 and went on into 1958 and took 48 months. Bridge construction took 3,500 workers, 895,000 blueprints and structural drawings, 71,300 tons of structural steel, 931,000 tons of concrete, 42,000 miles of cable wire, 4,851,700 steel rivets, 1,016,600 steel bolts and 99,800,000 dollars. There were 350 engineers and another 7,500 men & women worked at quarries, shops, mills and other locations.
Among the myths about the bridge were that Gov. G. Mennen Williams was first to drive across it 1 November 1957. No, said DeMara, "That's not what happened. When they got it done, a guy named Gordon Dallas and a gal named Emilia Cole were the first ones that drove across that bridge. And that was enough to almost get old Gordon fired, because when he pulled on the other side, his boss was waiting for him," DeMara said.
###
---
---

Dave Rogers




Dave Rogers is a former editorial writer for the Bay City Times and a widely read,
respected journalist/writer in and around Bay City.
(Contact Dave Via Email at carraroe@aol.com)

More from Dave Rogers
---
Send This Story to a Friend!
Letter to the editor
Link to this Story
Printer-Friendly Story View
---
--- Advertisments ---