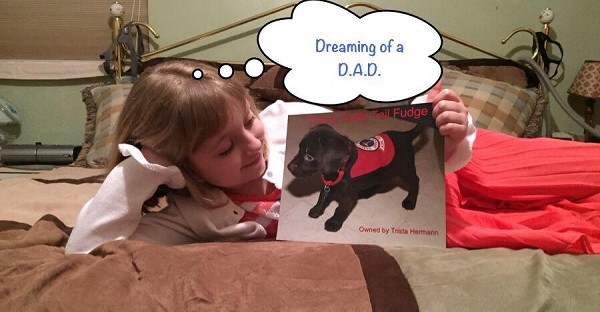 Madisyn's Quest for a Diabetic Alert Dog.
Madisyn was the young age of two years old when her received the news she was diagnosed with Type 1 Diabetes. In addition to Type 1 Diabetes, she was diagnosed with a severe reflux in her bladder which has resulted in surgery and and multiple hospitalizations.
Madisyn is currently seven years old. She has been a courageous little girl, fighting this diagnosis every single day. She is constantly smiling, playing sports, playing with her sister, singing karaoke, and putting on plays. She currently has an insulin pump which helps prevent her blood sugar levels from elevating too high, but unfortunately her blood sugar plummets too low, resulting in low blood sugar from living her active and normal, seven year old life.
We have two daughters, Madisyn(7) and Jewel (6). We have been raising money the last few months to get a Diabetic Alert Dog (D.A.D.) for our 7 year old type one diabetic, Madisyn. Madisyn's father Kevin Cline said the support they have received is overwhelming. "We have had a fundraiser at Buffalo Wild Wings and also held our own spaghetti benefit. The amount of people that have showed interest in not only helping, but also learning about type 1 diabetes is amazing."
Madisyn has had to make sacrifices from her active lifestyle and switch choices of activities as we are afraid her blood sugar could drop too low. Her Family has been praying for a cure to end diabetes, but in the meantime while her family waits for a cure, they have decided to be proactive in helping Madisyn live her active life as a seven year-old girl.
While being proactive about Type 1 Diabetes research, her parents stumbled upon service dogs who are specially trained to detect when someone's blood sugar is low. These special service dogs can detect low blood sugar up to 30 minutes before any electronic medical device including a glucose meter, and CGM (continuous glucose monitor).
Providing a service dog to Madisyn would be such an instrumental part to her! Although a service dog won't make her "normal", it will help assist her to participate in normal activities your average seven year old participates in. Having a service dog will help detect her blood sugar faster than any device so she can be more active.
Mom, Krista Cole said there are other ways, other than cash, to help. "We are currently working on getting gas cards (or the like) for our trip. We are very excited to be adding a new member to the family, especially one that can assist my husband and I in the care of Madisyn."
Her family is asking your assistance in donating to a wonderful cause for a service dog for Madisyn. Some of the expenses will include the price of the dog, continued training for the dog, supplies, travel expenses.
"I know our biggest goal is to be able to get this D.A.D., but I hope it also gets people interested in learning about Type 1 diabetes and maybe help dispel many of the (sometimes ridiculous) myths." said Kevin.
---
---

Josh Sharrow




Sharrow is the Sales Manager, columnist, writer, coffee maker for O.J. Advertising and an on-air personality for 98 KCQ.

More from Josh Sharrow
---
Send This Story to a Friend!
Letter to the editor
Link to this Story
Printer-Friendly Story View
---
--- Advertisments ---