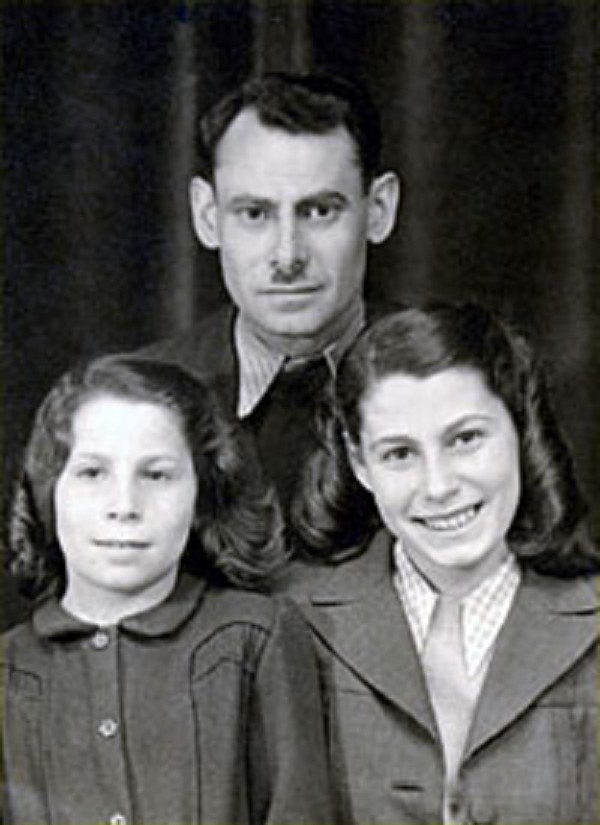 Erna Gorman(left)with her father and sister, Suzanne, after the war in 1947.
The Student Honors Association of Northwood University hosted speaker, Erna Gorman, who gave her astounding first-hand account of survival as a Jew in World War II. Gorman attributes "small miracles throughout her life" that helped her and her family defy the odds and survive what many did not.
The 77 year old Detroit resident, embraced members of the audience, who were complete strangers, with hugs and smiles reserved only for old friends and family. The love and happiness she exudes is amazing coming from a woman that spent a portion of her childhood in fear and then void of human emotion.
Born in Metz, France in 1935, Gorman was the tender age of 4 when her family, including her mother, father, and 10 yr-old sister, attended an aunt's wedding in her father's native Poland. Unbeknownst to the family, Hitler's army also arrived in town and took their passports which prohibited them from returning to their home in France.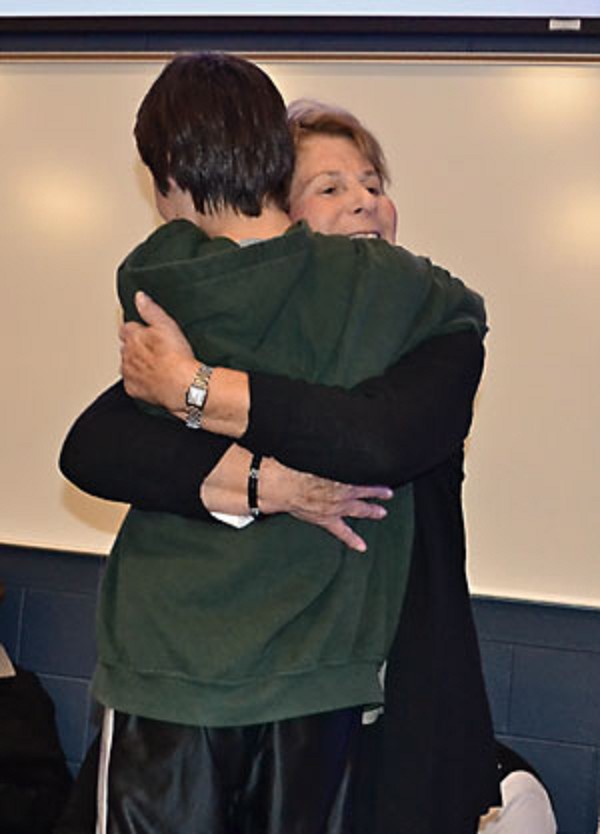 Short in stature, but big in heart, Erna Gorman embraces members of the audience as if they are members of her own family.
Photo by Stephanie Meyer
© MyBayCity.com
During her most formative years when she should have been running around playing with dolls she instead spent them in fear under floor boards with her head buried in her mother's lap as German soldiers stabbed bayonets in the ground looking for hidden Jews. And when she should have been in school learning addition and subtraction, she was hiding in a small loft space in a hay barn for two years forbidden to speak or move around, until she was mute, unable to walk and covered with lice and vermin.
The significance of Gorman's life lessons is astounding when you see this small woman so full of life and gratefulness after going through an event so heinous. "Why was I meant to survive when so many people didn't," says Gorman, "It is a difficult oIquestion to deal with and makes you appreciate every moment of your life. You are so lucky."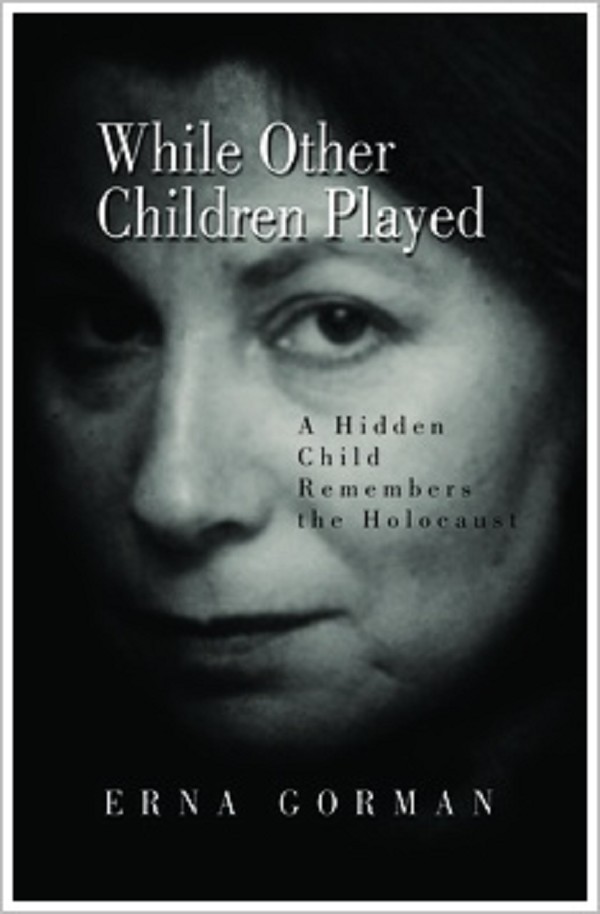 Erna Gorman's book is available at Amazon.com or www.ernagorman.com
Gorman reflects back on a story of when she returns to Metz and goes back to school after the war with her hair shaven from lice treatments and she was dressed in the meager clothes the Red Cross could help provide. A group of 5 and 6 year old French children danced around her calling her a "dirty Jew" and humiliated her to the point that she lost control of her bowels and never returned to formal schooling again.
"Who taught these children to have such hatred," questions Gorman, "These children are not born with hatred and prejudice, they hate as their relatives hate. When my children came home from school and said someone was mean, I would tell them maybe that person just needs a touch of a hand, or a hello or a kind word from you just like I needed on that playground. Teach your children to love. Teach your children not be prejudice. I cry out for the pains in the world and I ask myself why hasn't history taught us lessons?"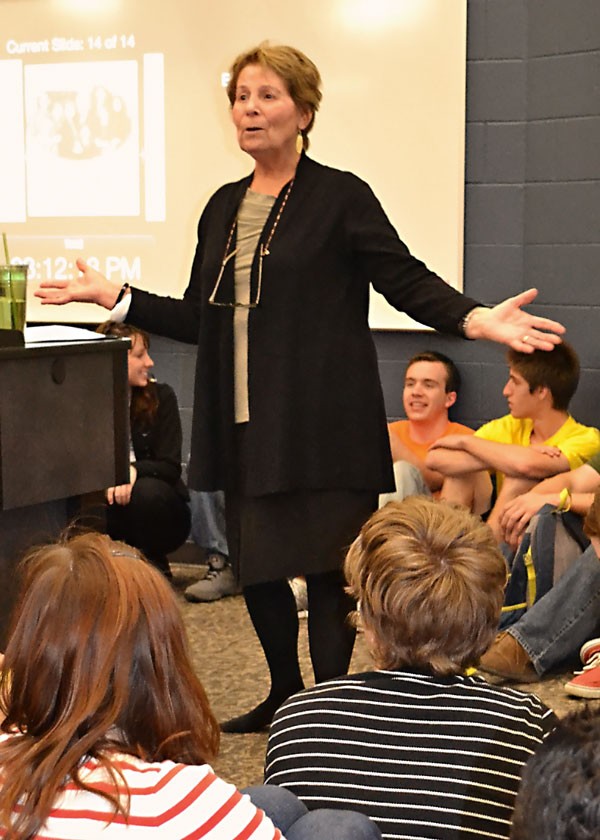 People filled the seats, floor and spilled into the hall at Northwood University to hear Erna Gorman's story.
Photo by Stephanie Meyer
© MyBayCity.com
Gorman's 8 year old granddaughter humbled her as Gorman was preaching against hatred and prejudice, "Nana you are so silly, when we are cut we all bleed the same. We are the same." "This is the lesson I have taught my children and now they have passed it on to their own," says Gorman.
If you are interested in reading more about the surreal life of Erna Gorman, you can purchase her book, "While Other Children Played: A Hidden Child Remembers the Holocaust" at www.ernagorman.com or at Amazon.com.
---
---
---
Send This Story to a Friend!
Letter to the editor
Link to this Story
Printer-Friendly Story View
---
--- Advertisments ---


0200 Nd: 06-18-2018 d 4 cpr 0