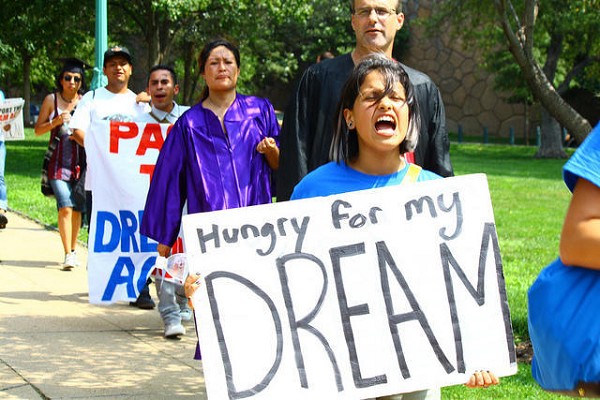 Endangered DACA recipients protest in Michigan. (Michigan Radio)
---
DACA COSTS: Michigan League for Public Policy Cites $450 Million Loss Fears
A new report from the Michigan League for Public Policy, (DACA) The Benefits of Deferred Action for Childhood Arrivals on Immigrants in Michigan, predicts the devastation its recent termination will have on Michigan's immigrant families, communities and economy.
In Michigan, thousands of immigrants currently enrolled in the federal DACA program stand to lose their ability to work and go to school without fear of deportation. These young "Dreamers" came to the United States as children and identify as Americans in every sense of the world, but do not have legal status.
The DACA program, established in 2012, granted a temporary reprieve from deportation and a renewable two-year work permit to Dreamers who met requirements.
"Dreamers in Michigan are students who balance work and college courses, employees pursuing professional dreams, family members helping to contribute to their household income and consumers working to afford a car or a home," said Gilda Z. Jacobs, president, and CEO of the Michigan League for Public Policy.
"They are contributors to our state's economy and tax base in a variety of ways. These young immigrants are a vital part of our state and key to a vibrant future, and federal policymakers should be working to keep them here."
If these Dreamers leave Michigan, their economic contributions leave, too. According to the report, DACA beneficiaries contribute $13 million in state and local tax revenue. And the state would see a $418 million annual GDP loss without these individuals.
This is in addition to the personal devastation that Dreamers face with the end of DACA. Loss of income, loss of a driver's license and loss of educational opportunities lead directly to the loss of a future.
"Just a few months ago, DACA recipients were looking forward to a safe and secure life in the United States. Today, they must deal with uncertainties and even potential deportation to "homelands" that are unfamiliar. This type of treatment is despicable and goes against our American values. The League encourages policies that allow all residents to thrive instead of these efforts to tear us apart, right down to our very families," Jacobs said.
Research shows that inclusive immigration policies are best, and the report recommends the following:
A pathway to citizenship that provides long-term relief from deportation;
Tuition-equity policies that allow DACA beneficiaries to be considered eligible for in-state tuition at universities and private colleges;
Access to occupational and professional licenses so that DACA beneficiaries can put their education and training into action; and
Policies for social and economic inclusion that eliminate barriers to success for Michigan?s immigrant families.
A recent wave of anti-immigration legislation raises concerns as thousands of immigrant families across the nation and here in Michigan have become the object of scrutiny and .
"We know that inclusive immigration policies help all Michiganders, so we were dismayed to see that the Michigan Legislature is moving forward with HB 4053, an anti-immigrant bill that would make English the official state language. Policies like this do nothing but divide our state and distract people from the real issues facing our residents," Jacobs said.
Over the last year, the League has continued to lift up the contributions of Michigan immigrants, including producing an overview of immigrants in Michigan and county-by-county immigration fact sheets.
### The Michigan League for Public Policy, www.mlpp.org, is a nonprofit policy institute focused on the economic opportunity for all. It is the only state-level organization that addresses poverty in a comprehensive way. ###
---
---

Dave Rogers




Dave Rogers is a former editorial writer for the Bay City Times and a widely read,
respected journalist/writer in and around Bay City.
(Contact Dave Via Email at carraroe@aol.com)

More from Dave Rogers
---
Send This Story to a Friend!
Letter to the editor
Link to this Story
Printer-Friendly Story View
---
--- Advertisments ---