RECALLING DR. KING: A Visit to His Church in Alabama was Inspiring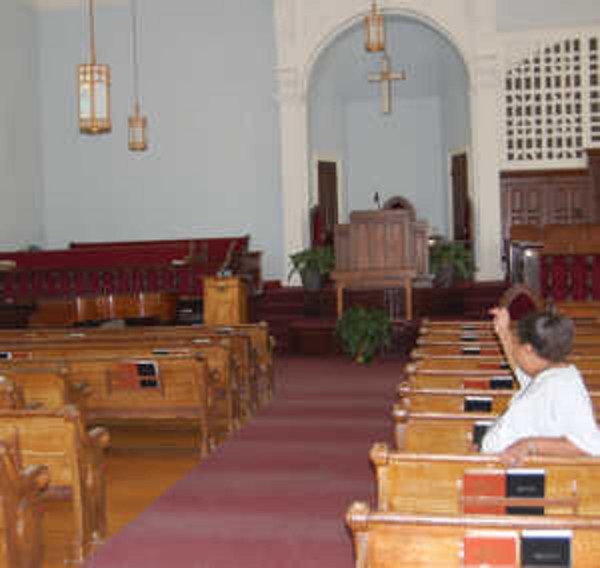 Lone worshipper honors birthday of fallen Civil Rights icon at Dr. King's church in Montgomery, Alabama in 2006. (MyBayCity.com photo)
(EDITOR'S NOTE: This is a column from MyBayCity.com posted in 2006 and reprinted here in honor of the 50th anniversary of the death of Dr. Martin Luther King, April 8, 1968, in Memphis, Tennessee. May he, and the nation, find lasting peace.)
The occasion was a trip to a place I had never been before -- Montgomery, Alabama.
The event I was to visit was the induction of pioneer Bay City founder James Gillespie Birney in the Alabama Lawyers Hall of Fame.
Abolitionist Birney was not that popular when he lived in Huntsville 1819 to 1833. Attitudes about race have changed greatly in the ensuing 175 years, but it still took a long time for the Alabama Lawyers Association to decide to recognize Birney and a fellow lawyer, Clement Comer Clay from the same era.
My trip was very nearly a disaster; I had failed to bring enough cash, vastly underestimating the cost of cabs, etc. So I found myself broke, standing in the hot sun 15 miles from the downtown Alabama Supreme Court rotunda where the ceremony was to take place.
I had counted on a somewhat elderly Mr. Lane of Lane's Taxi Company to pick me up at the motel as he had promised. "If I don't wake up in time, my nephew Greg will come and get you."
I had been turned away in attempts to get cash at the motel, at the ATM (you can get a pin number in a week, a voice at the credit card company told me), a check cashing place, Dunkin' Donuts and the gas station
. Kicking and cursing myself for being such a dummy, I was relieved when Greg Lane, the nephew, called my cell phone. "Where are you?" he exclaimed as I hustled back to the motel where he was to pick me up.
"Money, why we'll just run down the highway here to the Regions Bank and I'm sure they'll fix you up on your credit card."
Nope, no account with Regions, no cash, no how.
I was riding on Greg's nickel with not a cent to pay him. "Maybe I can send you a check later after I get back to Michigan?" Greg looked fish-eyed at me.
A friendly credit union manager right downtown Montgomery took pity on me and bailed me out. She mentioned my Claddagh ring so I figured it was the luck of the Irish that paid off. Stuffing the cash in my wallet, I went outside but Greg, the cab and my briefcase with my camera were gone.
This is going to be a trip for the books, I ruminated. Despair had not quite overtaken me when Greg drove up hollering "I was running out of gas and had to run to the station." I had not lost faith in him anyway.
We still had an hour to kill before the ceremony so Greg took me to the Rosa Parks Museum commemorating the courage of the woman who refused to give up her seat on a city bus and helped spark the Montgomery bus boycott of 1955. (A bus in the museum has a diorama of the events of that historic day. The actual bus is in the Henry Ford, Dearborn.)
After the event, a kindly lady who was a friend of Herman Hoffman (Topper) Birney (great-great-grandson of James G. Birney) and his wife Sherry took me to the airport. (By coincidence Topper ended up in his distinguished ancestor's former home when his father was assigned to the 'rocket city' in World War II.) Topper is a member of the Huntsville School Board.
On the way, we stopped at the Dexter Avenue Baptist Church where Rev. Martin Luther King preached 1954-1960. There a guide took us through the church and Dr. King's office.
Words from his "Letter From a Birmingham Jail" echoed in the cool dark interior on that sweltering day: "Let us all hope that the dark clouds of racial prejudice will soon pass away and the deep fog of misunderstanding will be lifted from our fear-drenched communities . . ."
Mists of time have obscured the fact that the letter was in response to eight fellow clergymen who wrote that his civil rights activities "were untimely and unwise."
And, I could almost hear his immortal words from August 28, 1963, in Washington, D.C.: "I have a dream . . ."
I guess the best way I can honor the memory of Dr. King on his birthday is to write this column recalling that I visited his church and his office. And that a young cab driver -- who did not have to -- took pity on a hapless Yankee journalist. It was an inspirational and unforgettable experience.
---
---

Dave Rogers




Dave Rogers is a former editorial writer for the Bay City Times and a widely read,
respected journalist/writer in and around Bay City.
(Contact Dave Via Email at carraroe@aol.com)

More from Dave Rogers
---
Send This Story to a Friend!
Letter to the editor
Link to this Story
Printer-Friendly Story View
---
--- Advertisments ---