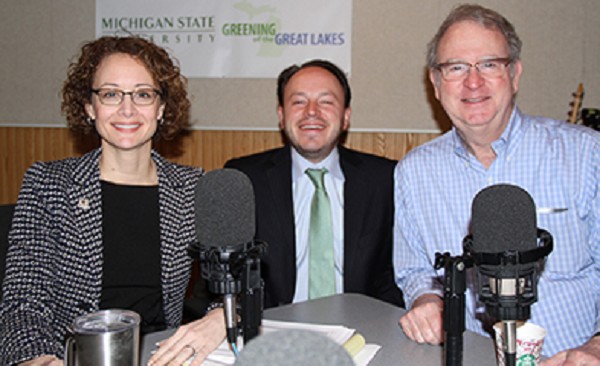 Kristi Bowman, Matt Grossman and Charles Ballard prepare a podcast on education policy at MSU.
---
EDUCATION = BIG GOVERNMENT - Strange Political Stance Weakens Society
What is big government?
Apparently, in some political circles, anything that uses tax dollars for the public benefit.
Schools, it seems, are lumped into the "big government" pot.
After spending 20 years in Journalism writing often about schools, running a dozen millage elections as a "hobby in the 1960s and 1970s, and working 20 years as a school administrator, I cannot conceive of such a twisted stance.
One conclusion I can make is that the voter constituency for schools has virtually vaporized. In the 1950s and 1960s, the majority of families had children in school. Today, 57 percent of families are childless.
Among families that do have children, parents and children still struggle to cope with the economic strain, especially in the wake of the 2007-2009 recession.
"During the recession, economic well-being worsened for families with children," said Jamie Lewis, a Census Bureau demographer and co-author of the report.
"The attacks on "government schools" have a much older, darker heritage," writes Katharine Stewart in a recent New York Times op-ed. "They have their roots in American slavery, Jim Crow-era segregation, anti-Catholic sentiment and a particular form of Christian fundamentalism -- and those roots are still visible today.
"When these people talk about 'government schools,' they want you to think of an alien force, and not an expression of democratic purpose. And when they say 'freedom,' they mean freedom from democracy itself."
The tortuous route to this Cruella de Ville in Wonderland thinking we face in Michigan cannot be easily discerned.
Bill Rustem, a former adviser to Gov. Rick Snyder, told Bridge Magazine the (Republican) party has become dramatically more conservative on social and fiscal issues. There is strong resistance now to any kind of government spending - even the type of infrastructure "user fee" taxes that past Republican administrations supported.
"The difference always has been the Republicans were interested in investing in things that lasted, whereas Democrats were more interested in paying for social programs," Rustem said.
"That was the distinction. Now we're not there anymore."
Obviously, that kind of thinking is why Michigan's roads and infrastructure are crumbling, and why the state spurned pleas by Bay City to help with costs of bridges.
All of which leads us to the question: Just what do we pay state taxes for, anyway? And, more to the point, where does the money go?
All this leads up to a looming 2018 election season that has so many baffling aspects that Merlin the Magician would find confusing.
Michigan voters are dubious about President Donald Trump, despite giving him 164,000 more votes in 2016 that the previous GOP candidate, Mitt Romney, in 2012. But will the Trumpians stay the course in 2018? In fact, Republic grassroots leaders say they have trouble finding Trumpians.
Eight years of Obama and left-leaning policies have contributed to the rightward shift, said Matt Grossmann of MSU. So has the growth of conservative media, which Grossmann said helps to reinforce right-leaning views.
This is not unique to Michigan. The Washington, D.C.-based Pew Research Center found that both parties have become significantly more polarized nationally since the mid-1990s. In a 2017 study, the nonprofit found that less than a third of voters, 32 percent, have a roughly equal mix of conservative and liberal views, down from nearly half, 49 percent, as recently as 2004.
###
---
---

Dave Rogers




Dave Rogers is a former editorial writer for the Bay City Times and a widely read,
respected journalist/writer in and around Bay City.
(Contact Dave Via Email at carraroe@aol.com)

More from Dave Rogers
---
Send This Story to a Friend!
Letter to the editor
Link to this Story
Printer-Friendly Story View
---
--- Advertisments ---