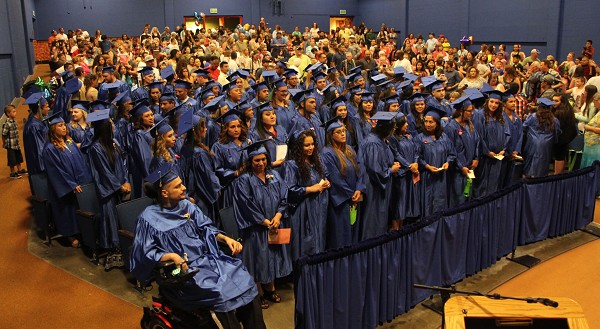 High school completion and GED recognition in Big Bend, Washington.
---
DISINVESTMENT= $2.5B: In 25 Years, Michigan Has Gutted Education Funding
Our state constitution says that the Michigan legislature shall maintain a system of free public elementary and secondary schools. And every school district shall provide for the education of its pupils without discrimination.
Michigan Radio's Jennifer Guerra notes that the Constitution makes no mention of education that is "fair, equitable, or adequate."
But let's just start with the basic Constitutional requirement to "provide free public elementary and secondary schools."
If you have been following this column, you know that the fatal flaw in the system is that while the schools are "provided," there is no requirement that students actually are educated.
Bay City is historic in citizens educational movement since young lumberjacks, mill and dock workers in 1879 petitioned the West Bay City Board of Education for night classes so they could get their diplomas and qualify for better jobs that the menial ones they had.
That program was instituted in the First Ward, or Banks, School. It led to the continuation of such night classes through the Depression and to the eventual establishment of Bay City Junior College. So Bay City is the ideal place to launch a movement to reinstate high school completion that was slashed almost completely over the past two decades.
The basic legalistic language of the Constitution fails to mention the need for students to graduate and receive their diploma, their "ticket" to success in the workplace and in life.
Apparent, Michigan legislators have taken the narrowest interpretation: hey, we provided the schools as the Constitution says; if the student didn't graduate, that's their problem.
Ah, therein lies the rub, in Shakespeare's vernacular.
Actually, Michigan has dis-invested $2.5 billion (BILLION) in failing to provide high school completion programs over the past 25 years.
That need extends today to vocational training, another area of the education system that has been downgraded over the past 25 years.
States the Michigan League for Public Policy: "In the past, high school graduates could enter the middle class by getting jobs in the manufacturing sector immediately after graduation and moving eventually into skilled, higher-paying positions. Today, however, technological advances and offshore production have greatly decreased the need for unskilled, entry-level labor.
The failure to aid students to graduate from high school is not totally THEIR PROBLEM. It is OUR PROBLEM" because the costs of social programs, corrections, etc., are vastly higher in the under-educated. We again must note the growth of what is appearing to be a permanent underclass -- a peasantry, if you will, whose lives and offspring must be supported under our federal Constitutional mandates.
The pertinent provision is Amendment XIV (Civil Rights): Nor shall any State deprive any person of life, liberty or property, without due process of law; nor deny ANY PERSONS WITHIN ITS JURISDICTION THE EQUAL PROTECTION OF THE LAWS.
Failure to guarantee a portion of the population (in this case about 20 percent of students), the adequate educational foundation certainly is akin to denying them equal protection of the laws, in our opinion.
Our history offers a startlingly accurate comparison: SLAVERY. Slaves were not permitted to read or be educated for fear they would realize the limitations of their bondage and rebel.
Is failure to educate a form of slavery today? You tell me what you think. If you are an attorney with a yen to take on a massive pro bono lawsuit against the government, think about the good that would come from an educational mandamus from the U.S. Supreme Court. Nearly every state is following the same path as Michigan: neglecting a class of citizens who for a variety of reasons did not learn at the same rate or suffered some personal setbacks that took them out of high school and short-circuited their diploma achievement -- thereby placing the yoke of inadequate preparation for life on their shoulders.
And, on ours!
###
---
---

Dave Rogers




Dave Rogers is a former editorial writer for the Bay City Times and a widely read,
respected journalist/writer in and around Bay City.
(Contact Dave Via Email at carraroe@aol.com)

More from Dave Rogers
---
Send This Story to a Friend!
Letter to the editor
Link to this Story
Printer-Friendly Story View
---
--- Advertisments ---