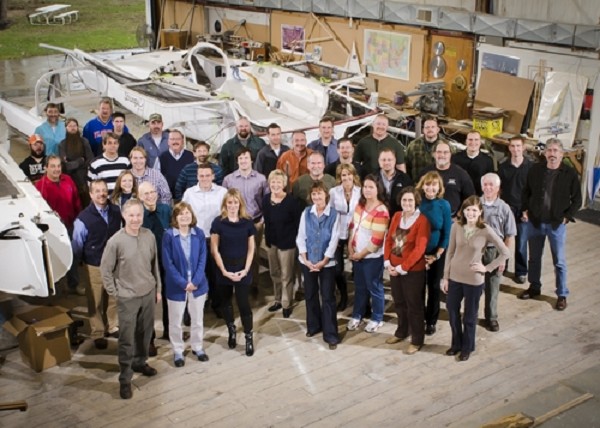 The employee-owners of Gougeon Brothers, Inc., manufacturer of WEST SYSTEM and PRO-SET epoxies for boat building and boat repair.
---
BAY FUTURE: 600 New Jobs, $300 Million Investment Exceeded in 3 Years
April 17, 2018 Leave a Comment
By: Dave Rogers
Economic development goals are being exceeded in a dynamic Bay County growth environment, according to Trevor Keyes, president, and CEO of Bay Future, Inc., public-private partnership.
Bay Future exceeded the three year-goals to create 600 new jobs and secure $300 million of new capital investment in Bay County, he said.
The organization is now into the second year of "The Future is NOW" Capital Campaign and the implementation of its Strategic Action Plan (2016-2018), with the support of our local companies, investors and community leaders.
In 2017 alone, Bay Future assisted businesses in creating 375 jobs, retaining 36 jobs, and securing over $268 million in investment through their economic development efforts. These efforts, paired with last year's total 709 new jobs and over $470 million in new capital investment.
In addition, with the support of many partners, Bay County businesses secured over $12 million dollars in government contracts- over ten times more value than secured contracts in 2016.
Said outgoing chairperson Mitzi Dimitroff: "We want to thank companies like S.C. Johnson A Family Company, The Dow Chemical Company, General Motors Powertrain, Consumers Energy, and more for seeing the value in our community and continuing to invest in Bay County.
"I am excited about the collaboration and the partnerships Bay Future has strengthened in 2017, both locally and at the state level. With these partnerships, Bay Future has an exciting year ahead. We know that we cannot accomplish our goal of a stronger economy in Bay County and the Great Lakes Bay Region without the continued support of our investors. It is because of your support that we are able to carry out our mission each day and to continue to lead economic development in Bay County."
The Bay Future, Inc. Board of Directors and Staff honored outgoing board members, Gavin Goetz, Gary Riedlinger, Dave Reitzel, and Tim Rokosz, for their vision, leadership, and commitment, commented Ms. Dimitroff.
Project summaries:
"Atlas Industrial Development invested in a 40-acre parcel of predeveloped property in Williams Township with the intention of developing it into an industrial park beginning with a groundbreaking in 2017. The developers are constructing a 48,000 square foot pre-engineered steel industrial facility on speculation investing $1.2 million.
BGT Aerospace, LLC., launched in 2017 by its two owners who have over 20 years of combined experience in the aerospace and manufacturing industry. The company focuses on military aerospace contracting and performs design, manufacturing, assembly and testing of mechanical actuators, gearboxes and related mechanical components.
In 2017, Consumers Energy announced plans to invest $27 million through 2019 at the site of the former J.C. Weadock Plant as it follows through on its commitment to return the site to a brownfield, making it available for future reuse. More than 60 skilled trades and Michigan-based contractors will be supporting the work. In addition, over $26 million in investments was made at the company's Karn Site for plant reliability in 2017.
Conti Corporation, based in Sterling Heights, is a multi-trade industrial and commercial contractor offering design, installation and maintenance services for electrical and mechanical systems and equipment with clients in an array of industries. In 2016 Bay Future, Inc. attracted the company to a building in Bay City that they purchased under the name Bay City Properties, LLC. This year, the company is looking to expand its piping fabrication capabilities and pipe fitting manufacturing operations in Bay City, announcing the investment of nearly $2.4 million and creating 50 jobs.
DaMar Properties, LLC. the owner, Dave Dittenber, along with Jenifer Acosta Development, announced plans in 2017 to continue investment in Downtown Bay City. The 2nd and 3rd floors of Dittenber's restaurant, Old City Hall, will see renovation and six warehouse style apartment rental units ranging in square footage from 800 to 1,100 sq. ft. with two of the loft units featuring both floors. The over $1.7 million project is slated to begin construction in Spring of 2018.
The Dow/Dupont Chemical Company reaffirmed their commitment to the Great Lakes Bay Region and to Bay County with their announcement of a $100 million Innovation Center at the Heritage Dow Corning Campus in Williams Twp. When completed the facility will house more than 200 scientists and engineers who will focus research and development activities on advancing solutions for home and personal care products; broadening Dow's energy-saving building technologies; enhancing materials for critical infrastructure; and driving closer partnerships with automakers as they further accelerate efforts to lightweight automobiles and develop hybrid, electric and autonomous transportation solutions.
General Motors Powertrain, in Q1, announced an investment of $20 million and the retentions of jobs at the Powertrain Facility in the City of Bay City to support its production of camshafts and engine components for Chevrolet, Buick, GMC, and Cadillac vehicles. This announcement came less than a year after GM announced a $118 million investment into the plant that created 29 new jobs and retained 67 positions. This announcement was part of a $1 billion investment that the Detroit automaker said it would make into American-based manufacturing, as part of negotiations with the UAW for a new four-year contract, GM announced plans to invest $8.3 billion in the U.S. over a four-year period while adding 3,300 jobs. Bay Future, Inc. worked with Plant Leadership and UAW Representatives to provide Data Analytic Reports and Demographic Reports to secure this investment.
Due to recent increases in business and new product lines, slated to be rolled out in the near future, Gougeon Brothers, Inc. was in dire need of additional floor space for manufacturing and storage. In 2017 the firm announced an investment of $620,000 with the creation of three new jobs and the retention of more than 20 jobs at its Bay City headquarters. This brings the total investment to above $2 million in the past few years at that location. Bay Future, Inc. advocated for the zoning variance and wrote a letter of support for the project while coordinating abatement application completion, submission, and project coordination with the City of Bay City.
McLaren Bay Region, Bay County's largest employer, announced plans in July of 2017 to continue its investment in cutting-edge technology for the patients they serve. The $5.6 million investment includes a 2,000 square-foot addition to house a new linear accelerator and 6,000 square-foot renovation of the Jeppesen Radiation Oncology Center at McLaren?s West Campus, 3180 E. Midland Road in Bangor Township.
MidMichigan Health was attracted to Bangor Township in 2017, setting their development sights on a 10-acre parcel situated at 3051 Kiesel Rd. The more than 19,000 square foot building that is currently being constructed will house primary and specialized care providers, offering services such as exams, therapy, radiology, and more. 35 employees will be on site with potential for expansion in the future. Bay Future, Inc., provided site location assistance, demographic reports, traffic study reports, zoning ordinance consultation and study, and coordination with Bangor Township to secure this investment.
New Hope Bay, LLC., a group of healthcare professionals, announced its second investment in Bay County in two years, of $10 million, in its new full-service independent living community and additional 48 assisted living apartments. The community is located in New Hope Bay's assisted living and memory care campus in Hampton Township, the 2015 project which resulted in $13 million investment and 60 new jobs. At this project's completion, the 68,000 sq. ft. facility will create another 50 jobs and will allow the facility to welcome 70 new residents.
After being in business for 20 years, Newtech Automotive Services expanded its presence in Bay County last year. The company invested in excess of $400,000, adding 10 jobs (predominantly technology-related jobs and software engineers) to their current workforce of 36, which included renovating the former Social Security Building located at 700 4th Street in Downtown Bay City.
S.C. Johnson A Family Company saw a facility upgrade and update at its Bangor Township facility committing to at least 25 new jobs over the next two years. The new manufacturing facility will add more than 50,000 square feet at the 488-acre site bringing with it more than 25 operators to the plant. Bay Future, Inc. worked with SC Johnson through retention visits, provided incentive tools, and summary assistance, provided application support, worked with MEDC on a package, and worked closely with Bangor Township and the company on the abatement.
---
---

Dave Rogers




Dave Rogers is a former editorial writer for the Bay City Times and a widely read,
respected journalist/writer in and around Bay City.
(Contact Dave Via Email at carraroe@aol.com)

More from Dave Rogers
---
Send This Story to a Friend!
Letter to the editor
Link to this Story
Printer-Friendly Story View
---
--- Advertisments ---