SILENT HERO: Central High's Dylan Steele, Craig Windt Headed for Normandy
History Project to Honor World War II Fallen Soldier
April 21, 2018 Leave a Comment
By: Dave Rogers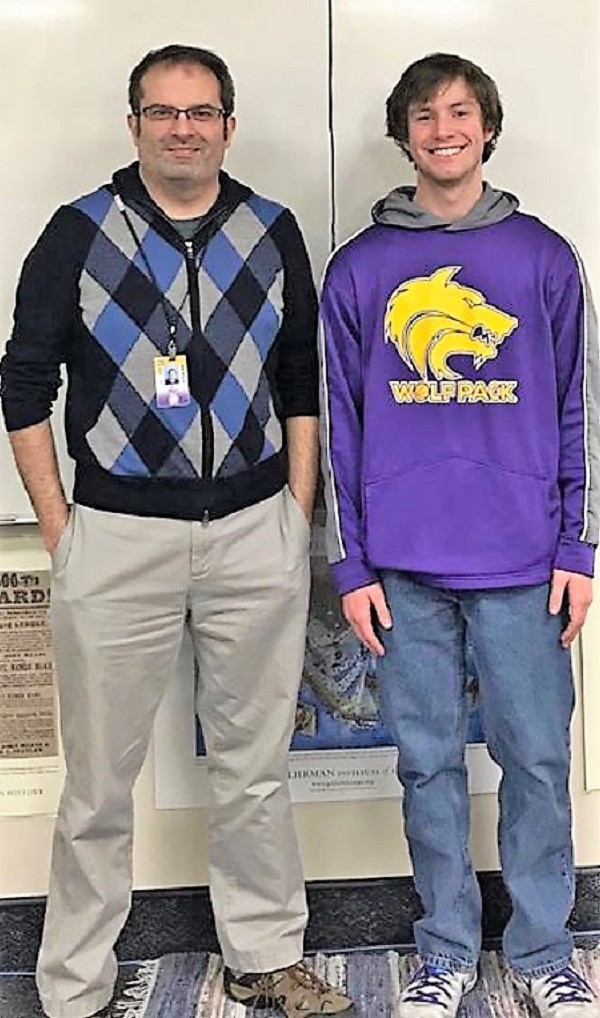 Central High teacher Craig Windt with Dylan Steele, Central sophomore, history project participant.
This summer Central High sophomore Dylan Steele will deliver a graveside eulogy for a World War II "Silent Hero" at the Normandy, France, American Cemetery.
With him will be teacher Craig Windt, both concluding a yearlong course of study under the "Normandy: Sacrifice for Freedom" project of the Albert H. Small Student & Teacher Institute.
Steele and Windt are among fifteen student/teacher teams from around the nation engaged in a rigorous study of D-Day and World War II. Beginning in January, students and teachers have taken an online class led by World War II historians, which included weekly readings and online discussions with their peers.
Additionally, teachers will aid students in the historical study of a Silent Hero buried in or memorialized at the Normandy American Cemetery whose story has not been previously told. With help from a research volunteer from the National Archives and Records Administration, students will research and learn about the life of a soldier, sailor, airman, Marine, or Coast Guardsman in order to build a website once they return from France.
The teams will travel to Washington, D.C., in June, where the students and teachers will be immersed in lectures and activities presented by World War II historians and they will participate in a scholarly study of the war memorials in the D.C. area in order to understand the cost of war.
On the final leg of the journey, the group will travel to France and walk in the footsteps of history in Normandy. In addition to learning from local historians and curators, students will study and make presentations on various aspects of the Normandy Campaign that they have individually studied throughout the year.
The program is coordinated by National History Day, marked this year on April 18 in Michigan. It is funded by a grant from Albert H. Small, a World War II Navy veteran.
Teams will return to the U.S. together, teachers are required to return from France with their student and accompany them to their final destination. Once the teams return from France, teachers will help their students as they work to build their Silent Hero profiles, which will be used to immortalize and pass on the memory of American sacrifice to later generations.
"Throughout their research, these students and teachers become incredibly connected to their Silent Heroes," said National History Day Executive Director Dr. Cathy Gorn. "When they read their eulogies they are reading a eulogy for someone they know, someone whose story they are responsible for telling. It results in a powerful, and often tearful, understanding of the sacrifice the students' Silent Heroes made in WWII."
Albert H. Small, a third-generation Washingtonian, is President of Southern Engineering Corporation. He became interested in historical collecting after serving in the Navy during World War II, and in February 2011, donated his Washingtoniana collection -- some sixty years in the making -- to the university to help establish the George Washington University Museum and The Textile Museum. The Albert H. Small Washingtoniana Collection documents the formation, development, and history of Washington, D.C. from the eighteenth to the mid-twentieth century, and includes nearly 1,000 manuscripts, books, newspapers, broadsides, photographs, postage stamps, paper currencies, and a remarkable collection of prints and maps.
###
---
---

Dave Rogers




Dave Rogers is a former editorial writer for the Bay City Times and a widely read,
respected journalist/writer in and around Bay City.
(Contact Dave Via Email at carraroe@aol.com)

More from Dave Rogers
---
Send This Story to a Friend!
Letter to the editor
Link to this Story
Printer-Friendly Story View
---
--- Advertisments ---