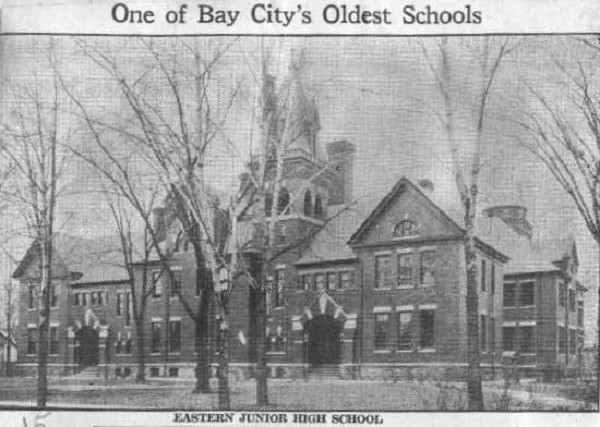 Old Bay City Eastern was a junior high after Central was built in 1922.
---
LOOKING BACK: Bay City Eastern Revived After 97 years
Local Districts Recognize Need to Serve Increasingly Diverse Students
The recent revival of Bay City Eastern as a high school serving all students will take its place as one of the landmarks in public education locally.
Bay City Supt Steven Bigelow, BAISD Supt. Deborah Kadish and the boards of the Bay City and Bay-Arenac Intermediate district deserve multiple kudos for their courage in reversing course in the way education is delivered and the varied student groups they serve.
The name Bay City Eastern is an iconic reminder of the glory days of education here since it was the name of the first high school, located on the site of today's Farragut School, now a charter elementary school.
Eastern was built for $18,900 in 1882.
In the early art of the last century Bay City, fueled mostly by an economic bonanza from the lumber trade, also became an educational power.
The finest teachers, administrators and coached were hired and put the city in the forefront of the state: in other words education propelled progress.
It is a verity that athletics reflects success. Bay City Eastern, on the site of the the old YMCA on Madison Avenue, and Bay City Western, located on Wenona on of today's the Allen Medical Building, led the state in both academics and athletics. Eastern's athletic teams were called the "Indians," while Western's were the "Cowboys," athletic prowess on the playing fields reflecting the educational excellence of the iconic buildings.
Dock and mill workers petitioned the West Side Board of Education in 1879 for night classes to improve themselves, one of the earliest so-called "adult education programs."
in the 1930s Bay City provided night classes for non-graduates impacted by the Depression.
A million dollar bond issue in 1922 built Central High and Handy Junior high, both still symbols of the city's success turning out generation after generation of talented graduates.
When this columnist came along, Central was at its apex in its fifth decades and in the 1940s Handy's reformation into a high school was a major step. Bay City Junior College provided for veterans and other student growth after World War I.
Bay City was impacted by the Industrial Revolution in the 1960s when automation and innovation reduced the need for hand labor and outdoor trades like lumbering and heavy constrution.
That happening is the reversal of local educational policies by the Bay City Public Schools and the Bay Arenac intermedate Board of Education to treating all students equitably, directing more resources toward so-called dropouts, or "second chance students," who make up fully 20 percent of the number of students.
The mission of the Bay City Public Schools is to provide Exceptional Opportunities for ALL. We are an alternative high school that will give an exceptional learning opportunity to students who have fallen behind in credits or who need a different smaller setting to help them learn and progress in their education.
Eastern Principal Ryan Boon told WSGW Radio teachers will work with students who may be at different learning levels when it comes to subjects like math and social studies. There's also an on-line credit recovery program allowing students to make up classes they may have missed, so they can get their diploma.
Students themselves renamed the alternative school, formerly known as Wenona, according to school officials. It is located in the former Woodside Elementary School.
Each student in the new alternative school will have use of a Chromebook computer and receive free breakfast and lunch daily.
Shining new computer labs, hardware and up-to-date programs and classrooms now await students. who for the past quarter century have been virtually ignored, their programs slashed to the bone and their chances for graduation minimized.
So we begin a new era in more equitable public education, serving an increasingly diverse student body; after a quarter century of tinkering and unworkable ideas like those promising a 100 percent graduation rate, Michigan is positioning itself to honor achievement without false promises of world leadership. That may come but there's lots of work to do by all, school administrators, teachers, students and parents.
###
---
---

Dave Rogers




Dave Rogers is a former editorial writer for the Bay City Times and a widely read,
respected journalist/writer in and around Bay City.
(Contact Dave Via Email at carraroe@aol.com)

More from Dave Rogers
---
Send This Story to a Friend!
Letter to the editor
Link to this Story
Printer-Friendly Story View
---
--- Advertisments ---