TOUGH SCHOOL CLIMB: State Needs 20 Years to Regain Education Vitality
Testing Flawed Way to Achieve Accountability, Say MN, GA Leaders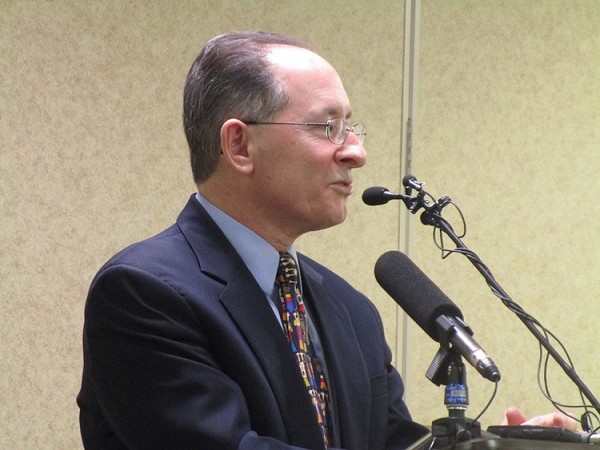 New state school chief Michael Rice of Kalamazoo.
Michigan would like to move up in and be a national leader in education
According to Education Week magzine,this year, Michigan finished 33rd among the 50 states and the District of Columbia, with an overall score of 72.6 out of 100 points and a grade of C. The nation as a whole posts a grade of C.
State officials recently conducted an in-depth question and answer session with Brenda Cassellius, a former Minnesota commissioner of education, and Eric Thomas, chief turnaround officer for the Georgia Department of Education.
The candidates are vying for a leading role in the effort to reverse a 20-year downward trend in Michigan's school system.
The state's top education official, newly appointed Michael Rice will be responsible for implementing state policy on critical issues such as school accountability, testing, and oversight of struggling schools.
Kalamazoo Public Schools Superintendent Michael Rice was chosen to lead the Department of Education, citing his track record of closing the "achievement gap" among groups of students and his experience as an educator both in and outside the state.
Rice, 56, won the state superintendent job on a 5-3 vote. The board had conducted final interviews with him and two other finalists before making the decision.
"But I think Michigan is much like other states in that they face the threats of inadequate funding and chronic underfunding, our teacher supply and recruitment and retention, and the professionalism of the teacher practice, and the lack of resources going to and supporting teachers. Teacher pay," said Casselius, "is very challenging to recruit teachers into the field because they have different opportunities.
"And then I think the final one is public confidence in public education. In Minnesota we've seen the growth of charter schools as evidence of the lack of confidence in our traditional public schools and kind of those contentious difficult conversations around school choice and disinvestment in public education."
Said Thomas: "One challenge is going to be the transformation of outcomes for the state. If you look at where the state is now and where it was 20 years ago, it's a trend heading in the wrong direction.
The [Michigan Department of Education] has identified the whole child and prenatal to age 8 in literacy as areas of focus.
Thomas said: the only thing I would add is around the literacy piece I know there's conversation around third-grade retention and third-grade reading -- whether it stays in place or not, I think there's a chance to learn from other states.
The federal government has identified students with disabilities and the protocols around students with disabilities, so I think that's a challenge.
Here in Michigan, from a constitutional standpoint, the idea of vouchers may not exist. But if you listen to what's going on at the federal level there is a conversation around vouchers that needs to be had.
"I would also add potential teacher shortages or teacher retention."
Cassellius: "I believe that these test-based accountability systems have failed. We've been trying it for 20 years. Our students have not improved to the point we'd like them to. It['s hard, but that's what we have. We have to work with what we have now as we transition to how we can do better."
Said Cassellius, "Minnesota didn't have the statewide data capacity in which to collect common data from every single school around [physical education] classes being offered or AP classes offered -- or science in elementary school, or concurrent enrollment classes being offered, or support services and school counselors.
"I'd like to see a system that has more of those well-rounded components in it but we still get stuck in looking at test-based accountability. Even though we're looking at growth more, it's still based on a test."
###
---
---

Dave Rogers




Dave Rogers is a former editorial writer for the Bay City Times and a widely read,
respected journalist/writer in and around Bay City.
(Contact Dave Via Email at carraroe@aol.com)

More from Dave Rogers
---
Send This Story to a Friend!
Letter to the editor
Link to this Story
Printer-Friendly Story View
---
--- Advertisments ---