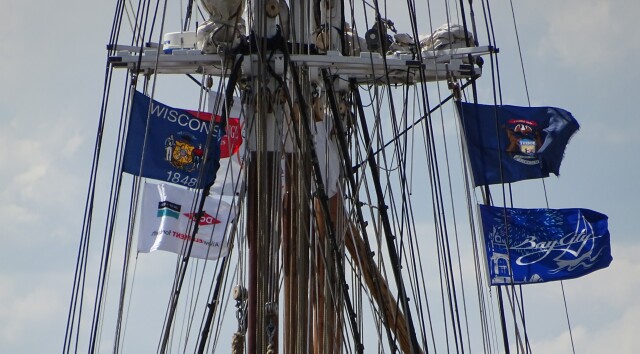 Tall Ship Celebration Return To Bay City Unaffected By High Water Levels
Special to MyBayCity from Cameron Kerkau
July 15, 2019 Leave a Comment
By: Stephen Kent
The schooners, barques and brigantines of
Tall Ships America
return to their favorite host port this Thursday, July 18 at approximately 1:30 p.m. Bay City has hosted the fleet every year that it has visited the Great Lakes since 2001. The City has also won the "
Port of the Year
" award four times, more than any other port in North America.
Bay City will once again welcome the fleet with it's signature
Tall Ships Celebration
, an every-three-year event organized by Bay Sail, a non-profit organization located at 107 5th Street, Bay City. According to
Shirley Roberts
, executive director of Bay Sail, the celebration will continue as scheduled and uninhibited by the height of the Saginaw River this summer.
"While the higher water levels will create some challenges for us this year, we have no plans to change our basic protocols. We are not cancelling the event as some have suggested," said Roberts, "Ships like higher water, that's not a problem, and we are confident that we have ways that we can move people around so that they can access the ships safely and in a dry manner."
This summer, the fleet has already made port in Ontario, Buffalo and Cleveland. After departing Bay City on Sunday, July 21 the ships will set sail for Green Bay and beyond. According to Roberts, the geography of the Saginaw River and the welcoming community of the city combine to make Bay City an incredibly popular spot on the tall ship circuit.
"The fact that we are able to host ships on either side of the relatively narrow Saginaw River allows for people to take in all of them at one time and create a more intimate kind of experience for our guests... It's also significant that our event occurs in parks with lots of green space. It's a more pleasant atmosphere to be on grass and in a park environment," said Roberts. "We're a smaller community than many of the other hosts. Since the very beginning, the whole community has been engaged in this event."
Members of this year's visiting fleet include Bluenose II, Sailing Vessel Denis Sullivan, Madeline, U.S. Brig Niagara, Perception, Picton Castle, Pride of Baltimore II, NAO Santa Maria, St. Lawrence II and Bay City's own Appledore's IV and V.
"Some will take your breath away because they are so incredibly beautiful, others tug at your heartstrings because they have amazing stories behind them," said Roberts, "This year we're excited to welcome back Bluenose II from Canada. She was here at our very first event in 2001 and has recently undergone an extensive refit."
Picton Castle is another ship that will be making its second trip to Bay City, having visited once before in 2006. This three-masted barque just finished its seventh circumnavigation in May of this year.
As in previous celebrations, the Appledores IV and V will be featuring sail-away adventures. Community members will have the opportunity to board the ships as they sail into the bay and back, a journey which lasts approximately three hours. As goodwill ambassadors of Bay City, the Appledores offer this trip in every port they visit on the Tall Ships circuit.
The Tall Ships Celebration will be absolutely packed with activities and events including
Pancakes with Pirates
and tours of the
Saginaw River Rear Range Lighthouse
. Information about these events and many more can be found at official web site.
To stay up-to-date on the fleet's progress, and learn more about the Tall Ships Challenge,
www.tallshipcelebration.com
.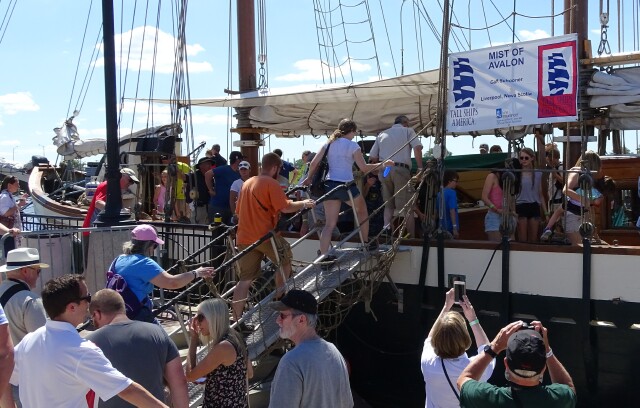 End of the wait as visitors board the Mist of Avalon.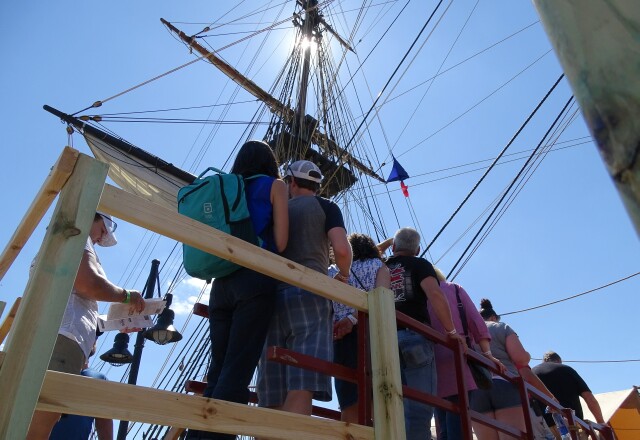 At the end of the line visitors board the U.S. Brig Niagara.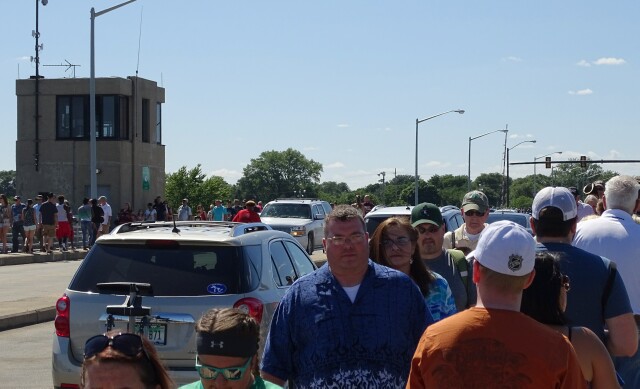 The view from above... pedestrians and cars cross Veteran's Memorial Bridge.


Panorama from the bridge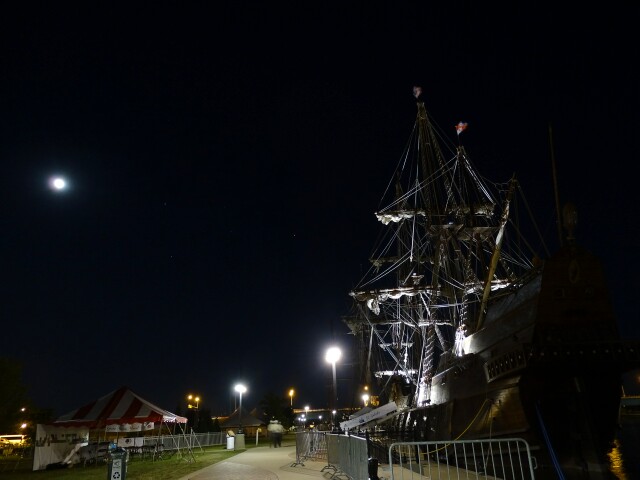 The promenade, so packed during the day, is silent and empty by night. >El Galeon Audalucia stands watch over the waters.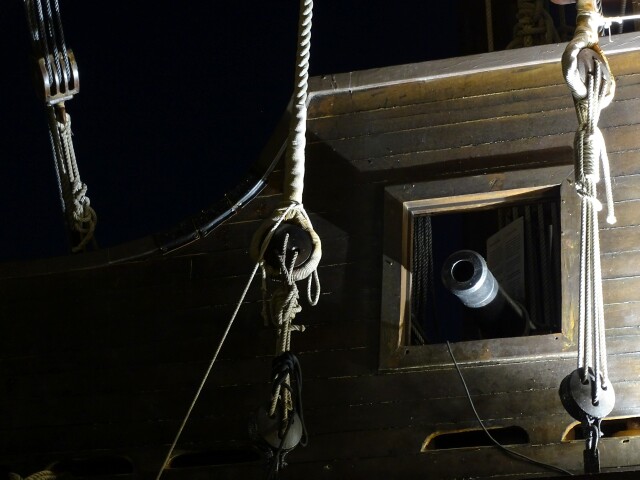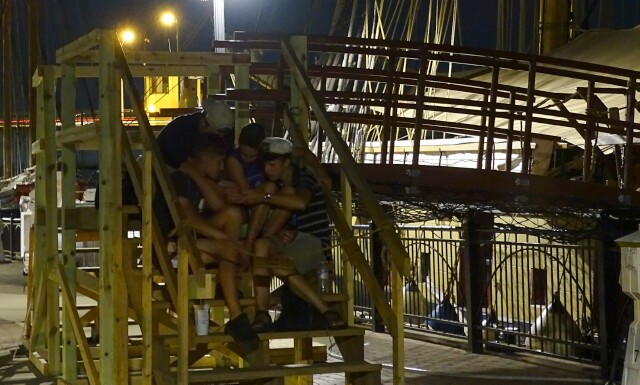 Crew, like teens everywhere, work their cell phones in the still night air.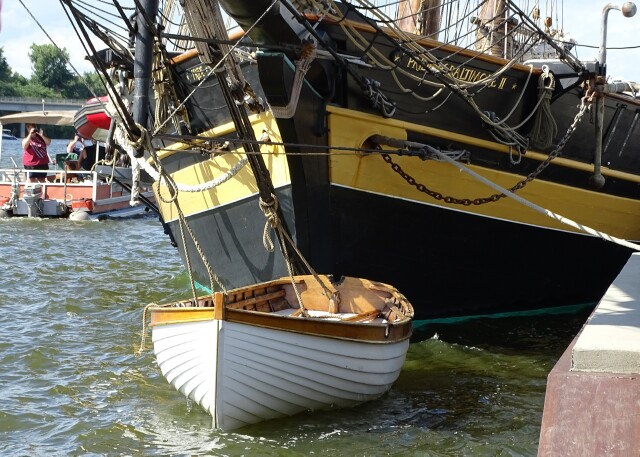 Parting shot... Do you think a couple of strong guys could get some oars and tow the Pride of Baltimore? Makes you wonder.
5087, 7775, 7776
---
---

Stephen Kent




Steve Kent and his family have lived in Bay City for 40 years. He is VP of Technical Services at MMCC which produces MyBayCity.Com. Kent is active in many Bay City civic organizations.

More from Stephen Kent
---
Send This Story to a Friend!
Letter to the editor
Link to this Story
Printer-Friendly Story View
---
--- Advertisments ---