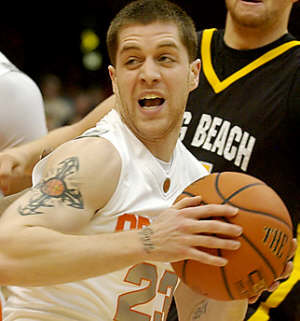 Eric Devendorf -- Headed For Bay City
---
Devendorf is Good Enough to Play in the NBA -- What's the Problem?
Rumors Are Penny-Pinching D League May Not Offer Enough Cash to Stay
August 12, 2012 Leave A Comment
By: Dave Rogers
Former Bay City Central basketball star Eric Devendorf reportedly will return here in a couple weeks to tune up for next season with mentor T.J. Newsham at the old St. Joe gym.
Devendorf finished his season in the NBA Development League strong.
A NBA bid still dangles tantalizingly and would offer Devo a chance to follow another former Bighorn Jeremy Lin, last season's sensation with the New York Knicks.
In his last seven games for Reno, Devendorf showed major league potential scoring 153 points and averaging 22 points a game, scorching the nets with 47 percent from 3-point range and 52 percent from the field.
Over 26 games earlier last season, Devendorf averaged 10 points per game in a minimal 16.3 minutes per game but shot a dazzling 44 percent from three point land.
Devo reportedly was disappointed he didn't get a summer league schedule and there were rumors in Reno that if the big time doesn't soon beckon he may think about returning to Israel, where he started his pro career in 2009.
Money may be the biggest problem.
Devo's teammate, former Reno Bighorn Blake Ahearn, was signed April 20 for the rest of the NBA season. Ahearn was originally signed to a 10-day contract on April 9. Ahearn's GATORADE Call-Up was the third for a Bighorn player last season and the 50th for the NBA D-League during the 2011-12 season.
Ahearn, all-time D League scorer, played in three games for the Jazz, averaging 5.0 minutes per game and 1.0 points per game.
Ahearn played in 37 games with the Bighorns last season averaging 23.8 points, 2.6 rebounds, 2.6 assists and 1.0 steals per game. He was ranked fifth in the D-League in points.
But Ahearn got 37 minutes of playing time per game, about the same as another high scorer, Andre Emmett. Devo, by comparison, played about 10 minutes less per game than either Ahearn or Emmett but his shooting averages eclipsed both players in all but free throws, where Devendorf shot about 75 percent.
During the season, Ahearn shot a remarkable 96.2 percent from the free-throw line, which included a stretch of 110 consecutive made free throws. Ahearn's free-throw streak set the D-League record, and surpassed the NBA record of 97 straight.
For his efforts, he was named NBA D-League Co-Performer of the Week on Jan. 3, along with Bighorn teammate Andre Emmett. Ahearn also became the NBA D-League's all-time leading scorer, with 3,804 total points.
Emmett hit a respectable 79 percent of his free throws.
The biggest part of the Blake Ahearn story is the narrative itself. Blake has been in and out of the NBA three separate times: Miami '08, San Antonio '09, and the Jazz in 2012. The salaries in the NBADL are close to an hourly salary: $12,000, $18,000, and $24,000 per season. The cap for a D-League season is $24,000.
The unofficial amount of the two 10 days contracts for Ahearn is $120,000, approximately ten times the amount that he was making per year in the D-League.
Moral of the story: It's really tough to make the NBA, but big dollars await, fortune coming along with fame.
Would Devo be another Jeremy Lin? Perhaps, but the NBA, that has everything to gain by welcoming this sensational player, needs to find out before he becomes disillusioned.
Devo is a real talent, no doubt Bay City's best. The kid just needs a break to show what he can do.
---
(Prior Story) Sports Article 7259 (Next Story)
---

Dave Rogers




Dave Rogers is a former editorial writer for the Bay City Times and a widely read,
respected journalist/writer in and around Bay City.
(Contact Dave Via Email at carraroe@aol.com)

More from Dave Rogers
---
Send This Story to a Friend!
Letter to the editor
Link to this Story
Printer-Friendly Story View
---
--- Advertisments ---