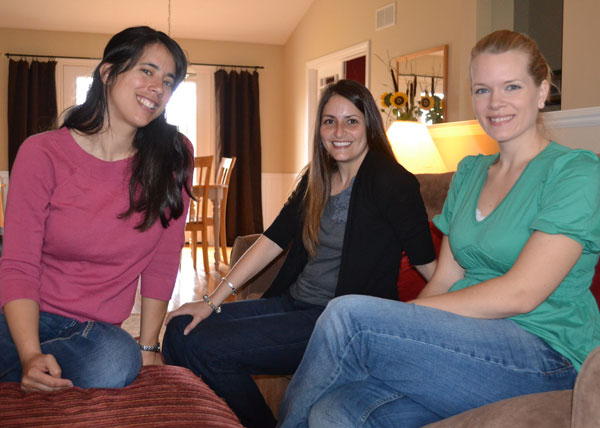 Creators of 3mommies.com are Jill Pfeiffer, Hillary Hagemeyer, and Charissa Loeffler
---
3mommies.com is the One Stop Shop for Parenting in the Tri-Cities
April 8, 2012 Leave a Comment
By: Stephanie Meyer
When you are a busy parent, time is not always on your side to scour through websites trying to find activities for your children. The new website, 3mommies.com, aims to be your one-stop shop for not only finding local activities for your child, but a myriad of tips and tricks to make parenting a little easier.
The idea for 3mommies.com came about simply enough as 3 moms of preschoolers (5 among them and 1 on the way) were doing what moms do best, talking. Hillary Hagemeyer came into the area just three years ago with her husband and then 3 year-old and she was lost on what activities were available for her young child. "We were talking and people would know of things going on and I would ask where they found that activity and they would just say they knew from past events," says Hagemeyer. After speaking with neighbor, Jill Pfieffer, and friend, Charissa Loeffler, they identified not only a need, but also an opportunity.
With the knowledge and support of their family and friends and motivated by the impact that this project could have for families, Pfieffer, Hagemyer and Loeffler took on the brave new world of programming and website creation. "The coolest thing is that we identified a problem, and we stuck with it even with all the hurdles," states Pfieffer.

Each of the women focuses their attention on a particular aspect of the site, but they all support each other's endeavors. Pfieffer handles the calendar which the women agree is, "one of the most useful aspects of the site." The calendar has daily activities around the tri-cities and beyond and has the ability to RSVP to different up-coming events. The calendar gives you the option to choose events that you would like to attend and print off a handy list with the details.
Hagemeyer works with the newsletter, Facebook postings and she creates the weekly "Lesson Planning Mommy." With her background as a Kindergarten teacher for seven years, Hagemeyer pulls from her lesson planning skills and selects a weekly theme along with a daily book and a fun activity to go along with that theme. "These are easy things to do with your children, but they are very important," says Hagemeyer, "These books are available at the library or there is a link to buy the book on Amazon."
Loeffler is in charge of the brunt of the blog which is full of entertaining and educational topics. Some of the headings you will see include "Tantalizing the Taste-buds" for fun food ideas, "Smart Thinkin' Tips" which will offer useful household tips to a variety of topics, "Ask the Mommies" which allows readers to post questions that anyone can help answer, "Life Moments" where readers can share the good, the bad, and the ugly of parenting that all can relate to, and "Around Town" where local entrepreneurs can promote their businesses.
As the popularity of the site grows, the team of women has plans to expand with more categories of useful information and hopes that advertisers will pick up on the importance of their site. They will also be planning family friendly outings for the 3mommies.com community starting in June. If you have any additional questions about the site or advertising opportunities, you can contact the women directly at themommies@3mommies.com or check out the site directly at
3mommies.com
---
---
---
Send This Story to a Friend!
Letter to the editor
Link to this Story
Printer-Friendly Story View
---
--- Advertisments ---