Bay County Sports Hall of Fame Board of Directors Announce 2011 Inductees
July 17, 2011 4 Comments
By: Julie McCallum,
Senior Staff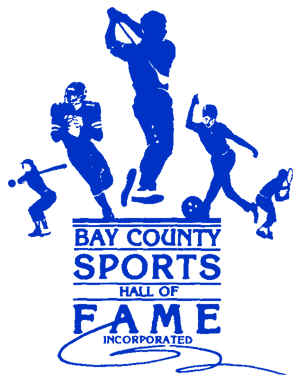 The Ballots have been counted and the results are in for the 2011 Bay County Sports Hall of Fame Inductees !
The Bay County Sports HOF (Hall of Fame) Screening Committee spends the first 3 months of the year reviewing existing folders of previous nominees and new suggestions submitted over the past 12 months. Background folders with supporting documentation must be on file for a person to placed on the ballot.
In April, the Screening Committee presents a docket of between 25 and 40 names to the full HOF Board of Directors for Review. Two meetings are held in April and the list is pared down to approximately 25 names. These names are placed on the official ballot.
In early May, the ballots are mailed along with an informational document to all voting members. Voting members include all current and past Board Directors, past inductees and all Life Members of the Bay County Sports Hall of Fame.
In a special meeting in June, Board members gather returned ballots mailed in by the voters and count them to determine who will be inducted.
Bob Darbee, Vice President of the the Bay County Sports Hall of Fame said, "The directors are pleased with the voters choices for the class of 2011. The directors are responsible to provide 20 candidates and the 600 life voting members take it from there."
Darbee continued, "We had 368 ballots returned. Some members have moved and we want those to contact us with their new address for next year."
The HOF Induction banquet will be held on October 9, 2011 at the Doubletree hotel in Bay City.
The Hall of Fame Inductee plaques are on display for viewing at the Community Center on JKF Drive in Bay City. There are currently 200 HOF plaques currently at the Community Center. Through the years, more and more deserving inductees will join these deserving ranks, including the following inductees to be added this year.
BAY COUNTY SPORTS HALL OF FAME INDUCTEES FOR 2011:
KIMBERLY BISKUP - Softball
High School Miss Softball in Michigan for 1996. First team All American in college. NCAA home run king. Those phrases describe Kim Biskup. Kim started in diamond sports in the South End Little League at age 12. The All Saints High star, as Mike Spencer of The Bay City Times wrote, 'Rewrote much of Grand Valley State's softball record book' during her college career and was 'Player of the Year' in the Great Lakes Intercollegiate Athlete Conference (GLIAC) as a junior. Her batting average was .406 and slugging average .895. She finished GVSU with a school career best of 47 homers, setting the NCAA Division II home run standard at 42 two years in a row. Kim was named second team All American in 1999.
STAN BROMBERG - Baseball, Coach
Stan pitched 25 career no-hitters during his baseball career. He started in baseball with the South End Little League in 1952 and was on a State Championship Team in 1953. He was a pitcher and left fielder in PONY League and American Legion ball and at St. Stanislaus High School under Coach Lefty Franz. At age 17 he signed with the Cleveland Indians and played minor league for two years until suffering an arm injury. Stan coached in Little League, PONY, Colt and Stan Musial leagues for 14 years. As President of St. Hyacinth A.C. for 4 years, he started local blooperball tournaments. He was instrumental in developing the baseball complex for All Saints High, Hampton Pondside Park and the bike path on River Road.
DICK CORCORAN - Football, Basketball, Baseball, Track, Wrestling
Class D All State football in 1960 out of Bay City St. Mary, 6'4" 240 pound tackle Dick Corcoran was a sure fire scholarship pick for Coach Lisle Blackbourn at Marquette University. Against Essexville St. John he had blocked two punts and recovered the ball for TDs. The rugged two-way gridder made the Associated Press all state team at guard and also was an all-league forward on the basketball team and catcher on the baseball diamond. In addition he placed fourth in the state in the shot put. He was a high school All American honorable mention in football. The luck of the Irish ran out for Corcoran, however, when Marquette disbanded its football team. After a stint in the Marines, by 1963 Corcoran was back on the gridiron for Coach Muddy Waters at Hillsdale. Signed as a 266- pound free agent defensive end by the Chicago Bears in 1964, Corcoran was placed on waivers after a right knee injury. The Philadelphia Eagles, the Hamilton (Ont.) Tiger Cats, the Detroit Lions and the Kansas City Chiefs all were interested in the 282-pound Bay Cityan who unfortunately suffered more injuries. The retired ironworker now lives in New Port Richey, Florida.
BRENT GOIK - Golf
A four-year varsity golfer at Bay City Central, Brent Goik was 1995 Class A State Individual Champion and member of the MHSAA Class A All State Super Team. He went on to captain the Michigan State Spartans golf team, was a four year letter winner, and was three time academic all Big Ten. Brent was medalist at the 1998 Detroit Titan Invitational as well as being rated the team's best first year player in 1998. He qualified 4 times at the U.S. Open local qualifying tournament - medaling in 2002 and 2006. Brent was the Michigan PGA's Central Chapter Player of the Year in 2002, 2003 and 2006 and was also Runner-up at the Michigan Amateur Tournament in 2001. After serving as assistant golf professional at the Fortress in Frankenmuth he became the head of golf professional at the Bay County Golf Course and Recreation Supervisor for Bay County.
DR. MICHELLE R. (VOISIN) IVEY - Basketball, Softball, Coach, Author
Dr. Ivey starred in basketball and softball for Bay City All Saints 1980-84. She holds the three year scoring record of 890 points and was honorable mention All State Class B. She attended Eckerd College, St. Petersburg, Florida, and was starting guard four years on the basketball team. She was team captain three years, set the school scoring record of 1,259 points, and was named G.T.E. All American in 1988. The college retired her jersey and she was inducted into the Sunshine Conference Athletic Hall of Fame. She was the first woman to coach boys basketball in Alabama, was named Alabama Boys? Basketball Coach of the Year three years and now is vice president for athletics at Marion Military Institute, Marion, Alabama. She has a Master?s Degree in Biomechanics and has published articles on the topic.
DOUG (RUDY) RUTERBUSCH - Wrestling
Doug coached the Bay City Handy High wrestling team 1969-75 and the Bay City Western wrestling team 1975-81. He compiled a record of 108 wins, 22 losses and 1 draw. His teams were third in the Valley one time, second two times and first eight times. He coached many State champions such as the Rechsteiner Brothers, the Rugenstein Brothers and others as well. Many of his wrestlers went on to be successful coaches like Steve Brissette of Garber and George LaFramboise of Roscommon.
DECEASED:
ADOLPH BEGICK - Baseball Manager

Adolph started in amateur baseball in the 1930s and managed teams for 25 years including the Frankenlust Tigers and Monitor Coal, county champs in 1943. His combined Monitor Coal-Auburn Merchants team won the Bay City Federation in 1945. In 1952, the St. Paul Junior League team won the American Legion championship. He was a member and president of the Bay County Recreation Commission and donated many hours to upkeep of fields.
KEN MEYLAN - Boxing, Race Car Driver
Ken Meylan was regional Golden Gloves champion eight times. In 1962 he was the Michigan State middleweight champion. Ken also excelled in race car driving and was 'all points champion' many times in the 1960s and 1970s in Sportsman Class at Tri-City Raceway. He died in 1998 after an illness of 19 years.
In 1996, the Board of Directors of the Bay County Sports Hall of Fame established the Team Award to honor the contributions that members of teams have made to the athletic heritage of our community. This is the 15th year honoring local teams.
2011 Teams Awards:
1971-72 Pickle Barrel Fastpitch Softball Team - Class "D" State Champs
1969 Bay City Central Football Team
Also Congratulations to the 2011 Bay County Sports Hall of Fame Scholarship Recipients:
Brianne Williams (John Glenn)
Stuart Starkweather (BC Central)
Kevin Swiercz (All Saints)
Chelsea Adcock (Pinconning)
Olivia Schultz (Garber)
Mallory Sebald (Western)
Visit the Bay County Sports Hall of Fame on-line at is
Bay County Sports Hall of Fame
A lifetime voting membership form is available online and can be obtained by sending in form along with $50.00 to BC Hall of Fame Offices at 509 Center Ave, Bay City, 48708 (c/o OJ Advertising)
---
(Prior Story) Sports Article 06080 (Next Story)
---
---
Send This Story to a Friend!
Letter to the editor
Link to this Story
Printer-Friendly Story View
---
--- Advertisments ---