Hey Girl, I'm in a . . .Tribute Band?
Tribute Bands Freak Me Out
July 10, 2011 2 Comments
By: Josh Sharrow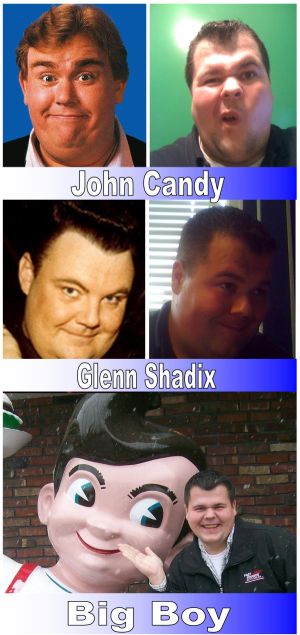 My Celebrity Doppelganger
The Great Lakes Bay Region has recently become consumed by Tribute Bands. People have been flocking to local event centers/parks to see the likes of:
Bob Segar AC/DC Aerosmith The Eagles Kiss Rascal Flatts Taylor Swift!?
Taylor Swift Really!?
Shouldn't the person at least be dead before you start a tribute band?
So, what is the actual definition of "Tribute Band"
The official
Dictionary.com
definition of Tribute Band isn't as creepy as I believe it should be.
Main Entry:
Tribute band
Part of Speech:
Noun
Definition:
A musical group that imitates a former band or performer that was highly popular; a band that performs the music of a famous band
Former band or performer that
WAS
popular?
Again, Taylor Swift Tribute?!
A while back when Sam Capello, Owner of the Euclid Big Boy Restaurant, was still alive, Sam told me I looked like Big Boy. I guess I should have immediately started a career and started to market myself to appear as Big Boy at local events.
Will they compensate me with food?
The people in a die-hard tribute band have made themselves look, sound and even act like the person they are . . . paying tribute to. The Big Boy look-a-like for me came naturally. . . unfortanately.
Wouldn't that concern you if you were still alive? I know if I find out someone has formed a Josh Sharrow tribute group, I would be concerned. A group of people who all act, look, and sound like me?
The idea of someone modeling themselves so close to someone else, that they can start a tribute band and make money off of a celebrity's fame and fortune, freaks me out.
So, as I sit here . . . in my red & white checkered bibs . . . holding my tray full of cheese burgers . . . I suddenly realize it may not be so bad to be in a tribute group.
With that being said, join me this Wednesday at Wenonah Park in downtown Bay City as Shawn Doyle & myself introduce, "Lights" . . . A Journey Tribute band for The Bay Art's Council Free Concert in the Park."
---
(Prior Story) Columns Article 6072 (Next Story)
"The BUZZ" - Read Feedback From Readers!
McKewl says: On July 07, 2011 at 09:48 PM

omg, I'm so a fan of your columns.. even though its usually the second time I hear it... Its still funny.. you crack me up dude !!!
rmlawren Says: On July 11, 2011 at 12:45 PM

Love your picture of the look-a-likes. The picture of John Candy made me laugh... I remember the skit we did back in High School from Planes, Trains & Automobiles. That was EPIC! :-)
---

Josh Sharrow




Sharrow is Co- Owner of Last Choice Country, GLB Media Group & Impact Sound Entertainment. You can reach him at (989) 892-8501

More from Josh Sharrow
---
Send This Story to a Friend!
Letter to the editor
Link to this Story
Printer-Friendly Story View
---
--- Advertisments ---