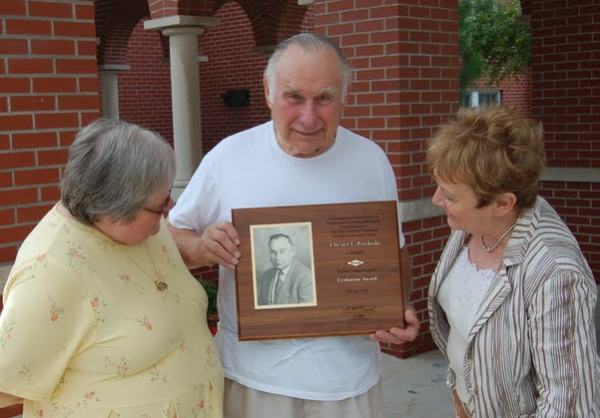 Chet Pawloski shows his plaque from Dow honoring him for 107 patents to Sister Mary Epple, left, and Dolores Rogers, at St. Mary Church.
---
Church Singer Chet Pawloski Celebrates 80th Birthday and 107 Patents
Chemist Parleyed Bay City Junior College Degree into Scientific Career
"When I was young I was good at fixing things," says Chester E. Pawloski modestly.
He is the first to admit that when he graduated from high school in 1949 he never thought he would one day hold 107 scientific patents.
Or that eventually he would be one of the main cantors of the mass at St. Mary Roman Catholic Church, since St. Mary High was one of the main sports rivals of his own St. James.
Mr. Pawloski was recognized at St. Mary recently on his 80th birthday and later he shared stories of his 37 year career at the Dow Chemical Co.
He also recalled battling St. Mary athletes on football and baseball fields and basketball courts during his high school days.
After high school he served four years in the U.S. Air Force, mainly at a post in Bremerton, Washington, where he was a member of a crash team that was sent to scenes of airplane disasters.
His two years at Bay City Junior College resulted in an associates in arts degree, but did not include any science study. Much of that was learned on the job at Dow and in the company's comprehensive technical training program. After 12 years as a laboratory technician, he was hired as a chemist at Dow.
Showing off the plaque he received for obtaining 107 patents at Dow, Mr. Pawloski recalled: "The only chemistry class I had was in my junior year in high school for which I received an A."
That good grade portended well but gave little indication of his mastery of the fields of halogenated epoxides, propargyl bromide, and hexamethylenetetramine adducts (HTMA)-- or that he would contribute a chapter to a book on dioxepins entitled "Heterocyclic Compounds." He commented: "The book (126 pages with references) was well received by the reviewers; I covered all the known literature at the time."
Some of the chemical processes he worked on are used in production of absorbents for disposable diapers, paint and gasoline thickeners for jet aircraft, new products from aspirin and for a replacement for casein in production of high grade paper.
Some of his patent work on insecticides won awards and has been cited in Industrial Journal and covered hundreds of new compounds.
He started work at Dow in 1956 as a tester in the VIV2 Saran Control lab, later working as an operator on preparation of a new monomer, dichloro styrene.
Pine beetles all over the world are biting the dust from Dow compounds because of Mr. Pawloski's work in finding a method not cited in a Japanese patent for production of DOWCO 217.
In addition to his work in the lab, Mr. Pawloski loaded trains and trucks with a fork lift on 12 hour shifts during the 1974 strike at Dow.
"I prepared over 5,000 new compounds, prepared 50 Dow reports and had a number of papers published with other authors," he summarized. On his 100th patent, Dow gave him a special plaque and 100 silver dollars and produced a video on his recollections of his career. Knee pain forced him to accept an early retirement incentive at age 62.
Among his associates at Dow who were influential in his career were Jackie Kelyman, Ted Morgan and Sally Ginter.
"I'm amazed at how much I accomplished at Dow considering I never had any formal schooling as a chemist, only what I learned as a tech over a number of years," he said.
Since retiring, he has acquired another self-taught skill -- as a cantor of the Mass at St. Mary, where he assists Father Craig Albrecht and Sister Mary Epple in the liturgy for the parish's several hundred families. ###
---
(Prior Story) Community Article 6119 (Next Story)
---

Dave Rogers




Dave Rogers is a former editorial writer for the Bay City Times and a widely read,
respected journalist/writer in and around Bay City.
(Contact Dave Via Email at carraroe@aol.com)

More from Dave Rogers
---
Send This Story to a Friend!
Letter to the editor
Link to this Story
Printer-Friendly Story View
---
--- Advertisments ---